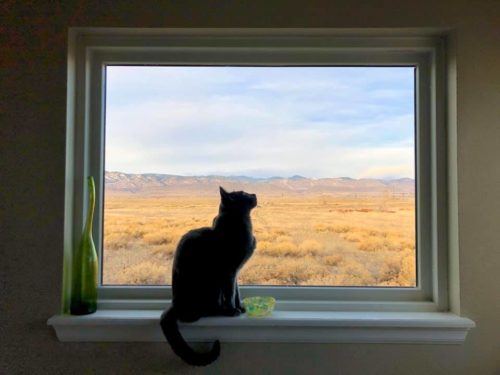 Cats love to look out the windows and if they can do it sitting on a high spot, that's even better for your furry friend. Cat window perches accomplish those two conditions so the felines can enjoy the outside view in a comfy higher spot that is reserved only for them. If the perch is accompanied by a mat or a pillow, even better! this makes it comfier to take a nap. When cats use only the window sill to look out, their body posture is usually sideways, limiting their comfort and proper view to the outside.
How much time does a cat spend on a window?
According to the Companion Animal Psychology, a survey of 577 cats conducted by Melissa Shyan-Norwalt, showed that cats spend on average 2 hours at the window. But this survey also showed that almost 16% of the cats were reported to spend more than five hours a day at the window. That reveals that while cats keep themselves busy during the day doing different activities in the house, some cats have the window lookout as their main daily activity.
Why it's important to set up a window lookout spot for your cat
Having a window perch for your cat is part of the environmental enrichment your feline friend needs to be happy. Cats usually like to watch birds, other cats, butterflies, etc. The more wildlife present on the other side of the window, the more stimulating will be the window spot for your cat. If you have small trees, bushes, or plants in your garden your cat will appreciate it. You can also help your feline friend by placing some bird feeders for your cat entertainment. Indoor cats don't live the life their ancestors did, but their instincts are the same and they really need to be mentally stimulated with different things, toys, puzzle treat feeders, and also, a fun world to look at through the window.
Cat window perches that don't require screws are convenient
A good advantage is that they are easy to install and they don't scratch, make holes or damage your window sills or walls. You can install them using your sills or window glass through different means and they are perfectly stable, leaving your walls and window sills, intact. They are simple to install too, taking no longer than a couple of minutes at the longest. And they are easy to remove, also without tools. The following are the best 5 easy to install cat window perches designed for cat owners that don't want to bother with complicated installations; no nailing, hammering, or screwing.
Top 5 Cat Window Perches, No Screws
The following cat perches are not only easy to install but also have nice features for small, medium, or large size cats, and single or multiple cats.
PurrchPerfect Cat Window Perch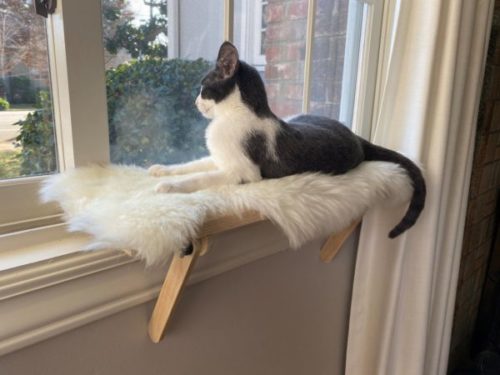 A handmade wooden perch made from fine quality treated recycled pine wood. This perch is suitable for windows with sills so the PurrchPerfect cat perch can be an extension of it. You can choose the type of surface you want on top, you can pick a classy and super soft surface for your kitty. The installation takes less than a minute. The legs that support the perch come with padding to protect the wall.
Ideal for: For windows with sills. If you are searching for a nice and classy-looking cat perch that's easy to install, easy to remove, and that won't damage your walls or sills, this is your option. Suitable for small, medium, and large cats. The small size is more suitable as a lookout spot than a sleeping or grooming area. For a larger surface pick the larger sizes. FULL REVIEW.
Kitty Cot Original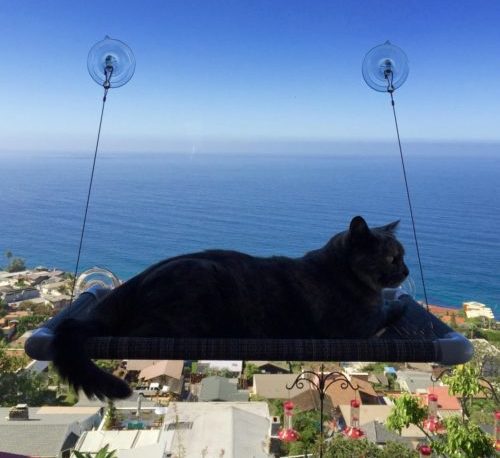 This cat perch is designed to be installed in windows that don't have sills. It can be attached to windows, mirrors, and non-porous surfaces. This unit holds up to 25 pounds due to patented huge suction cups. It comes in two types, the Kitty Cot Original and the Kitty Cot Deluxe. The Kitty Cot Original features PVC frames while the Deluxe variety comes with steel rod frames that can hang down to shut the curtains.
Ideal for: Windows that don't have sills and that have curtains or blinds that you want to shut at night. Suitable for a small, medium, or large size that enjoys the outside's view while laying down on more flexible support made of resistant nylon mesh. FULL REVIEW
Wooden Handmade Window Perch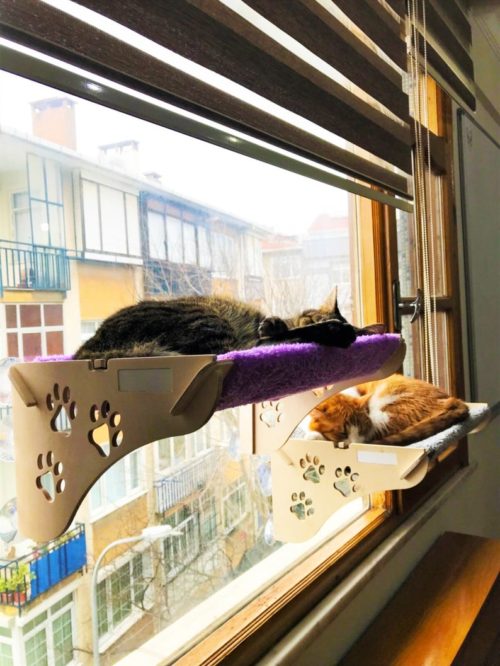 Very cool-looking handmade cat perch with cat paws carvings design. The unit is made from top-quality birch wood and carved by artisans. It goes attached to a window with 6 large suction cups. The cool feature is that on the side the perch there's a carved rectangle special to write your cat's name on. This is a good idea if you have two cats so you can personalize their names on the perches.
Ideal for: Windows that don't have sills. Suitable for small, medium, and large cats weighing up to 10kg. Good if you have two cats and want to put two perches, one higher than the other one. FULL REVIEW.
K&H Pet Products EZ Delux Bolster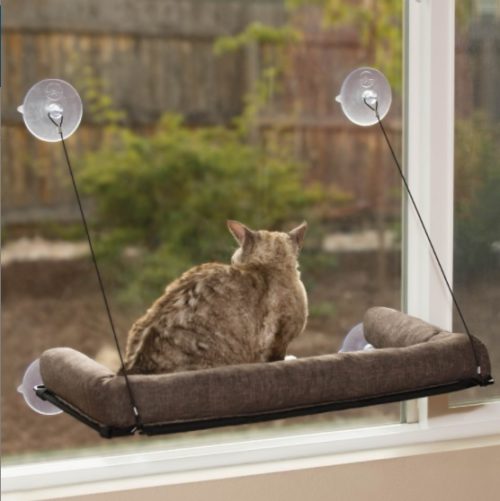 This window perch attaches to windows that don't have sills, through powerful 4 suctions cups. The unit is made with fine fabrics, featuring bolsters around that provide nice support for your cat. The removable padding made of Sherpa fabric on the surface provides your cat with a very comfy space. The K&H cat window perch can be put flat down for you to close your blinds or drapes.
Ideal for: Windows with no sills and with glass spaces over 27" W x 23" H. Suitable for small, medium, and large size cats that like to cuddle or groom themselves while sitting on the window perch. FULL REVIEW.
CandDPet Large Cat Window Perch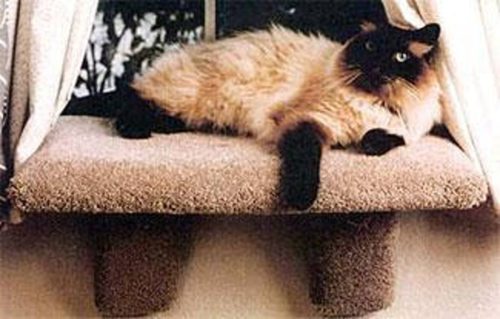 This perch is made with the finest quality solid wood and plywood, and with an environmentally friendly production process with no particle board or cardboard used. The CanDPet is elegant and sturdy, with carpeted surfaces that come in various colors to match your home décor. This unit comes in two sizes, small and large. The Large size is large enough to accommodate two cats that can share a space. The weight holding capacity of the large size is up to 35 pounds.
Ideal for: Windows with tracks and wide sills. This unit works with windows open or closed. The available two sizes make this unit suitable for small, medium, or large size cats. The large size can even accommodate two cats. The large size features two legs for stronger support. FULL REVIEW.