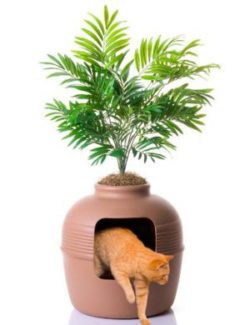 Good Pet Stuff Litter Box Concealer Review
With Good Pet Stuff Hidden Litter Box you can make your cat litter box look like a part of the decor in your house.
The litter box has the color of a clay pot and comes with a plant that makes the litter box look more attractive, concealing it in any room of your home. Under the plant, there is a round filter that helps with the smell.
The unit needs to be assembled with two halves that connect together.
FEATURES
The litter box has a large capacity
It makes your cat litter box look like part of the decor in the house
Vent system with filter under the plant helps with odor and dust
Made from polypropylene
Designed for one or more cats
Color: clay brown
Dimensions: 19" x 19" x 14"
Box's height including plant: 42"
Box's height without plant: 21"
Entry opening: 9" x 9"
Bottom internal diameter: 15″ approx.
One year limited warranty
WATCH A VIDEO HOW GOOD PET STUFF HIDDEN LITTER BOX LOOKS
If you want to fully conceal your cat's litter box you can place the Good Pet Stuff concealer with the entry facing the wall so nobody will see the inside of it. Check a video of a set up like this and a cat doing its business inside and you can't really see what's going on until the cat exits the litter box.
WHAT ARE THE PROS & CONS OF GOOD PET STUFF HIDDEN LITTER BOX?
Here's a list of the good and bad of this litter box concealer. This information will help you to decide better:
PROS
Decorative design helps to mask the cat's litter box concealing with the home style
It looks much nicer than a regular litter box
The litter box is very spacious
High entry helps to contain kicked litter (approx. 6.5" from floor to entry)
Cats adjust easily
CONS
The plant looks fake (but can be easily replaced with a plant of your preference)
It accumulates smell over time that gets stuck in the plastic and it's hard to get rid of it
Plastic is flimsy
In the beginning, it's difficult to get both halves connected.
Takes a good amount of litter
It doesn't really look like a clay pot, it looks like plastic (you can paint it with a different color to match your style)
Cats like to chew on or play with the fake grass and the plant, and some of them get to the filter (covering the base of plant with big stones helps this)
TIPS & TRICKS
√ The top and bottom have grooves that fit them together. A tip is to line up both sides near the door and this way it connects easily into place.
√ You can help to control the smell of the litter box with Arm & Hammer Deodorizer.
√ Try to get a litter pan with high walls to avoid some urine or feces to get in between the pan and the litter box.
√ To avoid your cat from making a mess with the fake grass you can place big stones on top, making sure to allow air to flow through the filter grates.
√ Place a big mat under to contain spilled litter
√ You may want to get a rounded scooper to use with Good Pet Stuff Litter Box.
CONCLUSION
Good Pet Stuff Hidden Cat Litter Box is much bigger than how it looks in the pictures so you need to consider the given dimensions to see if this size fits in your house. This litter box is a nice idea for people who really want to hide the litter box and the unit it's fairly easy to clean, but if you want the cleaning of the litter box to be a breeze, the extra step of removing and placing the top back may annoy you.
If you are a perfectionist that want something to look really nice and real, you may have to spend some more money in a different plastic plant.
The unit also needs a litter pan or liner to use inside; you could use it without it for a while and it works fine like that, but over time the plastic will smell. Maybe it would have been a good addition from the manufacturer to offer a litter pan tall enough that no cat could create a mess on the edges, but for now the choice it's on the customer what pan to get.
This litter box may be a little overpriced considering that is made from plastic, but it really does a good job in hiding the litter box with a decorative idea and most cats like to use this unit.
BOTTOM LINE
√ All in all this litter box would work better:
For cats that don't create a mess when doing their business.
Using a tall litter pan (especially with a male cat)
For someone willing to remove and put the top back on every time the box needs to be cleaned.
Using a premium clumping cat litter
Replacing the fake grass for something the cat won't chew on
x It may not work for:
Cats that spray high when urinating