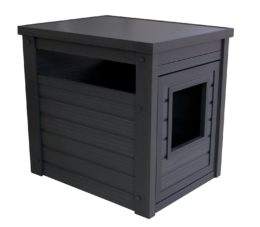 EcoFlex Litter Loo Review
EcoFlex Litter Loo allows you to conceal your cat's litter box so you and your visitors don't have to see your cat's bathroom every time.
The unit is made with ecoFlex which is an eco-friendly non-toxic composite that is easy to clean because it doesn't absorb liquids. This litter box enclosure features a front-hinged door so you can easily slide-in the litter box.
Litter Loo is easy to assemble, it'll take you approximately 10-20 minutes, and no tools are needed. It comes in 2 sizes: Standard for litter boxes and Jumbo for self-cleaning litter boxes. This review is for the standard size, suitable for regular litter boxes.
FEATURES
Conceals your cat's litter box and can be used as an end table
Made from eco-friendly non-toxic plastic-wood composite
EcoFlex material doesn't absorb urine
Easy to wipe clean
Easy to assemble, no tools required
Accommodates standard size litter boxes (not included)
A hinged front door that flips down for easier access
Exterior Dimensions: 23.6" (L) x 18.5" (W) x 22.0" (H)
Interior Dimensions: 21.1" (L) x 17.1" (W) x 20.5" (H);
Door Dimension: 7.9" (W) x 7.9" (H)
Available colors: Antique White, Espresso, and Russet
1-year Manufacturer's warranty
CONSTRUCTION & MATERIALS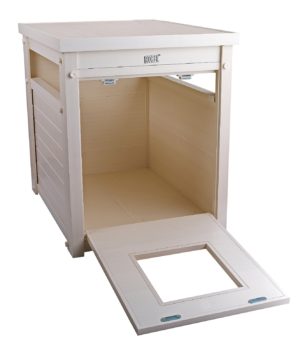 Litter Loo made from EcoFlex composite made from recycled plastic and reclaimed wood. This composite material feels like hard plastic and it doesn't soak in liquids so it's easy to wipe clean.
The unit comes disassembled so you will receive a package with all the parts separated. The shipping package comes with little pieces inside bigger pieces. You will need to assemble the panels using the included plastic screws and you don't need tools to do this.
HOW IT WORKS
Litter Loo features a hinged front door that you just swing down to open and then you can slide-in the litter box. When the door is opened for scooping it's like a ramp, you just slide the litter box down, scoop and slide it back in.
When you close the door it will stay shut by strong magnets located on the front panel. The side panels are shorter so they leave an opening on both sides that is meant to ventilate the inside and provide cats a more open feel.
Your cat will enter the enclosure through the opening cat door and use the litter box as usual. To clean the litter box just swing down the front door and slide the litter box out.
PROS
The hinged front door gives easy access to the interior
Litter Loo does a good job keeping the litter confined (except if your cat is a heavy litter kicker)
Easy assembling and no tools needed
The composite material doesn't absorb urine, easy to wipe clean
Plastic screws are made of sturdy plastic
Strong magnets keep the door tight
The cat door is big enough for big cats up to 15lbs
Nice way to cover the cat's litter box
Not too big footprint
Side openings help to ventilate the inside
The unit is lightweight
Inside panels are resistant to cat scratches
It gives cats more privacy
CONS
It takes time to figure out how the pieces go together (after that the assembly is simple)
Not the fanciest design (but it looks nice and covers the litter box)
Though it's simple to assemble, the plastic screws can become challenging
If your cat is a professional litter kicker, litter could spill through the side openings onto the floor.
It's not made from wood (a Con only if you expected a wooden enclosure)
When the hinged front door is down it makes it difficult for people with physical issues to reach over the litter box.
The door is made from thin material where the hinges are located and it breaks after use, making the door useless.
The sides panels are not very thick
Scratches on the surfaces of panels may be expected
Cat door could be too high for old or disable cats
The bottom is not sealed so urine could leak
The unit is kind of narrow so the litter box fits tight, making it difficult to take it out to clean.
The materials don't look as of high quality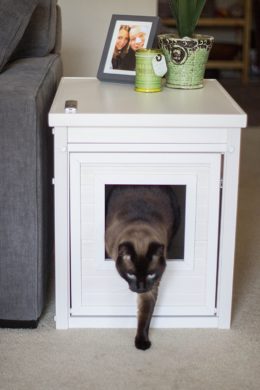 TIPS
√ If you have a Tidy Cats Breeze litter box this enclosure allows you to accommodate it. Check customer photos (affiliate link) how it fits.
√  Note to Tidy Cats Breeze litter box owners: Be aware that although this litter box is just big enough to squeeze in a Tidy Cat Breeze box, it's hard to get the litter box out for deep cleaning. You need to unscrew the top roof to remove the litter box to wash it. The front door is good for daily scooping.
√  To avoid urine leaks, make sure to place protection at the bottom of the unit, such as Puppy pads or others. Also, it's a good idea to caulk the bottom if you have a "high pisser". This will also prevent stray bits of soiled litter from getting wedged in the cracks.
√  If you have a cat whose butt does not have good aim get a high-sided litter box to prevent urine from going into the bottom of the enclosure hence, the floor.
√ The Espresso color isn't dark brown but rather black with gray graining.
√  The unit is easy to assemble but is easier if you have somebody holding the pieces for you.
√  As the composite material is very thin and weak at the bottom where the hinges connect to the front panel, you need to open the door very carefully without putting much pressure on it. This way the door won't break.
CONCLUSION
EcoFlex Litter Loo looks between modern and outdoor, but it doesn't look like a fine piece of furniture, due to details on the tabletop revealing that it's a self-assembly item. However, the unit helps to conceal your cat litter box and it accomplishes this well.
Consider the size of the entry door is 7.9" x 7.9" so measure your cat to see if your pet will be able to go through easily.
Several customers noticed small scratches on the panels so if you want a flawless and pristine unit, you may pass on this one.
√ EcoFlex Litter Loo does better for:
Concealing the litter box with a functional design
Cats weighing up to 15 lbs
Cats that don't have frequent litter box "accidents" with urine
x The unit may not be suitable:
For big cats weighing over 15 lbs
Elderly or disable cats
For claustrophobic pets
If your cat is not used to enclosed litter boxes
If you don't like possible small scratches from Manufacturer
If you look at an enclosure that looks like a piece of furniture
If you want to buy a high-sided litter box to use with the Litter Loo, Amazon will suggest the right litter box at the bottom of the page.