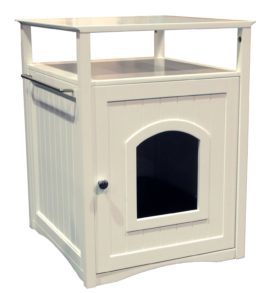 Merry Pet cat washroom allows you to conceal your cat's litter box with a modern neat design that blends with your house décor. The best benefit of hiding the litter box is containing the litter mess from going out of the box area.
If used as a cat washroom you can place the unit in your bathroom or laundry room and the furniture will give you useful shelf space to place items. Additionally, the side features a stainless steel towel bar.
This unit also could be a nice pet-house if you want your cat to sleep in your bedroom, so your pet can enjoy a concealed beautiful sleeping area. Cats love to sleep in hiding places so this unit will fit that need as well.
Merry Pet washroom features a door that opens wide so it's easy to clean if used for the litter box.
FEATURES
Conceals the litter box with a modern beautiful design
Helps to contain litter
You can use it as cat washroom or pet house
It comes in 3 colors: White, Espresso and Walnut
Magnetized door allows easy closure
Door opens wide for easy access to the litter box and cleaning
Wainscoting panels
Stainless steel towel rack on side that can be installed on either side
Stainless steel hardware
Crafted from fir wood
Interior measures 18.5″H x 16″W x 18.5″D.
Fits a large litter pan up to 16″W x 18.5″D.
External dimensions: 20.5W x 19.1D x 25H in.
Door dimensions: 7W x 8H in.
Shelf space of 4.5″H
Weight: 26.3 lbs
Top shelf weight capacity of 50lbs.
Suitable for small pets
The litter box is not included

Cat exiting the washroom
HOW IT WORKS
The unit features a door that you can open wide to put the litter box inside. The door shuts easily due to the magnet that keeps the door shut. The front opening allows your cat to access the litter box. When it's time to clean, simply open the door and clean the litter box. The side stainless steel bar can be used for placing a small towel, hanging the scooper or anything else. You can place this bar on either side as well. There is a shelf on top that allows you to place any item you need.
CONSTRUCTION & ASSEMBLING
Merry Products cat washroom & pet house comes in panels that need to be assembled so you will need a Phillips head screwdriver. The package comes with 6 main panels, 8 small bags containing the hardware to assemble the cat washroom and the stainless steel towel rack. All the panels are labeled; A, B, C, D, etc., same with the hardware. The instructions come in the box. Check the illustration of the assembling here.
When screwing the panels you need to be careful because they are not made from real wood, they are crafted from fir wood, similar to plywood. The panels are not waterproof and must be treated before assembling to avoid future problems, such as breaks of the bottom or sides in case your cat has "accidents".
Merry Pet cat washroom is not that tall, you can see in the following image the proportion of this cat washroom so you have an idea how will look in your house.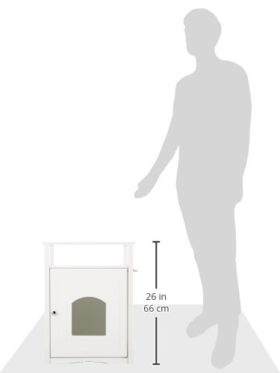 PROS
It looks really nice
It conceals beautifully the litter box and can still be a functional piece of furniture
Versatility: it works as a cat washroom or cat house
Cats adopt this system easily
It helps to contain litter messes
Wide opening allows cats to enter the unit easily
It's lightweight so it's easy to move (don't try to pick it up from the top though)
Flexible setup, you can put the stainless steel bar on either side
Affordable price
It allows you to use the litter box's area in a smart way.
CONS
It doesn't cover much of the odors, you need to keep the litter box clean.
If you are not handy the assembling is not easy  (see a YouTube video to understand the cam locking system)
The hardware is not of  good quality
The instructions lack the narrative to accompany the step by step pictures.
The unit is not that stable once assembled. If you try to move the furniture from the top the screws may come out.
If your cat is a digger the opening will still let litter out of the furniture.
The inside is rather small (it still has enough room for a cat to do its business)
To clean the litter box inside this washroom could be uncomfortable for people that suffer backaches (this will happen with any covered litter box)
TIPS
Since the cat washroom is made from plywood you must treat the inside of the panels before assembling and also use a high wall litter box to avoid urine going into the interior of the unit.
You can also buy a waterproofing spray and spray all the inside of the panels before assembling.
If you are not handy, try to ask somebody to help you to assemble the unit, it's faster and easier with two people.
Be really careful if you use a powered drill. The panels are thin and not strong and could crack if not doing it right.
Before deciding what litter box to buy to accompany this unit, get the cat washroom first so you can see in person what will fit perfectly in it. If you buy a high wall litter box make sure the entry is low because if the entry is high your cat won't have enough opening to enter the unit.
This cat washroom looks really nice if you place flowers on top and books on the shelf.
A good idea is hanging a charcoal bamboo deodorizer on the towel rack.
To make the connections more stable you can use gorilla glue on the cap screws.
CONCLUSION
Merry Pet Cat Washroom looks nice as the picture but not as tall as you would think. Most likely you won't want to use the rack to put a towel on it unless you don't mind to lean over to reach it.
This piece of furniture doesn't have human grade quality but it serves its purpose which is concealing in a nice way the cat's litter box for a reasonable price.
The average customer satisfaction of this unit is 72% showing satisfaction and 28% showing dissatisfaction when using it to conceal the cat's litter box.
√ I recommend Merry Pet cat washroom for:
Cats weighing up to 16 pounds
People that don't want to see the litter box in plain sight anymore
Small apartments where you need to maximize the use of space
x I would not recommend this unit if:
Your cat weighs over 16 pounds
Your cat is disabled or has arthritis (4" to 5" from floor to bottom of door)
Your cat tends to urinate out of the litter box (unless you waterproof the interior)
You want a very stable, human grade piece of furniture