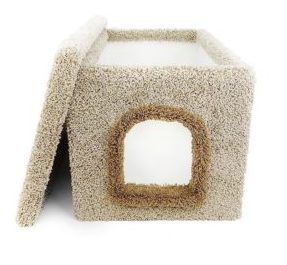 New Cat Condos Premier Litter Box Enclosure is the solution to conceal your cat's litter box if you have reduced space and need to place the litter box in living areas.
The unit is made from real wood and carpeted with plush on the outside to provide a scratching surface for your cat. The inside is lined for easy cleaning with a damp piece of cloth.
The top is removable for easier access to the litter box and also to change the litter. New Cat Condos Enclosure helps to reduce odors due to its thick walls which you will appreciate when having visitors over.
FEATURES
It comes assembled, no tools needed
High quality, made from solid wood and carpeted with plush household grade carpet
Provides your cat privacy to do its business
It helps to reduce odors
Allows you to conceal your cat's litter box
Can be used as cat hiding house
Exterior Dimensions: 20" W x 33" D x 20" H
Interior Dimensions: 16" W x 28" D x 16" H
Entry Dimension: 8″ W x 9″ H
From bottom opening to the floor: 3 1/2"
Carpet color shades and textures may vary
Comes in colors: Beige, Blue, Brown, Gray, and Green.
Made in the USA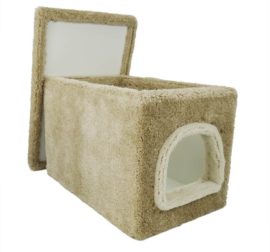 PROS AND CONS OF NEW CAT CONDOS ENCLOSURE
On the following list check the main advantages and disadvantages of this litter box concealer:
PROS
Nice way to conceal your cat's litter box
No need to assemble
High quality, sturdy and well made (it looks like a storage bench)
It won't collapse if you move it around
It serves as cat scratching post
The outside plush carpeting holds up very well the cat's scratches
It helps to contain litter scattering
Good size inside for the litter box and for the cat to move inside
It serves as cat lounge or perch for window sills
It reduces odors from the litter box
It stops big dogs from accessing the litter box
CONS
Corners and seams are not caulked to prevent leakage
Inside is not 100% waterproof, the bottom needs to be protected with a rubber litter mat if you have a cat with frequent litter box "accidents"
It's too heavy for elderly or the disabled (it takes a strong person or two to lift it to carry it)
The lid is a little heavy as well
TIPS
Think well where you will locate the unit since you may not be able to move it around easily if you change your mind.
I suggest sealing the inside with a spill-proof sealant (and caulk the seams) before letting your cat use the litter box if your pet is a high sprayer.
CONCLUSION
New Cat Condos Premier is a durable and high quality, well-built litter box enclosure. If you want to have the litter box in living areas, this unit is a good solution.
If you have a cat that tends to urinate out of the litter box, I recommend waterproofing the inside of this unit and get a high wall litter box. The unit is made of sturdy real wood, but cat urine can ruin any strong material, plus the smell doesn't go away. Now if your cat doesn't have litter box "accidents" don't worry about sealing the inside, maybe just place a rubber litter mat would be sufficient.
Consider that the New Cat Condos Premier enclosure is much bigger than it looks in the pictures. This litter box enclosure has a good depth of 28 inches on the inside, but the width could be too narrow if you want to place a litter box that is wider than 16 inches.
√ New Cat Condos Premier litter box enclosure may be suitable:
Any average size cat
For small apartments where you need to conceal the litter box
x The unit may not be suitable:
Large cats (Main Coon, Ragdoll, etc)
If your cat is a high sprayer (unless you adjust the unit)
For elderly or the disabled people (the unit is really heavy)