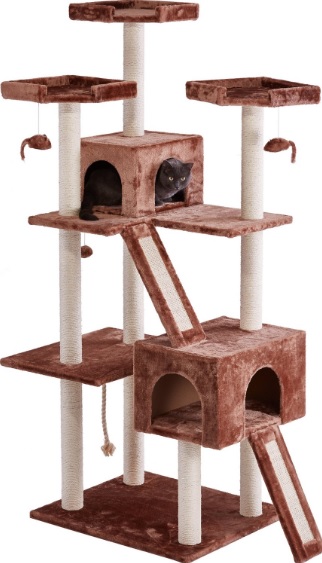 There are many reasons why cats love to be high up and one of them is having a great view of their territory from above. My cat Sophie is not the exception and even though she has high spots in our house where she lays down or chills I wanted her to experience a whole new level of height. So with my husband decided to get her a 72-inch tall Frisco cat tree/condo. In this review you will see how the Frisco cat tree worked out for my cat and also the many details about this cat tree/condo.
What came in the box:
8 Panels (baseboard, "L" shape panel, rectangular panel, 3 perches, 2 ramps)
2 Cat houses
10 Scratching posts
1 String rope
1 Hardware bag
User manual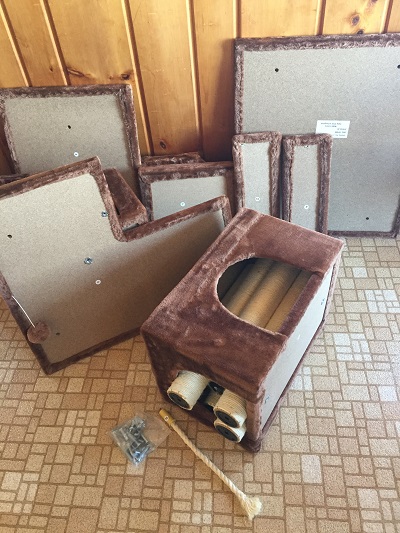 Dimensions of Frisco
Fully Assembled: 27.5" Length x 44" Width x 72" Height
Baseboard: 23.5" Length x 27.5" Width
Cat House #1: 14.5" Length x 19.5" Width x 12" Height (entry is 8 inches wide)
Cat House #2: 12" Length x 15" Width x 10" Height (entry is 6 inches wide)
Perches (each): 13" Length x 13" Width x 2.5" Height
Posts Length & Diameter: 17.5″ x 8 cm
Height to entry Cat House #1: 16"
Materials & Construction
The most important aspect is the quality of materials used to ensure the cat tree will hold up to your cat jumping and playing.
Fabric used in the cat tree
Frisco 72-inch cat tree comes in two materials depending on the color. I got the brown color so the panels were covered with soft plush which is very soft to the touch. If you get the cream color the cat tree is covered with faux fleece.
Panels/Boards
The baseboard of the Frisco 72-inch cat tree is the largest of all Frisco trees. The material of which all parts are made (baseboard, perches, ramps, and cat houses) is strong particle board, covered with soft plush material (or faux fleece if cream color). These panels are partially wrapped exposing the underside particle board with a number label for easy assembly following the diagram of the instructions. In the case of the ramps the exposed material is burlap for your cat to scratch.
Scratching posts
The scratching posts which are the vertical support of the Frisco tree are made of 5mm thick heavy duty cardboard covered by Sisal rope. All 10 posts are labeled with a number as well.
Toys
The 2 lower perches and the base of cat house #2 come with an attached hanging mouse made of soft plush material for your cat to play. Additionally, the cat tree comes with a thick string rope that you need to screw on the underside of the lower panel. This will keep your cat entertained batting at it.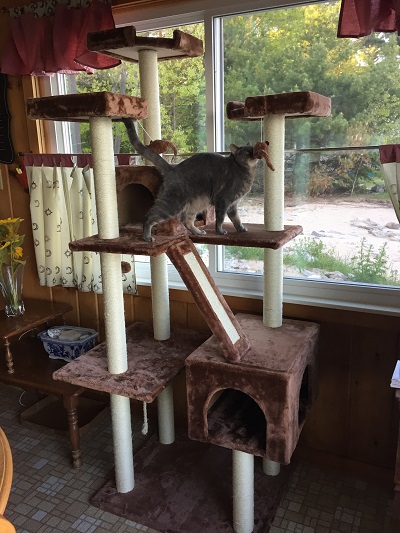 How to assemble the Frisco 72-inch Cat Tree & Condo
The assembly is relatively easy because all parts are labeled with a number that you need to identify in the diagram of the instructions (see below photo). The diagram is intuitive and easy to follow.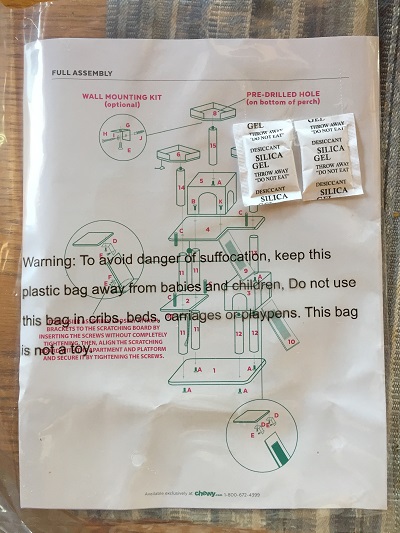 All the panels come with pre-drilled holes that make it easy to screw the parts together. The cat houses come as a whole piece and don't need assembling, they only need to be screwed to their base.
Hardware
The hardware bag comes with different bolt sizes assigned for the different parts and with two Allen wrenches (1 small and 1 large) that is all you need to screw the parts together. All parts are connected with bolts.
Quick Demo How to Screw The Posts to the Base
My Cat Sophie Using Frisco Cat Tree
PROS
Tallest cat tree with a large baseboard that makes it very stable
The construction is sturdy, well made
Nice soft plush material (brown color Frisco cat tree)
Easy to follow instructions
Easy to assemble, all parts come with pre-drilled holes
Nice multi-base structure with several levels, perches and houses
With several scratching posts for your cat to scratch from any angle.
Scratching posts and boards are excellent to stop cats from scratching furniture.
Ramps with burlap for your cat to scratch
Ideal for multi-cat households
Hardware fits smoothly in each part
Attached hanging mouse toys for your cat to play
String rope for your cat to swat at
CONS
Higher ramp takes space from the area where the cat stands (my cat didn't like that, but installing the ramps is optional)
Side ramp that touches the floor enlarges the cat tree footprint (we decided not to install it).
Cat house #2 is kind of small for large cats (if you have a big cat visit 3 best cat trees for large cats)
The tree is tall and uses a large space (it could look a little invasive if the room is on the smaller side)
This is the classic carpeted cat tree & condo that may not be so stylish to blend with your living areas. For a designer style and more contemporary cat tree you can check the ContempoCat Contoure Cat Tree.
My Verdict about Frisco Cat Tree
Frisco Cat Tree & Condo is well made, super soft, easy to assemble and provides cats with areas where to play, rest, chill, scratch or hide. It's ideal for multi-case households because it functions as a playground for your feline friends, increasing the fun even more with hanging mouse toys and string rope. This cat tree has 10 scratching posts and 2 scratching ramps so your cats don't need to share their scratching areas; there are plenty for all. I definitely recommend this cat tree. My cat Sophie loved it.
For more information of Frisco cat tree & condo, click on this link and enjoy free shipping with Chewy.com (affiliate link).