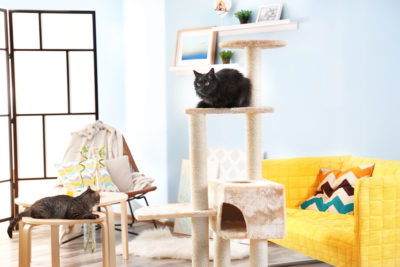 Getting the toys and kitty gadgets for your cat can be an extreme sport. It has to be comfy, and durable – what with all that batting, climbing and scratching. It also has to be the exact size and made with materials that are not poisonous to your dear pet. And the most crucial thing, (drum roll please), your cat has to like it.
What about choosing cat trees?
One of the trickiest furniture to get for dear old Fluffy is the cat tree. One size certainly doesn't fit all in this case, especially if Fluffy is a large Maine Coon, Egyptian Mau, or just a massive cat. You'll need a sturdy yet tasteful home/playground that won't collapse under all that weight. So how exactly do you know the purrfect tree for your Precious? There are so many choices out there, so much to choose from; it's a bit overwhelming. Don't fret. Throw your feet up and relax because the following list will help you with that.
We've searched beyond the seven kingdoms and seas, o'er the hills and far away, to infinity and beyond – you get the idea – just to find the three best cat trees for your big cat, with a rundown on their pros and cons –why you should get them and why you probably shouldn't. Before that, though, let's have a look at why you should definitely have a cat tree in your home.
Why a cat tree is a must-have for your pet
Cats have an instinct of finding a high, vantage point to lounge and survey their 'catdom,' or sometimes they just like the security of higher ground and being able to see any threat way before it reaches them. A cat who is unable to do this may begin to feel uneasy around the house (especially if it is strictly a house cat) and unhappy too. A cat tree helps nurture this instinct.
Cat trees also have other benefits too:
It's a great way to exercise your kitty: Cat trees help keep those muscles active and senses sharp. If you've got a large cat, a tree is especially useful in controlling your pet's weight too.
It saves your furniture: No more ripped couches or claw marks on your beautiful decor. Most cat trees have scratching posts wound with sisal ropes, which are the perfect surface for your cat to taste its clawing mettle.
It keeps the peace: Believe it or not, cat trees certainly make living with more than one cat easier. Your pets use it to set a kind of hierarchy; the 'big cat' stays at the top perch, the second in command on the one below, and so on. This way, everyone has their own space, and everyone is happy – for the most part.
It's entertaining: A cat tree in the house is the perfect boredom killer. Your kitties can frolic, climb, and scratch all they want. This gives you some time of your own, and saves your laptop from all those coffee 'accidents' – we know you meant to do it Fluffy!
What to pay attention to when choosing the best cat tree:
When hunting for a tree for your large feline, there are certain features you need to keep an eye out for. You need to pay attention to design and stability. Trees for large cats should be sturdy enough to withstand a feline assault without falling over or wobbling. That's why it is advisable to know your cat's weight before buying a cat tree, and if you've got more than one cat, you should add all their weight together.
Now you know you have to get that tree, let's move on to what tree you need precisely. Here are the 3 top cat tree picks we have for you today.
OUR 3 BEST CAT TREE CHOICES
We've looked at the designs and features of various cat trees. We must say it was tough deciding which one deserves the number one spot, but we decided that the title of 'best cat tree' would go to:
1. Feandrea 67" Multilevel Cat Tree:
This unit is like the jungle gym of cat trees. Its elegant finish and well-balanced design speak style. With a weight of 60 pounds, there's no keeling over for this tree. Let's not mention the perches, oh so many of them.
PROS
It is very sturdy and balanced
It has multiple perches and condos
It fits with almost any type of home decor
Economy of space
It has hanging toys too
CONS
It's expensive
It's heavy
Requires assembly
Although the price is a little on the high side ($131.99), we feel that all the entertainment and aesthetics this piece has is worth the money. The roominess makes this tree especially great for large cats of all ages and breeds. It's even got a 4.8-star rating on Amazon and comes in two colors – Light gray and smoky gray. There's also a 30-month warranty on this baby. So here it is, our number one (clap clap clap).
2. Go Pet Club 67" Cat Tree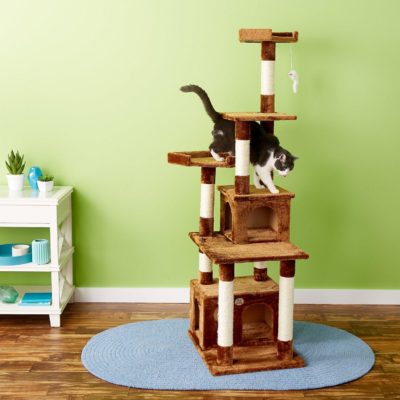 Go Pet Club cat trees is popular among cat owners looking for large, well built cat trees. And the Go Pet Club 67" does not disappoint either. It is huge, tall, but sturdy enough to accommodate pretty large cats without wobbling. One customer stated in her review that it was a superb fit for her two Maine Coon cats. Its vertical poles are also lined with sisal ropes for your cat to scratch.
PROS
Bonus toy
Sisal ropes on every vertical surface
Sturdy
Multi-level
CONS
Needs assembly
Sisal lining is thin
Takes a lot of room
The toy doesn't last long.
We picked this particular GPC cat tree because of its excellent value for the price. Fixed at an affordable $62.12, we think that this cat tree is the perfect choice if you want to spoil your pets within a budget.

3. Aeromark International Armarkat Cat Tree Furniture Condo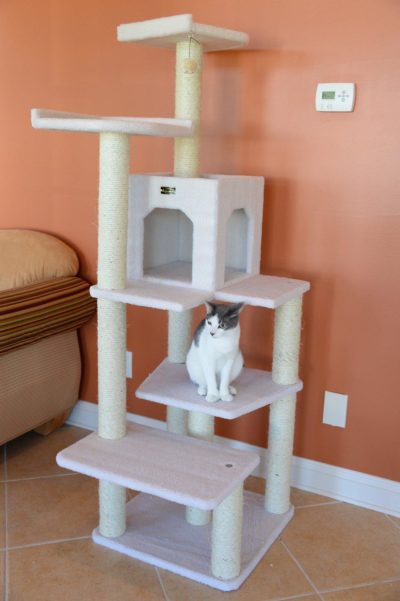 This cat condo ranges from a height of 60 inches to 70. It also has a variety of designs. The favorite among buyers seems to be the B6802 model (Ivory Condo). Made with pressed wood and faux fleece covering, the Ivory Condo exudes elegance. It's also sturdy despite its slim finish and would comfortably hold a 20-pound cat.
PROS
Sturdy
Great value for money
Stylish
Sisal covers the poles from top to bottom
CONS
Screws at the base are exposed and may scuff your floor
The second level is too short
Requires assembly
Faux fleece covering is thin
If you're looking for a cheap, practical home for your kitties, then this Ivory Condo might be your best bet.
That's all, folks! Our list ends here. We hope we've helped you narrow your cat tree choices down and maybe learned a thing or two about cat trees. If you don't have one, we advise you to get it as soon as you can. Cat trees are unique places for your cats, a place to let out pent-up energy and to hide away when things get too stressful. It's your cat's home away from home, so you have to be careful when buying cat trees. Always go through customer reviews first. We wish you luck with your shopping. If you have better cat tree suggestions or wish to ask any questions, please do contact us!