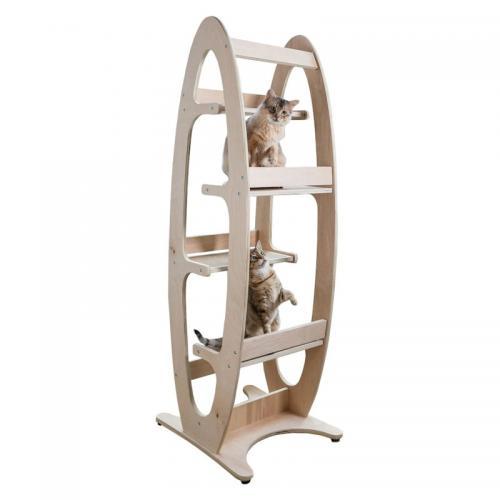 As a long term cat owner I know why cats love to be in higher spots; one of the many reasons is that they need a wide view of their territory. Enter the cat trees. I have seen many types of cat trees in the market and they all look similar, totally carpet-covered and with some scratching polls. This time I wanted to review a different style of cat tree, with a new concept and design, made to blend with any decor like a piece of furniture. That's why I wanted to review Contoure ContempoCat cat tree, I really liked its design and I wanted to know if it works nicely for all types of cats.
Overview
ContempoCat Contoure tree comes with unfinished birch that you can stain to the color of your preference or you can use it as it is, with natural unfinished wood color. The tree features 4 carpeted platforms creating different height levels and a sturdy wide base plate for stability. The Contoure tree provides a multi-level vertical playground for cats and also a resting area so if your cats like to lounge on the stairs in your house they will love this tree. This also works in case you have cats that don't get along. According to catvets feline behavior guidelines vertical shelves can serve as retreats for stressed cats in case of feline conflicts.
What comes in the box:
—Foot base plate
—Front and rear frames
—4 x Carpeted Shelves
—4 x Side rails for shelves
Dimensions & Construction
This cat tree is 68 inches tall (1.71cm), with 25"x 22" footprint (63cm x 52.5m). The unit is made of 100% cabinet-grade unfinished birch plywood (Eco-friendly and sustainable wood harvested and locally grown in NC, USA). The birch plywood is 3/4" (2cm) thick. The carpet used on the platforms is commercial grade inset (router cut) 2cm from edge. It's a low-pile typical indoor/outdoor carpet. The glue used to secure the carpet to the shelves is "Titebond" wood glue. This type of glue is not harmful like contact cement or carpet glue.
This cat tree is totally made in the USA. The tree weighs 40 pounds (18.14 kg), it has a solid construction and can handle the weight of large cats up to 17 pounds (7-8 kg). The shelves could be on the narrow side for large cats though. This cat tree is suitable to be used indoors only because plywood is not waterproof.
Dimensions (inches | cm)
General: 23"L x 23" W x 68" H | 58.4cm L x 58.4cm W x 1.71 cm H
Height: 68" | 1.71 cm
Footprint: 25"W x 22" D | 63cm W x 52.5cm D
Width main frame: 20.9" | 53cm
Depth main frame: 19.29" | 49 cm
Width Shelf: 10.23" | 26cm
Depth Shelf: 19.29" | 49cm
Shelves/Steps: 4
Is ContempoCat Contoure tree suitable for all cats?
This tree is suitable for all cats, including large cats. Although ContempoCat Contoure tree can handle large cats you need to asses the usual behavior of your large feline to determine the suitability of this tree. This cat tree features a bottom board designed for stability and to absorb the impact of the cat's jump, plus the unit itself is pretty heavy (40 pounds | 18.14 kg). However, if your cat is large, over 18 lbs (8+ kg) and he is a leaper, he may push excessive weight when jumping from the top of the tree to the floor and could tip the unit if the launch is strong enough. This won't happen with average sized cats.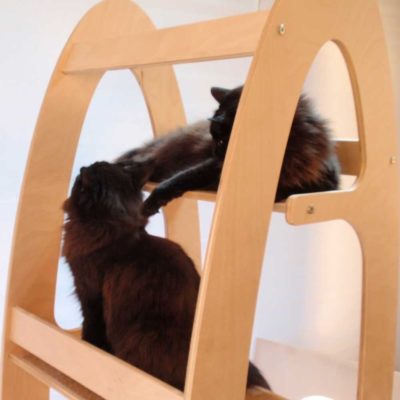 What are the Pros & Cons of ContempoCat Contoure cat tree?
The following list is meant to help you decide with all the info you need:
PROS
Modern contemporary beautiful design
Well made and sturdy
It looks like a piece of furniture, unlike other invasive-looking huge carpeted cat trees
Provide cats lower and higher levels where they can choose
Great for multicat households
Made with eco-friendly raw materials
CONS
Steps are on the narrow side for large cats (check cat trees for large felines if you have a big boy)
The wood is unfinished and you have to stain the wood if you need a wood looking color
The tree could sway a little if a large cat jumps on it (make sure to assemble the unit correctly so this doesn't happen).
Tip when assembling
If you don't assemble this unit according to the instructions the ContempoCat tree may sway a little. When assembling the pieces never screw them together tightly until all parts are connected. Once they are all hooked together you can screw them tightly. If you don't do this the structure of the cat tree may be less stable and swaying more with the cat's activity on it.
My final thoughts
ContempoCat Contoure is a well made and beautifully designed cat tree that won't look ugly in the middle of your living room. Some people don't buy cat trees for this same reason and unless they designate a room exclusively for the cat they won't buy a cat tree. With Contoure ContempoCat tree you can place it anywhere close to the living areas where your cat likes to hang out the most.
The drawback is the fact that the unit comes unfinished and requires stain for a finish glowing look. All in all I recommend it, the unit is sturdy, well made, it won't look ugly in your living room and the bottom line is that cats love jumping in between levels, similar as they would do on stairs.
If you live in Australia, you can get this beautiful designed cat tree on this link. If you are from the USA, you can get it in Amazon: