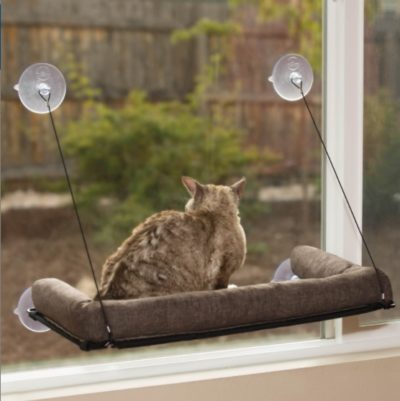 Prioritizing your furry friend's comfort is an important part of living with and caring for a cat. Cats spend the majority of their time either napping or staring out the windows for extended periods. This is a weirdly effective way to stay visually and mentally stimulated even while indoors. So what can you do to make Kitty feel more comfortable? The EZ Mount Deluxe Bolster Cat Window Perch by K&H is just what your cat needs. In this article, we'll take a look at this beautifully crafted cat window perch and why it's a must-have for your cat.
Main Features
With the K&H Pet Products EZ Mount Deluxe Bolster & Cat Sill, you have a hammock-style, strong, and super comfortable cat window perch that elegantly attaches itself to the window glass surface, thanks to the 4 powerful suction cups that keep it steady. The suction cups measure a litter over 2 inches in diameter.
The product is made from the finest quality materials and weighs 2.65 pounds, measuring 12 x 23 x 2.5 inches. This window perch features removable padding made of Sherpa fabric at the bottom and provides more than enough space for your cat to lie comfortably and relax.
Thanks to the use of very powerful suction cups, the K&H Pet Products EZ Mount Deluxe Bolster & Cat Sill is capable of supporting cats that weigh up to 50 pounds. Because the average weight of most domestic cats is about 10 pounds, with some breeds getting as heavy as 25 pounds, the window perch is sturdy enough to support your cat.
The window perch requires no tools to install, it's easy to assemble, and its unique flip-up design allows you to still use your window blinds and drapes without worries.
It also features comfortable bolsters for Kitty to cuddle up against, and who doesn't love a little cuddle every now and then?
It is available in a chocolate color that adapts to most home decor.
The bolsters can be easily removed, and the cover can be machine-washed.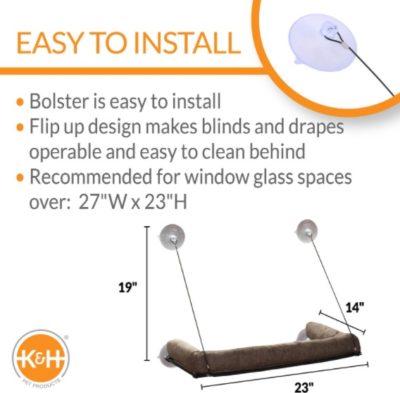 How It Works
The K&H Pet Products EZ Mount Deluxe Bolster & Cat Sill is a well-crafted window perch that utilizes the power of suction cup technology to keep the entire Perch steady on the window glass surface. Suction cups work by creating a low-pressure region inside the suction area when these cups are pressed on a smooth surface. The higher atmospheric pressure outside the cup then keeps the cups glued to the flat surface. This grip is strong enough to lift the entire window perch and support the weight of a 50-pound cat.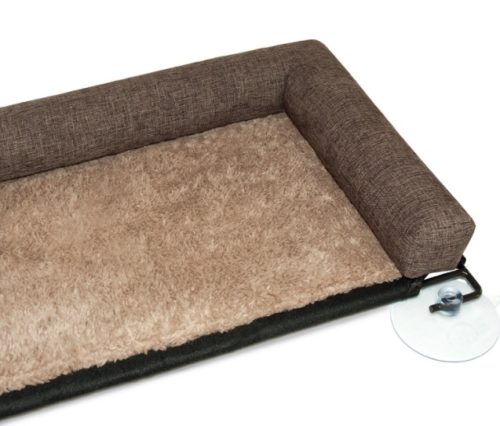 How To Install
1. The first thing to do before installing the K&H Pet Products EZ Mount Deluxe Bolster Cat Window Perch is to thoroughly clean your window surface. Ensuring that the surface is completely dry guarantees that the suction cups stick firmly.
2. Wash the suction cups clean using mild detergent and dry completely. Warm suction cups have been discovered to stick better than cold cups. So try leaving them out in the sun to warm up or wash with warm water before mounting.
3. You'll need to clean the window surface and the suction cups monthly to ensure they maintain their grip.
PROS
The K&H Pet Products EZ Mount Deluxe Bolster Cat Window Perch has a sill that can support up to 50 pounds of weight.
The hammock-style sleeping surface has comfortable bolsters for your cat to cuddle.
The flip-up design allows you to comfortably use your blinds and drapes.
It's easy to assemble and install.
The window perch fits windows 24 x 19 inches or larger.
Its Bolsters are removable and machine washable.
It ships with a one-year limited warranty.
Easy to clean
CONS
Suction cups will eventually wear and tear over time and will need to be replaced.
Conclusion
If you're looking for an elegant-looking cat window perch to not only blend with your home aesthetics but also provide a comfortable resting space for your cat, then the K&H Pet Products EZ Mount Deluxe Bolster Cat Window Perch is just what you need.
The K&H Pet Products EZ Deluxe Bolster cat window perch has many positive reviews online from customers who made verified purchases. You can get it today in Chewy and apply 18% off its retail price, plus get fast shipping by visiting this link.