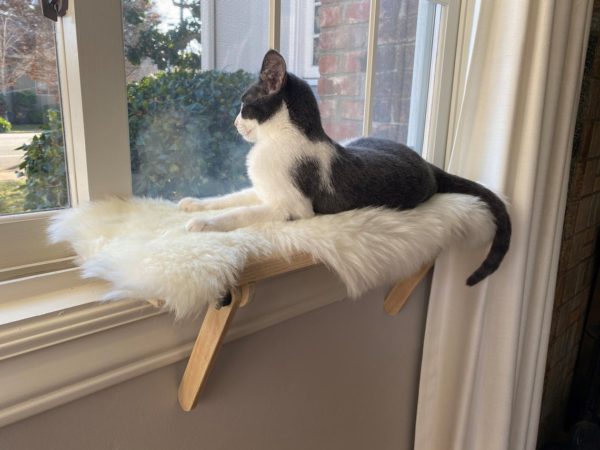 If there's one cat behavior that I find fascinating, it's watching her climb onto the window sill, and just sit there. One of the reasons why cats like to be up high on a window could be that they like to be on their makeshift thrones, staring out into the neighborhood and looking outside for possible birds, or anything that may call their attention. However, if your window does not have a sill for your cat to gaze and you are not a fan of installing a cat perch with screws or nails, then the easy-to-install wooden removable cat window perch is just what you need. The PurrchPerfect cat perch is handmade by DesignHouseBoutique with high-quality standards, more details of this beautiful handmade unit here.
Importance of cat window perches
Window-gazing is a common behavior among domestic cats that is proven to be necessary for their growth and development as a useful source of visual stimulation. Cats get stimulated visually and mentally simply by looking out the window at the environment, enjoying a bit of sunlight, and staring at interesting patterns in the light, bugs buzzing around, at other animals and the neighboring cats, etc. Visual and mental stimulus preserves their instincts and keeps them entertained, alert and healthy. This is why many cat owners are investing in a dedicated cat window perch or cat shelf. But how does this particular wooden cat window perch work and what makes it so special? You're about to find out.
Main Features of The PurrchPerfect Removable Cat Perch
The cat window perch is a well-crafted handmade wooden perch made from treated pine wood. The PurrchPerfect comes with a variety of surfaces to choose from: plain natural pine wood, super soft, warm, and cozy plush mat, soft felt, or genuine sheepskin.
Having a dedicated window perch for Kitty to relax and stare into the great unknown that requires no tools for installation, no nailing, and hammering, does not require Velcro, and can be removed in 1 minute or less, is indeed a blessing.
The window perch is made to be 24 inches wide and 7.5 inches deep making it large enough, stable, easily accessible, and comfortable for your cat. With the added finish of the soft felt, super soft, cozy mat, and sheepskin, the PurrchPerfect cat window perch is guaranteed to become your cat's favorite part of the house. This window perch also comes in sizes 24″ x 9.5″ and 24″ x 11.5″ for medium and larger cats.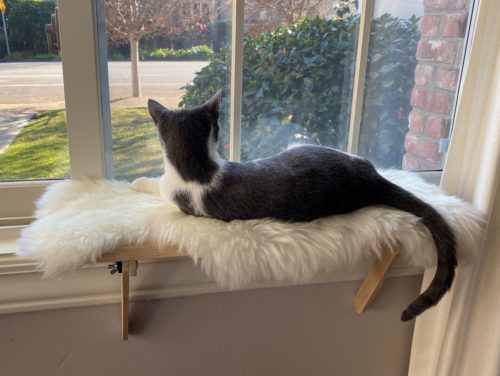 How It Works
The PurrchPerfect cat wooden perch works by extending the length of a house's window sill. For people whose windows do not have a sill or ledge for their cats to sit on and gaze outside, the wooden perch has been designed to be perfectly balanced on the side of your window. This creates sufficient space for Kitty to relax and visually explore the outside world.
How To Install
Installing the PurrchPerfect wooden cat window perch is actually a very simple process:
Before you order for your window perch, ensure that the current sill is not wider than 4 inches. If you have a wider window sill, then you need to order a wider perch (they come also in 10 inches or 12 inches deep).
Also, check to be sure that the tip of the measuring tape fits in between your window and its frame.
Now to get started, unfold the hinged legs of the wooden perch and place the aluminum angled profile in between the window and the wooden ledge.
Level the perch and fasten the wing nuts, and voila! You have your cat window perch installed.
Took only a few seconds right? To uninstall and move the perch to another window, all you have to do is loosen the wing nuts and lift the perch.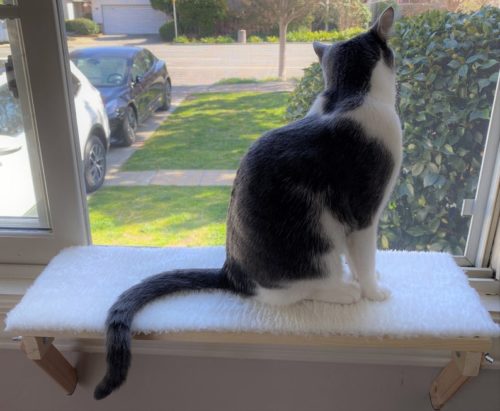 PROS
The PurrchPerfect is handmade from fine quality treated pine wood and is intricately designed for comfort.
The pinewood is reclaimed/recycled wood.
Apart from the natural pinewood surface, the wooden perch comes with 3 other surface types depending on your cat's preference: the warm plush mat, the genuine sheepskin, and the soft felt surface.
Stylish cat perch that is easy to install and can be uninstalled in less than a minute.
Does not require sophisticated tools or drills or nails or glue to keep in place.
The super-soft warm and cozy plush mat is machine washable.
The tip of the wooden perch's legs that touch the wall is fitted with non-scratch padding to prevent the perch from scratching your wall.
It is very affordable, easy to use, and can be customized for you to any color, size, or different padding.
CONS
You'll need to have a windowsill that's not more than 4 inches wide. A wider sill will require a wider perch.
Consider that the small size perch measures 7.5″ deep from back to front so this particular size is for cats that want a vigilance spot to look through the window more than bed type space to stretch out. For a larger surface pick the following sizes.
Conclusion
The PurrchPerfect is a must-have for any cat owner looking to provide a comfortable and cozy platform for their cat to rest and view the outside world. It is really well-made, it looks beautiful, stylish, and it can easily be installed and removed without needing special tools. But don't just take my words, this product has a solid 5 out of 5 stars rating among 1,918 happy customers!. It certainly can't get any better than this. If you wanna read testimonials of these happy customers with pictures of their cats and their PurrchPerfect perch (small size 24″W x 7.5″ deep), visit here. For Medium size perch (24″W x 9.5″ deep) visit here. For the large size of the PurrchPerfect (24″W x 11.5″deep) visit here.