Do automatic litter boxes really work? Well, for most cats they do (when choosing the right type), but did you know that self-cleaning litter boxes are not suitable for all cats?
We agree that self-cleaning litter boxes help cat owners avoid scooping the litter box but sometimes these great devices are not recommended in certain circumstances to be used for a cat. The following article explains in what cases a self-cleaning litter box may not work for a cat and why. If you think your cat fits one of these situations maybe you can opt for a different system, such as a semi-automatic litter box.
Either way, it's better for you to make sure your cat won't have any problem when using a self-cleaning device.
1. Kittens Under 6 Months Old
Automatic litter boxes may not work as well for kittens. The reason is that kittens are playful and smaller than adult cats and this is a problem when using a self-cleaning litter box.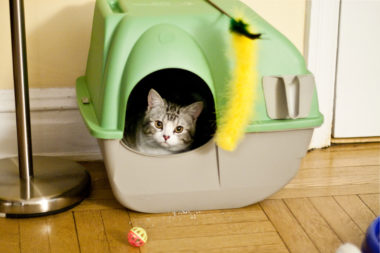 Most Manufacturers recommend using the electric litter box with cats over 6 months old and the reason for this resides in the mechanism how they work. These devices feature a sensor that senses the cat motion or the cat's weight to activate when the kitty enters the box. The following reasons describe why getting an automatic cat box for a kitten might not be a good idea:
The kitten doesn't weigh enough to activate the sensor (Litter Robot)
If the kitten is too young (2-3 months old) the motion sensor may not detect its body to start a cleaning cycle (electric litter boxes with scooping rakes).
The kitty could jump suddenly when the cleaning cycle is active (any automatic device).
The kitten may not understand the mechanism of the auto litter box and will start playing of fighting with the machine all day.
The little kitten may not be able to access the litter box if it gets stuck with the lid in opened position (Littermaid, Petzone, etc.)
The waste produced by kittens are much smaller than adult cats and the rake may miss them more often so you will have to scoop them (this could happen to any unit featuring a scooping rake)
KITTEN FIGHTING WITH THE PETSAFE SIMPLY CLEAN LITTER BOX
2. If Your Cat Has Chronic Digestive Issues
Self-cleaning litter boxes may not work as well for a cat creates very soft stools. It's important for an automatic litter box to be able to collect the clumps properly. If the clumps break down due to a soft stool the system will not only fail in the purpose of scooping and deposit the clumps into the waste compartment but also it'll create a mess with feces stuck on the scooping rake, conveyor or walls. The scenario is even worse if your cat has periods of diarrhea.
The exception to this is the Litter Robot that through its rotating mechanism is able to slide the soft clump into the waste drawer. The only issue would be to have some feces traces around the globe that you will need to clean.
3. If Your Cat Is Extra Large
If your cat is extra large it may not be a good idea to get a self-cleaning litter box. Any pet that weighs over 20 lbs is considered an extra large cat. You can find good automatic litter boxes for large cats but when you have a really big boy or girl, the options are close to none.
Most automatic litter boxes are designed for a standard sized cat so an extra large pet just doesn't fit comfortably. Even if the cat manages to use the litter box, it will most likely have a bad aim, creating a mess. Also, automatic litter boxes feature a built-in scooping rake sitting right next to the litter bed, reducing space for a large cat to walk and turn around comfortably. According to my researching most cat owners that make their large cats use one of these devices complain thereafter about the rake being covered with poop or urine or some waste outside the litter box. Read my article about types of automatic litter boxes to understand better this issue.
Self-cleaning litter boxes such as the PetSafe Simply Clean or the CatGenie don't offer a roomy litter area for a very large cat. The Litter Robot III, on the other hand, accommodates a cat weighing up to 20 lbs (or more) comfortably, as long as the cat can turn around comfortably it doesn't matter how much it weighs. Other automatic litter boxes, such as ScoopFree or LitterMaid may work better for small to medium sized cats up to approximately 15 lbs. The larger your cat, the harder for it will be to maneuver in a 14 x 14 area.
All in all, if your cat weighs over 20 lbs and you choose a scooping rake system, your cat will be most likely subject to litter box "accidents".
MEDIUM TO LARGE SIZED CAT USING A SELF-CLEANING LITTER BOX
4. If Your Cat Sprays High
Most self-cleaning litter box may not work properly when used by high spraying cats. If you have a messy cat it may be hard for these units to contain the urine of a high sprayer because most of these devices are not designed for high spraying cats. The walls of auto litter boxes, in general, are not that tall so this makes it hard to keep the litter area clean.
The exception is the Litter Robot that is designed in a way that the top part is a Globe so it has the ability to contain high sprayed cat urine.
If your cat sprays high and you can't afford to get a unit like the Litter Robot, it may be better for you just to stick with a regular litter box. Currently, the market is offering a good option such as the Petmate Giant Litter Pan with tall walls up to 10" so your cat has a better aim when urinating.