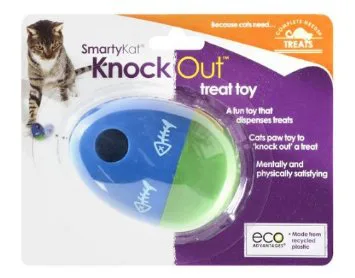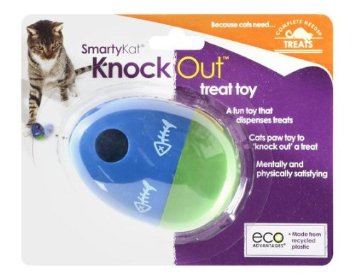 [star rating="3.9″ numeric="yes"]SmartyKat Knockout is a cat treat dispensing toy designed for your feline friend to work and play for its treats, batting it around to knock out a delicious reward.
SmartyKat Knockout provides your cat physical and mental stimulation through mimic the action of hunting preys in the wild. The SmartyKat Knockout's egg shape makes the unit to wobble when the cat plays with it, which keeps the cat engaged and interested in the unpredictable treats that get released when the feline paws at the toy or move it with its nose.
SmartyKat Knockout is environmentally friendly since is made from recycled plastic.
FEATURES
Treat Dispenser and a toy at the same time
It keeps cats engaged by unpredictable wobbly movement
Encourages the cat to keep playing to get the delicious treats as a reward.
The wobbly movement of the toy keeps cats entertained.
Gives your cat mental and physical stimulation of knocking out the treats
Dishwasher safe
Made from recycled plastic
Measures 2-Inch length by 7.5-Inch height by 5-Inch width
HOW IT WORKS
The toy is made of hard plastic and its size is a little larger than an actual egg (more like a Jumbo sized egg). The two halves come apart easily for filling with treats or kibble, just screw the top off to open it and pour your cat's favorite kibble or treats in it.
The SmartyKat Knockout is weighted on the bottom to keep top side up so it pops back up after the cat knocks it around. The hole is located on the side from where the treats or kibble pop out. The hole is oval and measures 9/16 x 1/2 inches. Unlike other toys like the Funkitty Egg-Cersizer, the SmartyKat Knockout's hole is not adjustable. Make sure to use small treats if your cat is a beginner or if you think your feline friend is not that determined to get treats.
SMARTYKAT KNOCKOUT IN ACTION
(turn down the volume before playing the video :-)
TIPS & TRICKS
Make sure to wash the toy before giving it to your cat to eliminate possible plastic smell.
Don't use irregular shaped sized kibble or treats, such as stars, flowers, triangles or something similar. Kibbles with odd shapes don't work well with the SmartyKat Knockout and in general with any egg-shaped toys.
Small and medium sized treats work better with this toy.
PROS
Easy to assemble
Easy to be adopted by cats.
It makes meal time more interactive for pets.
Good way to control your cat food intake.
It keeps the cat busy working for its treats.
It stimulates your cat physically and mentally.
It comes apart easily in two halves for easy washing
Dishwasher safe on top shelf
It gives cats some exercise.
CONS
SmartyKat Knockout does not dispense well with irregular shaped treats.
Hole is not adjustable.
You have to find the exact amount in order the toy to dispense fine. Not too full and not too low.
CONCLUSION
Smartkycat Knockout cat toy dispenser is an egg-shaped toy that works as advertised. It allows your cat to slow down its eating habit which helps to reduce vomiting as well. Playing with this toy dispenser makes your cat mealtime more fun than just eating from the bowl. However, keep in mind that this toy doesn't work as any regular slow feeding egg-shaped toy; the base of the egg is heavy and it requires some effort from your cat to eat from the toy.
Your feline friend needs to paw consistently at the egg trying to knock it over to get the chances of a treat or kibble to fall out. It's not about only rolling the egg and get the treats. If you think your feline friend gives up easily and it's not food motivated, this toy may not work that well.
BOTTOM LINE
It's safe to say that the SmartyKat Knockout is an advanced cat toy for cats that have already certain understanding of how dispensing toys work. This means cats that know about pawing at the toy and expecting a reward from the inside of it. Also this toy has better chances of being a winner with cats that are very food motivated and stubborn.
Due to these factors and the pros and cons:
√ I recommend this treat toy dispenser for:
Active and highly food motivated cats
Cats that have played with other dispensing toys
Young cats and kittens over 6 months old
Food motivated cats that need to slow down their eating
Indoor cats that need more physical and mental stimulation
x I don't recommend this toy:
As a slow feeder if your feline friend has never played with these type of toys before
For cats without much determination to work for its food or treats
Small kittens (the egg is heavy at the bottom so it's not easy to move by a young kitten)