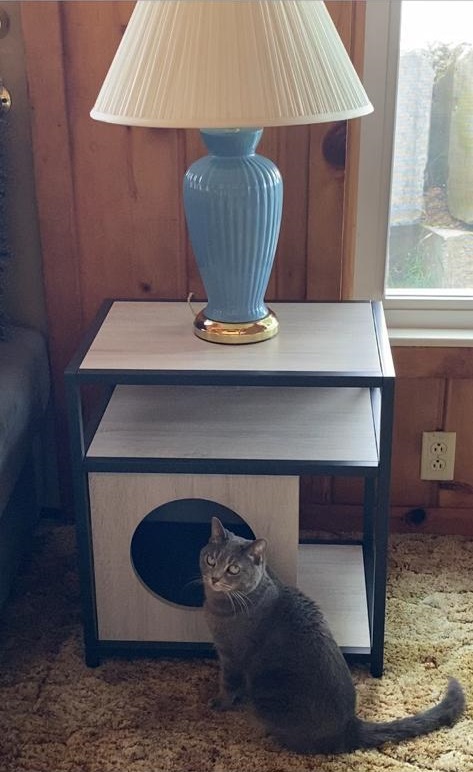 We needed a side table for our living room to replace our outdated furniture but we also needed a house for our cat Sophie. We live in an area with thunderstorms and our pet needed a hiding spot for such events. Plus, she needed her private space, she has a bed and tunnel but not a solid cat house. When I saw this Side Table & Cat House on the Litter Robot website I was sold instantly. Here I show you the quality and how to put this unit together.
Main features
Light pale Grey wood-grain finish
Vegetable-dyed sisal scratch pad on the side
Hideout with dark Grey cushion
Dimension: 20.91"W x 15.51"D x 23.07"H
Weight: 0.8 lbs. Assembled
Materials: Composite wood, metal trim, sisal, cushion
Assembling required (Tool needed: No. 2 Phillips screwdriver).
My first impression
When I saw the parts of the Side Table I could tell they were strong and heavy, not the typical furniture made especially for cats which parts are lightweight. The box came with all the parts very well wrapped and none of the pieces had scratches. These parts are labeled with a letter to identify when assembling. The hardware to assemble the Side Table & Cat House consists of many different screws, they look good quality as well.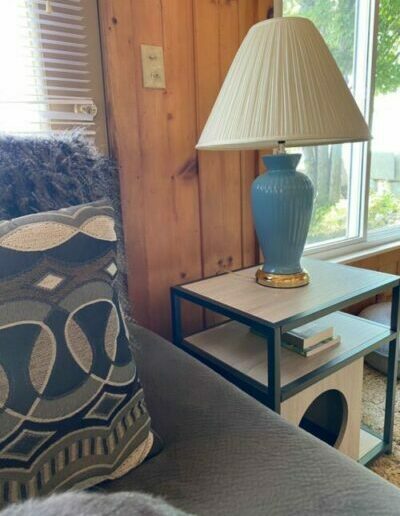 What comes in the box
Panels with labels (A,B,C,D,E,F,G)
Metal structure parts (H, J, K, L)
Hardware (Including L-wrench)
Dark grey cushion (N)
Manual of Instructions
Assembling of the Side Table & Cat House
The assembling, in the beginning, seems a bit complicated, but the instructions provide a diagram of the process step by step, which makes the assembling easier. One thing that I liked a lot about the panels is that they look scratch resistant. Still, you need to be careful when managing the parts during the assembling and ideally you should do this on top of a carpet. The cat scratching area of the table is located on the left side.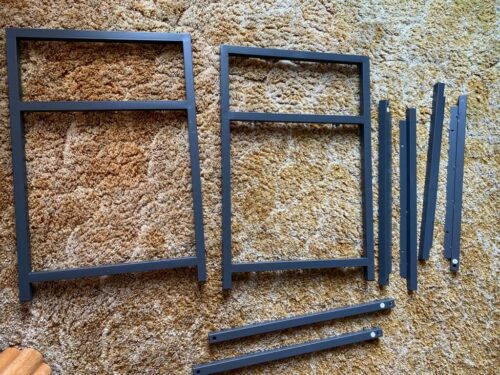 Tools & Hardware:
You need an Nº2 screwdriver and the instruction manual shows the actual size of the tip so you can compare it with the one you have and see if it works. The Side Table & Cat House comes with a bag of hardware that comes with several different types of screws and wood dowels, and it also comes with an L-Wrench. The hardware consists of:
Cam-screw (x4)
Wood dowel (x12)
Hidden cam (x4)
1-9/16" Pan head screw (x4)
1/2" Hex head screw (x12)
1/2" Pan head screw (x10)
L-wrench (x1)
Video how to assemble the Side Table & Cat House sold by Litter Robot (Whisker)
What are the Pros & Cons of the Side Table & Cat House by Litter Robot (Whisker)?
This piece of furniture is really nice, but there are pros and cons that will help you decide if this furniture is suitable for your home.
PROS
A high-quality piece of furniture, with a modern look. It looks really good!
A nice way to have a beautiful side table and provide your cat with a hiding place. An excellent cat bed concealer!
Excellent for places with not much space to put a cat bed or cat house.
Heavy, it's not a lightweight unit, this Side Table & Cat House looks durable.
Beautiful color, light pale grey and black frame match any décor.
Vegetable-dyed sisal scratching pad on the side of the table for your kitty to scratch so he will leave the rest of your furniture alone.
Good height of the Side Table, not short like other brands. This table matches the height of the average couches.
You can put a lamp weighing up to 20 pounds or more.
A second shelf allows you to place decorative items.
Next to the cat house at the bottom, you have a rectangular area measuring 15.5" Deep x 5" Wide where you can put your cat's toys or a decorative item.
The entry measures 9 inches in diameter, so most cats can enter the house comfortably.
CONS
The scratching pad is only located on the left side, it can't be switched to the right side.
The cat cushion is not spongy, it's more on the firm side. You may need to place a fluffy material inside for a comfier spot.
Important Notes about this Side Table & Cat House
This product has not been designed to support a TV, so it is not a TV table. Also, do not allow children to climb on or go inside the Cat House. Do not exceed 35 pounds of weight on individual shelves.
The Side Table And My Cat
My cat Sophie gave the Cat House one try before entering completely. The second time she went inside the cat house and she was happy. She spends there some of the daytime and it's a really good place to hide when she is afraid of thunderstorms. I have to get a plush material or similar to place on top of the cushion to make it softer for her. She adopted this hiding place nicely. The entry is wide enough for her to enter without any problems.
Check my cat using the Side Table & Cat House
Final Thoughts
This Side Table & Cat House has provided a very nice solution for us because we really needed a new side table for our couch but at the same time, we needed a cat house for our cat Sophie. We live in an area with frequent thunderstorms so she gets scared and hides in places that are not meant to be for her and this hiding spot will help her. All in all, this is an excellent option and I am happy I got this. In the beginning, I was a little hesitant about the quality of the furniture because usually side tables that are cat house concealers are not really that high quality, but I was really happy when I saw this table assembled. It's really heavy, like a regular piece of furniture. This piece of furniture is not meant to be used as a litter box concealer, the front is not a door or anything like that.
Bottom Line
I definitely recommend the Side Table & Cat House by Litter Robot (Whisker). If you know me you will know that I am a big fan of Litter Robot products, like the Litter Robot automatic litter box, and the Feeder Robot. When I discovered that they also sell cat furniture I wanted to try the quality of one and I have to say that am very pleased.
Get your Side Table & Cat House now by visiting the link and get 40% off your purchase, limited time only!

Shop All Products
This solution is ideal if you don't have a lot of space in your home to put a cat house or if you simply want to conceal the cat house. This Side Table is meant to be put on the right side of your couch (from your perspective when sitting on the couch), so if you want your cat to use the scratching pad, don't get this one if you want to place the table on the left hand of your couch. In my case, I didn't mind the scratching pad facing the couch because Sophie has plenty of other scratching areas that she loves.