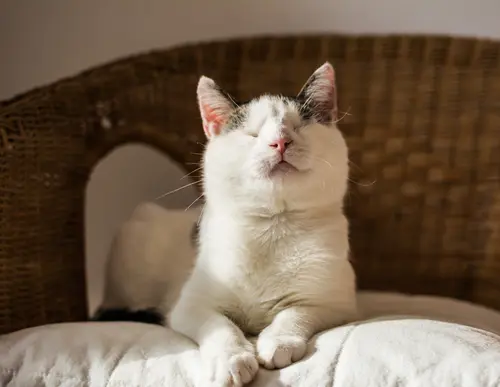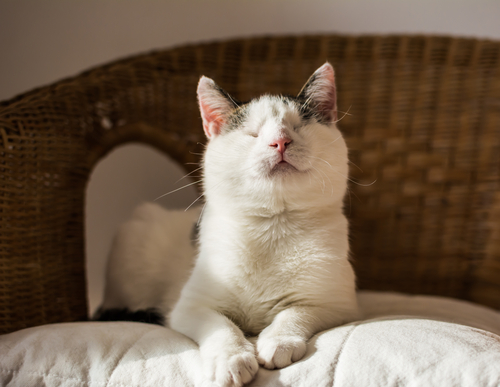 Playing with a cat is up there among the best experiences any cat owner can have and it's a very important activity in the cat's life. It's also a wonderful opportunity to bond with your feline friend after a busy work day, while at the same time exercising and keeping them mentally stimulated.
What about a blind cat? How can I play with a blind cat?
I remember the feeling I had when I laid eyes on a blind cat for the very first time. Oh my, I couldn't imagine what life was like for her. Then I realized that there are probably several cats out there living with visual disabilities due to one reason or the other, but that should in no way stop them from living their best lives. So in this article, I'll be sharing with you tips for living with a blind cat, how to play with a blind cat, the best toys for blind cats, and other fun activities that you can do to help your blind cat enjoy their environment and live life to the fullest.
Understanding Your Blind Cat's Needs
While cats are highly adaptable creatures relying on their senses of sight, hearing, touch, and smell, it is important to understand that a blind cat has its needs and limitations. For survival, a blind cat relies more on the other senses which are usually heightened in the absence of their sense of sight. They use their other senses to explore their environment and interact with their hooman. They can hear higher-frequency sounds that we cannot, can distinguish the tone and pitch of sounds, and can hear sounds at great distances.
Their sense of smell is 14 times better than that of humans and they're able to identify people, objects, and other cats in their environment easily. Using their sense of touch, they can also navigate their environment using their long whiskers and paw pads located at the bottom of their feet. So how can you take advantage of these senses to play with a blind cat? You're about to find out.
Here's How To Play With a Blind Cat
Like every other animal, cats love to play and blind cats are no exception to this. Playing with a blind cat may require a little more inventiveness and they require a safe and familiar play area to explore. While there are hundreds of ways out there, here are some of the best ways to play with a blind cat and accommodate its lack of vision.
1. Toys
When it comes to playing with a blind cat, you really can't do without toys. But not just any toy, the right toy is key. Some toys make little interesting sounds such as balls with bells in them, or even toys that squeak can be fun and stimulating for a blind cat. These sounds can help your kitty locate and track their toys during play.
There are also toys that take advantage of the cat's strong sense of smell. Some puzzle toys may require them to use their strong sense of smell and touch to find treats or rewards hidden inside them.
Some interactive toys like the wand or fishing pole with a bait laced with catnip can be used to simulate the movement of prey to stimulate your cat's hunting instincts are also helpful.
2. The Power of Scent
Another way to play with a blind cat is by engaging their impressive sense of smell. This can make their playtime a lot more interesting. Common examples of scents that can be used for your blind cat include:
Catnip: Can be used on scratchers and in toys.
Valerian root: A strong musky scent that appeals to cats.
Silvervine: A similar herb to Catnip that cats find very appealing.
It's important to observe how your cat responds to different scents so that you're careful not to overstimulate or overwhelm your cat.
3. Be vocal
A blind cat will rely a lot on their sense of hearing during play. There are so many different toys on the market that take advantage of sound to engage a blind cat in play. However, you can make your sounds by being vocal. Talk to your cat and make all kinds of playful sounds when engaging with them. When playing with the fishing rod or a wand toy and they're jumping around with you, ensure you're vocal enough to guide them during playtime.
4. Create a Safe Space
Once you have established designated locations for your cat's litter box, food, and water bowls you should try not to move them. Prevent your cat from having injuries by padding the legs of furniture around the house with soft material or bubble wrap. Having a designated play area that's free from all obstacles can also help.
Best Toys For Blind Cats to Play With
Now that you know how to play with a blind cat, here are some of the best toys that you can check out to enhance playtime.
Catnip Hurricane
Cats love this interesting toy and a blind cat is no different. It has two rounded ball race tracks your cat can pounce on, bat around, and chase. For added incentive, the balls contain small amounts of catnip. Check it on Amazon here.

Crinkle Toys
Crinkle balls make small crinkle sounds as your cat swats the balls around the room which helps him to know where to go to keep swatting at the toy. Get these toys on Amazon here.
Tower of Tracks
A special cat track toy that provides exercise and mental stimulation for a blind cat. This type of toy helps a blind cat to make a mental map of where the objects are. Check out this great toy on Amazon here.
Scratch and Rest
A corrugated cat scratcher laced with catnip where your cat can release all their pent-up scratching needs and rest. Check it out on Amazon here.
Jingle Balls
A ball that's fun to play with and makes jungle noises when tossed around which helps blind cats track and hunt.
Catnip Toys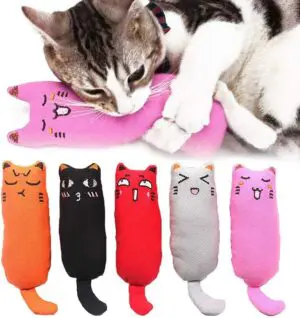 A lot of toys can be laced with catnip to keep your blind cat engaged during playtime.
Ways to Make Blind Cats Enjoy Their Environment
Blind cats can be a lot more sensitive to changes in their environment so you need to keep things in the house and their play area as familiar as possible.
Remove Obstacles. The first thing you should do is remove obstacles along commonly used areas in the house.
Eliminate Hazards. Whether liquid or solid, remove any hazardous materials from the house where your blind cat can easily come in contact with them. Place barriers around pools, keep the toilet lid closed, remove sharp objects around the house, and block access to open balconies and stairways.
Keep their litter box, food, and water bowls in designated areas so that your cat can easily locate them. Avoid moving furniture around the house too often so that your cat has enough time to memorize their heights, locations, and distances between other furniture.
Develop a routine. Having a feeding and play routine automatically programs your blind cat to know when to check its food bowl, and when to go into the designated play area. Having a programmable automatic feeder will help you to establish a feeding routine for your cat, plus the noise created when the device is dispensing food will help your blind cat to know when the food is ready. There are automatic feeders that allow you to record audio messages calling your cat to eat as well.
Don't let your cat go outdoors without supervision.
Conclusion
The best answer to the question of how to play with a blind cat is to simply do fun activities that make up for the cat's visual disabilities. These playful activities take advantage of their senses of smell, touch, and hearing while keeping in mind that you have to make the cat feel safe and secure around you and in their environment.