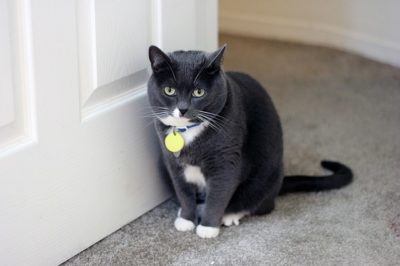 Seeing wild cats on the nature channel on our TV usually leaves us in awe of these glorious felines and the barely contained wildness in them. They are the royalty of the jungle, plains and mountain ranges; they are the great outdoors themselves.
So naturally, we expect our kitty to toe the line of its ancestors. But sometimes we don't get what we wish for, and your cat may end up lounging around all day, in its favorite spot on the sofa or cat tree. It can be worrying, yes? But don't despair, we're here to help you out – and your cat too. We'll tell you why you need to get your cat out, when it's ideal to do it and when it's not, and how you can persuade your feline to get past that door.
When it's a good idea to get your indoor cat outside
Your kitty is precious, and thinking of them roaming that big, dangerous world with its diseases and fast cars makes you want to keep your cat in a high tower forever, safe from harm and threats to its life – yep, they don't have nine lives. Unfortunately.
Although we want to protect our pets from the cruel outdoors, it can also be bad for them to always be inside. So sometimes, it's good for them to stretch their legs out in the open and here's why:
The regular exercise outside helps to regulate your cat's weight and prevent obesity which can lead to other health problems for it – like diabetes.
Cats naturally want to give in to their wild hunting instincts, and stifling this by keeping them inside all the time may make your cat sullen and sad.
If you're allergic to your cat, it may be a good idea to keep them away from you for a part of the day.
You should know that your cat's life expectancy may reduce if let out, and we're not even talking about fast cars and violent animals. Your cat may contract deadly diseases, or even get fleas.
When it's not recommended letting your indoor cat out
If your house is in the countryside or anywhere there are wild animals such as foxes and coyotes, you might want to keep your cats indoors at night. Or, only let the cat out for nocturnal runs under close supervision by you.
If your cat's been declawed, it'll be harder for it to survive outside, so you'll need to keep a close eye on your cat.
If your cat's dependent on you for food and water and is not capable of hunting down mice or a bird for themselves, maybe staying indoors is a good idea. You could leave out food for them too though.
5 WAYS TO GET YOUR CAT TO LOVE THE GREAT OUTDOORS
Just open the door: Yes, it can be that simple. Your cat's predatory instincts may kick in and it'll go to explore the unknown. If they don't want to leave, you can give them a nudge by taking them out yourself. They'll adapt, or just panic and start a howling session outside your door.
Make a kitty door: This will make your cat curious, seeing the flap leading outside. They may decide to investigate what lies beyond it and hopefully start a prison break. There are cool automatic cat doors that work with microchip technology, selecting effectively your cat from stray animals.
Outside Litter box: Leave a cot or a litter in a safe place in your yard/outside (maybe a garage), and sprinkle it with some kitty herbs like catnip or put a favorite toy. Fluffy will most likely be attracted to that irresistible smell and gradually get used to the outdoors.
Cat house: Build an outdoor cat house, and stock it with toys they like so they'll be interested. The cat house also serves as a shelter against the elements.
Harness: Use a harness and introduce them to the outside world a step at a time. From your garden or porch, and after they've become comfortable with that, you can then try a walk with your cat in a less busy street with its new smells and sights. If your cat adapts to that, you move on to a busier one until you're sure your cat can stay outside without your supervision.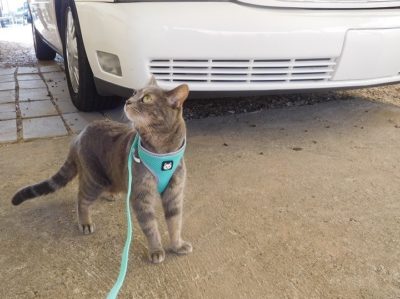 Tips & tricks that will help you in this process:
If you don't have a kitty door installed, make sure the door is left open a little so your pet can enter the house once it's done with its adventure. There are automatic cat doors that can be used in "training mode" without the flap until your cat gets used to the idea.
Make sure you check up on your cat regularly when it's outside, and do not forget to get a collar with your address or a phone number or even both, so people can return your cat if he/she ever gets lost. If you have the money, you could have a microchip implanted in your cat.
Another thing, try as much as you can to ensure your cats are safe inside at night and make sure you take your pet for regular check-ups with the vet, whether they're indoor or outdoor cats.
That's all folks! We hope we've helped you. You could try any of these methods, and we'll love to know how it worked for you. If you have any suggestions or questions, we're here for you always. Good luck!