It is hard for a cat when she is in heat and much harder for her owner to calm her down. Main signs of a cat is heat consists of mostly wailing and an act that the female cat might run away with male cats. This behavior of a cat can be unsettling for you. Nevertheless, it is a normal and a natural act for your cat to behave in this way. Howbeit, if it is too much to handle, seek for a long-run fix. This act is going to be repeated until your cat is spayed. It happens with the cats who are older than 5-6 months. Heat can last up to a week and can repeat in the near future. So, finding long-term remedies can help you and your cat to get a relief.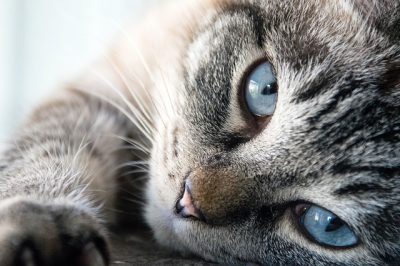 Here are some such approaches you should opt:
1) Check for the signs
Make sure that some acts of your cat actually means that she is in heat and not just sick. For example, the symptoms like rubbing against people and objects, rolling on the floor, and mostly yowling. Cats are likely to experience heat between late summer and spring. If you are not able to decide, at the end visit a vet to find out what's going on with her.
2) Give her love and attention
Play with your cat at this time and give her attention. This is the most important and effective way to calm your cat. Let her sit on your lap and brush or pet her. Your love will help her calm down and also helps to minimize her stress. The main deal is to distract her from the mating. Sometimes, just being near you can keep her calm. Cat toys usually helps to keep her mind off.
3) Keep her warm and fuzzy
Provide your cat the ideal temperature with something warm to sit on, this will help her the most. You can provide her something warm to sit on which can be wet towel or heat pad. It also helps to keep her still. Also, an electric heat pad and blanket can work for your cat. Clean her litter and keep the scent mark away to avoid her from going crazy.
4) Make sure, your cat stays away from male cats
Do not allow your cat to go out while she is in the heat to prevent cat pregnancy. Keep her calm and prevent her from going out as it will result in mating with male cats. She will try and escape if she finds out the presence of any male cat nearby and can even attract it towards her. So, it will be a proper way to put the blinders and shut down the doors and windows to protect her from mating.
5) Look for herbal solutions
Buy some small samples of different herbal remedies for your cat and see to it which works best for her. Find the product which works for your cat and start using it on her.
Once you are sure about the best one for your cat, buy a larger amount of it. Note that Herbal should only be taken after consulting a vet. Avoid using any human medications. Due to a higher dose, it might end up harming your cat.
6) Spay Your Cat
Give your cat a permanent solution to prevent her from the heat by spaying. The process involves removing her ovaries and uterus which will prevent unnecessary heat and unwanted litters in the long run.
Spaying your pets can also reduce the chance of cancer and other diseases. Furthermore, there is a little chance that your cat can still get into heat even after the surgery. If it occurs, consult your vet immediately.
7) Use Feliway
You can be familiar with the term Feliway. This product is exactly like a chemical that the cat secretes through its glands on its face when they are feeling calm and want to communicate with other cats in nearby location. Feliway works to calm cats down and help them to relieve stress and anxiety. Thus, it helps the cat to feel peaceful at the time of heat.
8) Use catnip only if it calms your cat down
Catnip is a herb of the mint family. Some cats calm down and relax when given catnip but other cats react in a totally opposite way. It can cause some cats to become aggressive and energetic. Remember, this may also make the situation worse for some cats. So, it is necessary to note whether it is working for your cat or not. If it does, it's great for you!
Above all, remember that heat in cats is a natural process and you can not do anything about it but to keep patience. It is easy to get frustrated but with these helpful tips, everything can get sorted out for sometime.
Author Bio:
Ashton Blagden is working as a Community Manager at Dealslands.co.uk. He is the type of geek who loves to write about Pets and Health Care tips also. When He has leisure time, He utilizes that time in writing.