Choosing the right auto feeder for your type of cat
In this article, I will explain how to choose an automatic feeder to match your type of cat, satisfying the requirements of your feline friend according to its main characteristics. Not all cats require the same solution – it depends on whether your cat is fat, not well behaved, mischievous, etc. Read this article to find out how to select the best one for your pet.
1. AN OVERWEIGHT CAT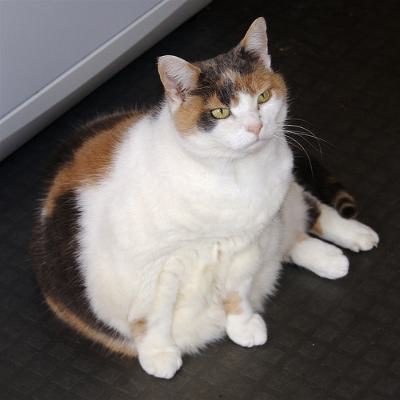 Getting an automatic feeder is only one of the several steps to make your cat lose weight and be healthy. There are three basic features you need to look at when getting a feeder for a chubby cat:
You need to get an automatic feeder that can be programmed to dispense at least 5 meals per day.
The unit needs to have the ability to dispense small portions for each meal.
The feeder needs to be cat-proof.
1. Capacity to dispense 5 or more meals per day
When cats are overweight, they are used to eat more and since you want to cut down its daily food intake, the automatic feeder must have the ability to feed your cat several meals a day, so your cat will eat more often and will feel more satisfied, though eating less each time.  This is important because if you have an overweight cat you can't cut down drastically the amount of food from its diet. Fat cats usually have insulin resistance and you must make sure you don't cause drops in your cat sugar levels. That's why it's so important to feed your cat several times a day.
2. Get a feeder with the ability to dispense small portions
The automatic feeder must have a mechanic system that allows to dispense very small amounts of food at a time. If you want your pet eat several times a day, let's say 5 or 6, the portions must be small. For example, if the feeder dispenses 10g as the minimal portion of dry food you will be able to feed your cat several meals per day and still have your pet under control. There are various automatic feeders that dispense a tablespoon as a minimal portion. You must get this type of feeders to efficiently and safely put your cat on a diet.
Check the following video of the Honey Guaridan Wi-Fi feeder where you will see it dispensing a 7 g meal:
3. The feeder must be cat-proof
Overweight cats are obsessed with food, that's why they got chubby in the first place so you must get a device that is well protected. Get a cat-proof automatic feeder is not that easy, but in general there are some details you must pay attention to, such as the lid and the chute. The lid must shut with a locking system where it'll be impossible for those paws to open the lid. The chute must have a protection so your cat won't be able to stick its paws inside up to get food.
2. A FAST EATING CAT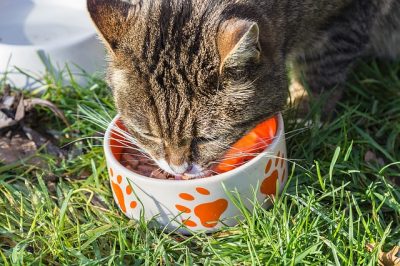 If your cat is a vacuum cleaner when it comes to food and you want him to slow down when eating, I recommend you to re-educate your feline friend first before getting an automatic feeder. The reason is simple, even if the auto feeder dispenses a small portion, your cat will still inhale the food and then vomit after.
A good way to re-educate your cat eating habits is getting a treat or food toy dispensers. Instead filling up the toy with treats you can put the dry food and let your cat work for its food. This way your feline friend will be forced to eat one kibble at a time and this will help him to slow down. Once your cat gets used to eat slower, it's time to get an automatic feeder for it.
Another option is feeding your cat with the Wireless Whiskers. This is a gravity type feeder with an automatic control little transparent doors that shut and lock the food if your cat eats too fast so your pet won't be able to eat too much food at once. This way he feeder controls your pet daily intake throughout the day. The small doors of this feeder have a selective control and they open by contact with the RFID collar tag that the cat needs to wear.
3. IF YOU HAVE A MISCHIEVOUS OR AGGRESSIVE CAT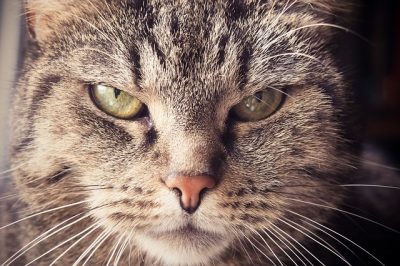 When a cat is large and smart or aggressive when it comes to food, there are not very many brands that can survive their "attacks". You must make sure to get an automatic feeder with a large footprint and capacity to hold food, so this gives the device enough stability without the chance of being knocked over by your pet. In general the feeder's design must be hard to knock over, with a wide base. Don't get any of those automatic feeders with thin plastic food hoppers, you will be wasting your money. Good designs for this purpose are the Pet Feedster CAT, the PetPal auto feeder that is made of stainless steel or the Feed & Go with a flat and sturdy design.
Another option is getting an automatic feeder that can be assembled in walls or special structures away from the cat's paws, such as the CSF-3 Super Feeder.
Don't get automatic dish type feeders for wet food that don't have a secure locking system or that are too lightweight. Your smart feline friend will open a device like that in a heartbeat, but don't just take my word, watch the following video:
These tips will help you to get the right automatic feeder for your cat, according to your pet's idiosyncrasy. On this website you can search and find full reviews of automatic feeders according to your type of cat . Good luck in your search!