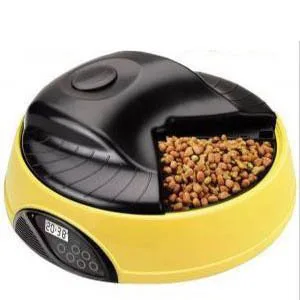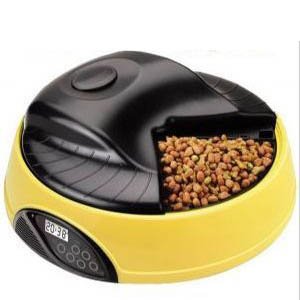 4-Meal Automatic Feeder Review
4 Meal Automatic Pet Feeder dispenses up to 4 times a day with programmable cycles of 8, 12 or 24 hours. The 4-meal automatic dish feeder allows you to record a 6-seconds personal message to call your pet to eat.
It has built-in microphone speaker and red LED battery indicator. The LCD panel with a built-in clock allows you to program the feeding times.
The 4-Meal automatic feeder can be used as an automatic wet feeder because it has chambers underneath to put ice packs to keep moist food fresh but it does not come with the ice packs. The 4 Meal Automatic pet feeder uses 4 C batteries, not included.
FEATURES
It feeds up to 4 times a day
Built-in microphone and speaker
Record a 8-sec personal message calling your pet to eat.
Programmable cycles for 8, 12 or 24 hours length.
One hour minimum interval between each meal.
Built in clock with easy to read LCD to program feeding times.
Lid lock
Low battery indicator
Tray with 4 separate large food compartments for dry or wet food.
Dimensions inches: 12 ¾" diameter base x 5" height / Dimension cm: 32.4 cm D x 12.8 cm H
Weight: 1.41 kg (3.11 lbs)
Total capacity: 250 g (8 cups)
Each compartment capacity: 2 cups
It comes apart into 4 parts for easy cleaning.
It requires 4 C size alkaline batteries, not included.
Made of ABS plastic
Rated Voltage: 6V
4-MEAL AUTOMATIC FEEDER ASSEMBLING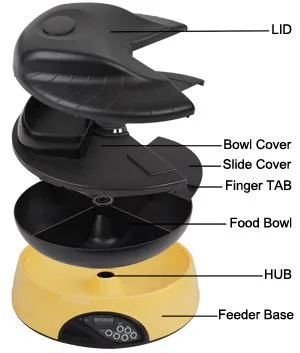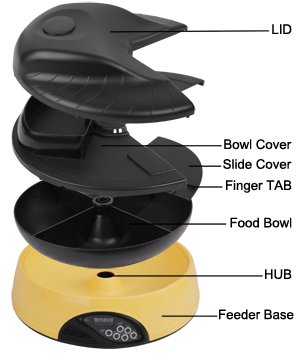 HOW TO PROGRAM IT
First you need to place the 4 C batteries at the bottom of the base, then turn on the switch located at the bottom and flip the feeder. The unit will make one rotation automatically. Now you need to program the unit as follow:
Setting the clock. The next step is setting the clock to your current time, the feeder comes with time 12:00 by default. To adjust this simply press the button "SET" for 2 seconds and the default #12 will blink. Then press the button "MODE" until you choose your current hour, the first round of numbers are AM by default and if you pass 12 pm it will automatically show "pm" at the left/bottom of the time. Once you choose the hour, press "SET" again. The same procedure to choose the minutes, press "MODE" until you enter the minutes of your current time. Once you get the minutes chosen, the time will keep blinking so you need to press "MODE" again and the time will entered in the LCD clock.
Programming feeding times: Press "MODE" and the LCD screen will show you 1:1 which means the first meal will be served at 1 (check if "p.m." is showing at the bottom left).  To change this, simply press "SET" and the second number starts to flash. Then press "MODE" to choose the time you want the first meal to be served, once chosen, press "SET" and the time will be set for the 1st meal. As soon as you press "SET" the second meal will show, as 2:1. Do the same process to change the time of the second meal and the rest of them as well.
If you want to feed your cat one meal per day during 4 days, you need to choose the same time for each meal as follows:
1 = 3 pm
2 = 3 pm
3 = 3 pm
4 = 3 pm
By choosing the same time for each meal, the feeder automatically will dispense only one meal per day, at the same time.
Record a message. Simply press "REC" and leave your message (8 seconds). To hear your message press "PLAY". If you don't like it, you can do it again.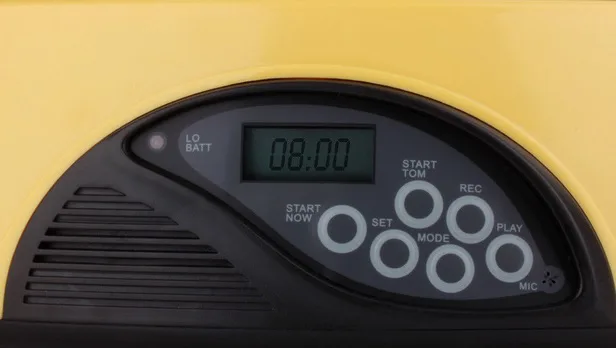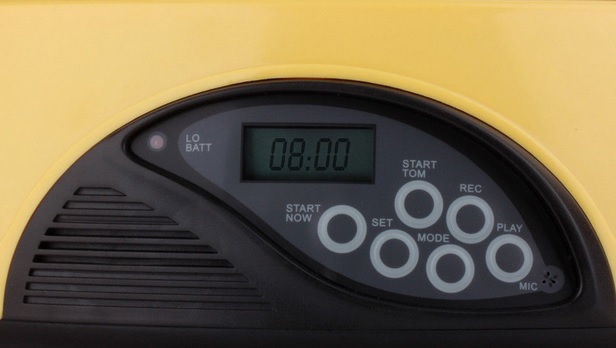 CHECK HOW THE 4-MEAL PET FEEDER WORKS
What are the Pros and Cons of the 4 Meal Automatic Pet Feeder?
Check the following pros and cons for you to have a better idea of the things that make this unit worth it and the aspects that you may not like about this unit:
PROS
Personal recording message to call your cat to eat
Quiet when operating
Easy to clean
Batteries last long time
It has batteries indicator
Cool chamber for ice packs to keep the food fresh.
Feeding cycles of 8, 12 or 24 hours.
CONS
Very tricky to be programmed
This feeder is not 100% reliable in the dispensing.
Timing between two units is not accurate as the time goes.
Some customers report that unit stopped working.
The feeder has to be setup every time the cycle ends.
Some cats can break into this unit.
No ice packs.
Guarantee 3 months.
TIP TO USE IT WITH MOIST FOOD
If using moist food, you can use an ice pouch in the top compartment and another one underneath the unit to keep the moist food fresh all day. Additionally, you must refrigerate the wet food so it is cold when it goes into the feeder. You can feed your cat within 24 hours with this system.
CONCLUSION
The dispensing and timing of the 4 Meal Automatic pet feeder it is not 100% reliable. Some units work very good while others don't work properly. As the guarantee for this product it is 3 months I would not recommend this feeder to be used in a daily basis, maybe to be used occasionally after several tests. You can check the Petsafe 5-meal review to see if it fits your needs.