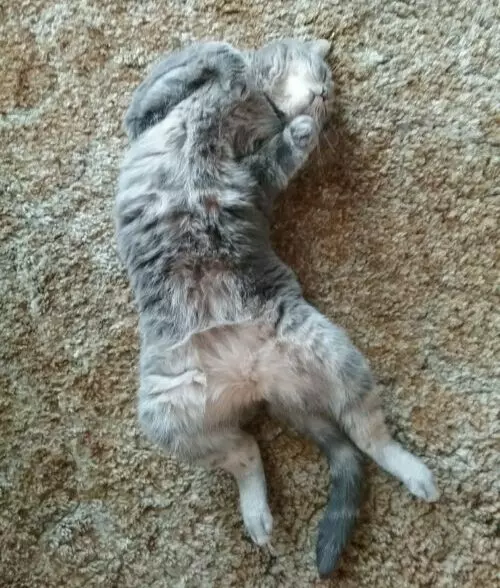 My cat Sophie is not an aloof or apathetic pet, she lets us touch her or pet her whenever, however, she is not especially affectionate with us in the daytime. During the day she prefers doing her own thing, sleeping, observing things through the window, etc., and she pays more attention to us when she wants to play.
Excluding food demand, illness, or late-morning behavior
In this article, I won't mention when cats ask for food in the morning because that is a normal requirement if you free-feed your pet. My cat uses an automatic feeder and she always leaves some food in the bowl so this is not an issue. Possible illness won't be covered here either, I take my cat to the Vet for checkups every year. I also won't talk about the morning hours after 7 am and later on. This article talks about the particular behavior of cats that are extremely affectionate around 5 am to 6 am, but later in the morning, they behave normally and even a little indifferent.
The affectionate cat behavior at dawn, around 5 am and 6 am
My cat is extremely affectionate at dawn, between 5 am and 6 am (approx.). If I wake my cat up during this time, she gets extremely clingy, following me around, purring non-stop, and rubbing her body against me (and objects around me) for a long time. Then she lays down on the carpet and shows me her belly and turns her body on her sides switching from right to left and vice verse. She also starts licking one of her paws obsessively when she is being petted, it's a very strange but cute behavior. I also noticed her fur is especially soft during this time. I learned the reasons behind this behavior and some interesting facts:
1. Your cat sees you as a bigger cat and needs to bond with you
When cats wake up at dawn they feel alone and need to reestablish a connection with you when they wake up, no matter how early it is.  They need to smell your scent, hear your voice, and know they are not alone. In other words, they need to catch up with the love they haven't received from you while you are sleeping. They miss you so they want your attention and that includes a nice petting which is a bonding time with you. They also see you as a bigger cat and they need to make sure you are around in their territory which gives them certainty and security.
2. Cats are more active at dawn but more vulnerable to predators
Cats show the need for connection with their owners at dawn not only because they want to feel the need to reunite with their "clowder" as soon as the sun rises. They need to feel accompanied because, at dawn or dusk, they are more vulnerable to predators. They are hunters but they also can become hunted in the wild. Their predators are also animals that are active at dawn or dusk such as wolves, foxes, owls, hawks, or even bigger cats (source).
3. Cats need to mark their territory and you are part of it
Cats not only need your full attention as soon as they wake up, but they also want to leave their scent all over you as part of their territorial marking, which is a constant activity for cats. They need to re-apply their scent because most likely it dissipated from your body overnight or is not enough for them to feel they "own" you. So together with asking your attention at dawn, they rub their face and body over your legs, face, or wherever they can. They also rub against corners and objects close to you to mark the whole "combo" where you are included. They feel they own their territory this way. This activity spreads the hormone pheromones that make them feel safer and secure.
4. The affection intensity at dawn may change if your cat sleeps with you
My cat doesn't sleep with us in summer because as it's not cold at night she is comfortable sleeping by herself. She usually sleeps in the living room in any area she chooses (usually not her bed). So when she wakes up she is obviously alone and prone to display the love-demanding behavior. But when she sleeps with us, usually during winter, the story is different. She sleeps until later most of the time because her bigger "brother and sister" are right next to her, even when I get up in the middle of the night, she doesn't need the high dose of love as when she wakes up and finds herself alone. Also, she feels the human's warmth and that helps as well.
5. My cat shows me her affection usually in the bathroom :)
She doesn't usually wake up by herself at dawn, she wakes up when I get up to go to the bathroom or occasionally to the kitchen. So she shows up in the bathroom like a totally different cat, giving me so much love and letting me touch her all over and for a long time, which she is not very willing to do in the daytime. I would say I love these moments, but sometimes I am very sleepy and by petting her and giving her my attention I fully wake up and then I can't get back to sleep.
How to make your cat interact more with you in the daytime
Some tricks that may help you to get your cat to pay more attention to you or to make physical contact.
1. Need to cuddle with your cat? Try changing your posture
What I notice about my cat during the daytime is that when I am standing doing things she is not interested in interacting very much or getting close to me. But this changes when I am sitting down or when I lay down. She approaches me and lays down next to me, and she seems much more affectionate or willing to be petted for a longer time. Sometimes I work on my computer lying down (it's better for my neck) and she jumps on my bed and gets close to me, sometimes next to my head. She is more willing to receive my love than when I am walking around and want to pet her wherever she may be.
2. Smaller portions of food throughout the day
I realized that my cat sleeps less in the daytime when I feed her smaller portions of food throughout the day instead of two or three big meals. Sleeping less in the daytime means more interaction with you.
3. Your cat will be loving and affectionate if it's relaxed and content
The best way to get a happy and content cat is by playing with your feline friend every day and ideally, several times per day. At some point in the daytime, your cat will get closer to you and demand love when you are sitting on the couch. When a cat owner plays a lot with the cat, the feline considers him the "playmate" of the "clowder" and this leads to a more affectionate relationship during the daytime.
Another interesting fact: Why the cat's fur is very soft at dawn
When it's dawn and my cat is fully showing me her affection and I pet her, I always notice her fur is extremely soft. Like unusually soft, almost like she just got a professional grooming session. The fact that cats clean themselves a lot before sleeping has something to do with it. When they groom themselves they eliminate debris, oil, and dust from their fur. So when we touch them early at dawn their fur hasn't been touched by anybody or any object, and it's particularly clean. Also, as cats wake up after a well-rested sleep, their muscles relax so their fur appears fluffier and softer. In some cases, the cat's natural body rhythm which is different for every cat, could make its fur change to a more soft one at dawn.
If your cat, like mine, behaves extremely affectionately at dawn (and even earlier) know that this is normal behavior and it means they need you and that you are an important part of their life.