If your cat is eating cat litter it's not only dangerous for your cat's health, but it could be a symptom of an underlying medical condition that you need to check with your Vet.
What are the consequences of a cat eating litter?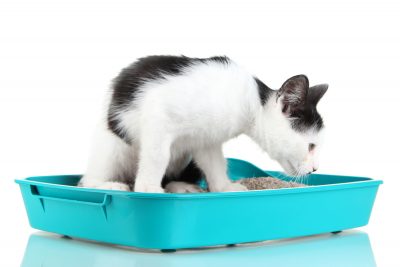 When cats dig litter in the box some litter particles get in the cat's paws. When cats groom themselves some of these litter particles get ingested but this is a very small amount that passes through the cat's digestive system easily. But when cats eat a larger amount of cat litter there is a big risk of intestinal blockage due to the clumping properties of the cat litter that forms a clump and expands inside the cat's intestine. This is a medical emergency for a cat that requires surgery in most cases.
When the cat's intestine has a blockage, it damages the protective lining of it and causes bowel ischemia which restricts the blood supply to the cat's bowel leading to potential blood toxicity. The first symptoms of intestinal blockage are vomiting, the cat can't hold any food. For the same reason the cat suffers anorexia, it doesn't approach the food anymore, which leads to weakness and weight loss. If you see that your cat can't hold any food and you've seen your feline eating cat litter, take it to the Vet immediately.
5 Possible Reasons Why Your Cat is Eating Litter
♦A Medical Condition
Most likely the cause for a cat to eat litter is anemia. If the anemia is not caused due to nutritional deficiency, it's a symptom of a more serious medical condition. If you have a rescued cat, the chances of an underlying virus or malnutrition are higher.
Anemia
Feline anemia occurs when there is a lack of red cells or hemoglobin (or both) in the cat's blood. Red cells are responsible for transporting oxygen and iron to the body so lack of red cells creates several symptoms such as pale skin, lack of energy, weakness, excess of sleep, fast breathing, fever, and depression. If you see your cat eating litter and showing symptoms like pale gums, and lack of energy (your cat doesn't jump or practically doesn't do much), anemia is likely to be the cause.
Anemia could be related to a lack of nutrition in the cat's diet or a symptom of a more serious disease. It is important to note that anemia is a symptom itself and not a disease. When cats have anemia from eating litter, the Vet can take the steps to balance the cat's nutritional needs and suggest switching to a natural type of litter. But if the cat after the treatment keeps showing unusual behavior such as licking silverware or metal objects it could be a symptom of a more serious disease such as cancer, feline leukemia, blood-sucking parasites, or any form of external blood loss. Cancer is the most frequent cause of cat anemia that doesn't resolve with treatments.
Kidney Disease
Kidney disease could be classified as acute and chronic. Acute kidney disease is caused by an infection in the cat's kidneys and it appears suddenly. Chronic kidney disease develops over the years and it is diagnosed mostly in older cats that suffer a gradual loss of kidney function.
The main symptom of kidney disease is a cat doing large amounts of urine and more frequently, including urinating outside the litter box. When the condition is advanced, the cat urinates much less which is indicating the kidneys are shutting down. Another symptom is the cat drinking large amounts of water to the point that it can't drink anymore. If you see your cat sitting next to the water bowl desiring to drink but can't this is an indicator of kidney disease.
Lethargy is also present, lack of appetite, diarrhea or constipation. More serious symptoms are sores in the mouth, reclusive behavior, crying when using the litter box, sunken eyes, inability to walk. If you see your cat eating cat litter and showing any of these symptoms you need to consider kidney disease, especially if your cat is old. Take your feline to the Vet as soon as possible.
Feline Leukemia or FIV
Feline Leukemia is a virus that is transmitted between cats through the saliva, blood, or urine, and feces. This condition causes anemia or lymphoma which is a type of blood cancer. In both cases, there is a major lack of blood red cells that affects the transport of oxygen to the cat's body. As I stated previously anemia is a symptom and not a disease so if your cat has anemia that causes your feline to eat cat litter and shows the following symptoms: yellow colors in the mouth and white of eyes, pale gums, bladder, skin, or respiratory infections, poor coat appearance, weakness and lethargy, diarrhea, fever, oral ulceration you must take your cat to the Vet to discard feline leukemia. Also, the feline immunodeficiency virus causes cats to eat non-food items, such as cat litter.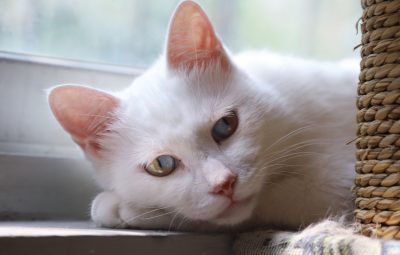 ♦Pica
Pica is the urge of eating non-food items, such as plastic, plants, electric cords, paper, toilet paper, fabric threads, and anything the cat can find and chew, including cat litter. This behavior is not unusual in cats. Pica can be caused by anemia, a feline immunodeficiency virus, hyperthyroidism, or leukemia. Also, Pica in cats can be a response to a more complex cat behavior that is usually present in Oriental breeds such as Siamese or Burmese. These cat breeds need more attention than other felines.
If your cat eats litter and shows weakness, lethargy, diarrhea, pale gums, it could be related to a medical condition or a nutritional deficiency. If your feline friend doesn't show any of these symptoms, if it belongs to an Oriental breed or your kitty doesn't have enough activity or is experiencing changes in its routine, feline Pica could be due to adaptability issues that can be addressed providing your cat more attention and keeping a healthy routine for it.
♦Malnutrition
When a cat eats litter the feline is trying to balance the lack of minerals or vitamins in its body. Clay litter has minerals that the cat instinctively wants to ingest as a way to supply its deficiency. When a cat has access to gardens if the feline eats a large amount of plant material may be a sign of dietary deficiency or illness. When the cat has only access to litter, this is the way the feline tries to supply the lack of vitamins and minerals. The minerals and/or vitamins the cat needs when exhibiting this behavior could be Vitamin A, Vitamin B1, L-Carnitine, Magnesium, Pyruvate Kinase, Sodium, Taurine. It's important to feed your cat the healthiest dry cat food that provides the vitamins and minerals that your feline friend needs.
♦Curiosity and Exploration
When a young kitten eats litter is most likely due to exploration. When cats are young they discover the world through their mouth. If you have a very curious kitten you must pay attention to the items you have at home to avoid accidents and this includes the cat litter. It is recommended to use natural organic type litters for your young kitten. Adult cats usually show this behavior due to a medical condition, a mineral or vitamin deficiency, or in rare cases, due to anxiety.
♦Anxiety
A stressful change in your cat's life could lead to anxiety that can manifest as Pica, which is the cat urge to eat non-food items. As I mentioned previously, Oriental cat breeds tend to develop this behavior more than other types of cats. Pica caused by anxiety is not very common but if your cat has suffered a major change in its territorial environment or if your feline friend doesn't have enough attention nor activity, eating cat litter could be a sign that your cat is telling you something.
What you can do to help your cat
The first thing is taking your cat for a general examination to discard anemia or any other medical condition. This is crucial because eating litter is not normal behavior for an adult cat. Most medical conditions can be treated successfully if diagnosed early.
Change the cat litter while you figure out what is the root of the problem for your cat to eat litter. Choose a 100% biodegradable organic type litter if possible, such as bamboo, coconut, farmed grass.
Provide your cat a healthy diet with adequate nutrition to avoid a lack of minerals or vitamins that could create a problem. In-depth cat food reviews can help you to find the best food for your cat.
Check with your Vet the possibility of giving your cat supplements to support its immune system such as Lysine.
Get a safe cat grass for your cat to chew on safely. This will increase the amount of fiber that will help your cat digestive system and will reduce the urge to chew on other non-food items.
Introduce your cat interactive fun toys. There are a wide variety of toys for felines that will help them to reduce anxiety and boredom. Make sure to choose a thick safe toy that your cat won't be able to chew on. Ideally, get a treat toy dispenser that encourages your cat to play to get its treats.

Sources:
https://wagwalking.com/