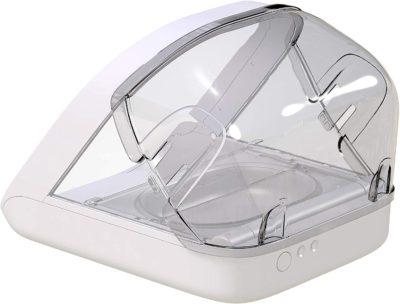 For anyone with a lot of pets, cats especially, feeding time is a race against insanity. You're trying to make sure your picky kitties (or sick ones) eat enough of their own special meal while keeping an eye out for the greedy fat ones that will snatch up another's food if you so much as turned to change the TV channel.
So now you've got no choice but to play watchdog for your cats, with one hand trying to stop your yowling fat tabby whose paws won't stay away from your other cat's food bowl – It's not yours you big lug! – and the other trying to coax your skinny cat to do more than to nibble its food and go sauntering to cat-knows-where. It's a hard life, but it's the cat life too, so what can you do?
And – voila! – There comes the SureFeed Microchip Pet Feeder. Suddenly it does seem like feeding time won't be such a hassle after all, and better days are here to stay. Despite their clever and continuous efforts, your little companions can't break in while others are eating. Absolutely no, they can't get in, not with that microchip thingy in place.
The problem & the solution of the SureFeed feeder
Unfortunately, you've got a particularly smart feline that's found out that the microchip pet feeder is entirely open at the back, so they can just eat over the lid once their buddy's chip activates it – no problem.
To compensate for this, the SurePetCare, producers of the SureFeed Microchip Pet Feeder, created a rear cover accessory to go along with their pet feeder. How does it work? And is it worth it? Well, I hope I'll help you answer that once you've read through my review of this product. So, please do stick around.
About the SureFeed Rear Cover Accessory
Initially, when complaints about the open rear were made online, the company advised customers to line the feeder against the wall. However, this didn't work in most cases – ergo, cats being such smart animals. So they made the SureFeed Rear Cover accessory.
Like I've previously mentioned, the SureFeed Rear Cover is an accessory of the SureFeed Microchip Pet Feeder. It's mostly needed in multi-cat households or multi-pet households to keep persistent sneaky food snatchers out of the plates of your other pets, from the rear and sides, while the lid is open.
The product doesn't come with the original SureFeed Microchip pet feeder, so you'll have to order for it separately. The price of the rear cover – $ 31 on Amazon – may seem like it's on the high side, considering the fact that it is made of clear, lightweight plastic. In fact, buying the Microchip pet feeder and this may certainly graze the $200 mark. It does seem sturdy enough though and will not crack or break easily, even if your cat decides to try a forceful break-in.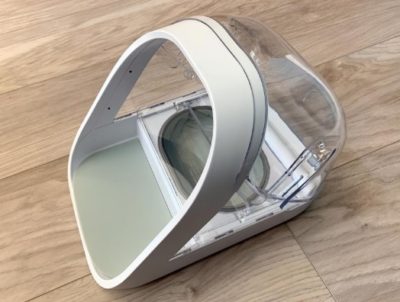 How to put the SureFeed rear cover on the feeder
The cover accessory is pretty easy to use and snaps into place at the back and base of the SureFeed pet feeder effortlessly, giving the feeder a cute baby carriage look. It doesn't provide any obstruction to the cat using the feeder and has no sharp edges that will cut your kitties.
How do you clean the pet feeder rear cover accessory?
It's pretty easy, you can unclip the cover and wash it, or you just wipe it free of dust or food stains. It seems it's not dishwasher material as the plastic can crack in the machine. This is a bummer for cat owners who might have a hectic schedule and may not always have the time to wash or wipe down the cover.
This may be a lot of info, so I've narrowed it down to a few pros and cons.
PROS
Keeps pesky food stealers out
It is lightweight
It is strong
It is easy to install and use
It can be wiped down
It looks very nice with the pet feeder
It is not bulky
Keeps food from spilling over the rear side of the feeder.
CONS
Sold as a separate unit from the SureFeed Microchip pet feeder.
It is expensive
Doesn't come in a variety of colors
It can't be washed in the dishwasher
My conclusion
The SureFeed rear cover helps you feed your cat prescription diets or life-stage food to your cats in peace, helping also your greedy cat shed a few pounds. I think the rear cover is something you should get if you've bought the SureFeed Microchip Pet Feeder and your fat cat steals food from the back opening of the SureFeed feeder. Although it would have been better if it's sold alongside the feeder, it does the keeping out job well and has the 4.5 stars on Amazon to show for it.
However, if your fat cat doesn't steal food from the back of the feeder but instead, he pushes the skinny cat away from the feeder in a bully fashion, you may want to think about passing on the cover and instead, placing the feeder in a cat feeding station with an opening big enough for your skinny cat to stick its head and eat from the feeder. The greedy intruder won't be able to eat from it, even if pushing out the timid cat because the feeder won't open for him.