Kong Kitty Kong Cat Toy Review
The Kitty KONG cat toy is a treat dispenser designed specifically to stimulate the natural hunting instincts of your cat. This combo pack contains a Kitty Kong cat toy and a 2.5 Oz. tube with Salmon Stuff'N Easy treat for cats. For your cat to enjoy even more the Kitty Kong, squeeze a little of the Kong Stuff'N Easy treat into the toy. You can also use a bit of catnip or your cat's favorite dry kibble into the toy.
The Kitty Kong is made with rubber that allows your cat to bat at it, roll it, or bounce it. The Ingredients of Easy Treat Salmon Recipe: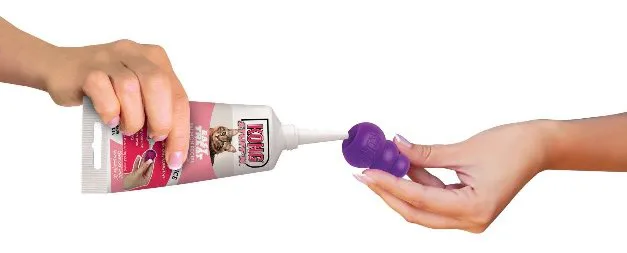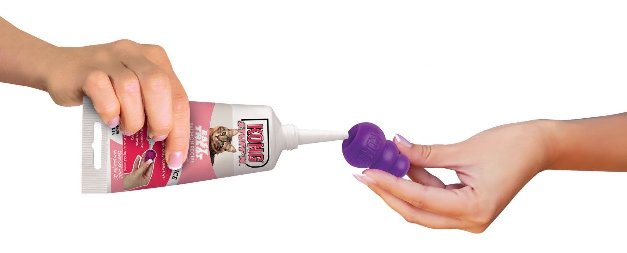 Milk, Whey, Water, Soybean Oil, Salmon Flavor with Mixed Tocopherols (a natural preservative), Sodium Phosphate, Modified Corn Starch, Maltodextrin, Dextrose, Lactic Acid, Salt, Sorbic Acid (as a preservative), Carmine and Glycerin, Cheese Culture, Rennet.
FEATURES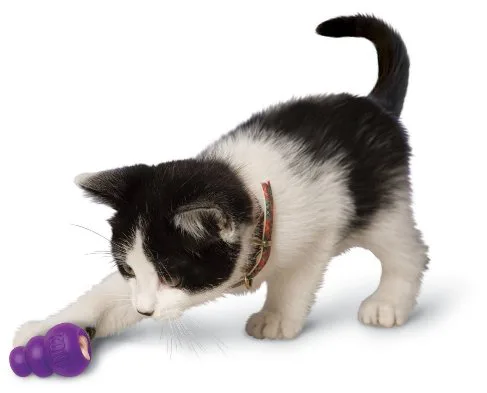 Unpredictable bouncing toy
Lightweight construction
Kitty KONG can be stuffed with kibble or treats
The Combo includes Easy Treat Salmon Recipe for cats
You can indulge your cat with the Easy Treat Salmon recipe alone or stuff it into the Kitty Kong to entice your pet to play with it.
It does not need refrigeration
Dimension: 6 L x 4 W x 2.3 H inches
HOW IT WORKS
Put some treats or kibble in the toy using the opening located in the base of the Kitty Kong. Make sure not to overfill the toy with treats or kibble, otherwise they won't come out easily through the opening. You can also put some catnip to make the game more fun (make sure your cat doesn't have the unusual reaction of urinating with the catnip).
Update About The Kong Kitty Kong Bouncing Toy:
Originally the Kong Kitty Kong Cat came with a tube with salmon paste (as seen in the above picture) but now the product only comes with the toy (see the image below). The reason for this is that some cats, due to the tasty flavor of the salmon paste, ate some of the toy which is poses a big hazard to the cat's health.
The toy only is meant to be used with treats or kibble inside and ideally the game should be supervised, especially if your cat is a chewer.
NEW KONG KITTY KONG PACKAGE 
PROS
Unpredictable bouncing toy
Kitty Kong can be stuffed with treats, kibbles or even catnip.
Cats also like to chase the Kong Cat Kong even without treats because of how it bounces.
Excellent toy for kittens, since it bounces a lot.
Good size for young cats; most treat dispensing toys are too large for young kitties.
CONS
Not very durable with chewer cats
If your cat chews too much on the toy, it might rip the top apart from it.
It could be too small for large cats
Treats or kibble fall out too easily from the toy (a "Pro" if  your cat is a beginner when it comes to treat dispensing toys)
Your cat could lose the toy easily, due to its unpredictable bouncing.
TIPS
If your cat is a chewer, don't put the Easy Treat Salmon in the toy. This will encourage your cat to chew on the rubber. Update: the toy doesn't come with the paste tube anymore.
The toy will bounce more on hard floors.
Make sure to put the toy in rooms with no very hard-to-reach areas because, due to the unpredictable bouncing, the toy might fall anywhere in the room.
CONCLUSION
The Kitty Kong cat toy is not as desirable as other cat toys. This toy treat dispenser has to be used by your cat under your supervision and never alone. However, even under your supervision you have to have in mind that the toy is made with rubber so if your cat chews on it a lot, it might get ripped apart and if you are unaware your cat could swallow it. This does not mean these things will happen, because cats are all different but there is a risk.
For this reason, I would not suggest this specific product for large cats or cats that are chewers and instead I would recommend you to try the small Kong for puppies because it is sturdier and more resistant to chewing. You can find several sizes of the Kong for puppies in Amazon, so you can choose the size according to your cat size.
BOTTOM LINE
I would recommend this toy only if your cat is not a chewer and if you can supervise the game at all times. Since the treats or kibble fall out fairly easily from this toy, it is a good match for a newbie cat that has just started to play with treat toy dispensers. As mentioned in the update, the Company doesn't include the salmon paste in the product anymore so less chances of your cat chewing on the toy.