My cat Sophie since she was a just-rescued kitten always displayed an odd behavior of wheezing after drinking water, not all the time though, but enough for us to be curious about it. We took her to the Vet when we noticed this behavior and the Vet said it was not something to worry about and it may just be an "idiosyncrasy" of her.
Years passed by and our cat Sophie kept wheezing after drinking water, but again, not all the time. When she did, it was right after drinking, with a minute duration or so, and once the wheezing ended she would be back to being a totally normal cat. Watching our cat looking so OK after each attack, back to her business like nothing even happened, (plus the Vet telling us about this "idiosyncrasy" thing) we never gave a thought about this being a problem.
Wheezing but no water drinking being involved
Things changed this year when our cat started wheezing without water drinking being involved. One time she was just sitting on the couch and started doing it. This behavior was rare though, about twice a month. However, I started thinking a lot about it and connecting the dots that maybe the issue was not as trivial as we were told.
My cat during a coughing episode after drinking water
Two things that made me suspect the wheezing was a health issue:
When I rescued Sophie as a kitten she had watery eyes that I healed with proper treatment. The probable cause of it was the feline herpes virus. Sophie was cured of this watery eyes condition and the virus was put on remission, but I kept thinking that this fact could have been playing a role in the wheezing.
My cat always seemed to gasp after running a lot when playing. I thought this was not normal. A couple of times she even had her mouth open when breathing after running a lot. After thinking all these things, we took her to the Vet.
The cause behind my cat coughing when drinking water
The Vet did a physical examination on Sophie, then he took an X-ray and determined that she didn't have asthma, her lungs, throat, and esophagus were normal, and her heart too. Everything seemed normal. Now what? The Vet after watching a video we recorded of Sophie having this wheezing attack, said the only explanation would be that our cat was experiencing some sort of inflammation process somewhere in her respiratory path. The way to discard whether inflammation was present or not was by giving her an anti-inflammatory shot and see if this wheezing stops. We agreed and the Vet gave Sophie the shot. We observed Sophie the following weeks and the wheezing episodes stopped completely. That was it! Sophie had a mild inflammatory process somewhere in her respiratory system.
The treatment
The treatment the Vet suggested (and the only one) was putting Sophie on steroids. I did a little research and I wasn't a fan of this idea. Steroids are somehow corticoids that stop mild inflammation or lower the immune response in case of inflammation due to allergies. I just didn't feel right about this treatment and I started researching for a natural alternative for my cat.
A natural alternative
After extensive research, I found an excellent supplement that helps cats to clear the airways and relieve the symptoms of allergy or inflammation. The name is Wapiti Labs Chest Herbal Formula for Respiratory Function. My cat weighs under 10 lbs so we started giving her one dropper per day. So far the wheezing attacks have stopped and I am so happy to have found a natural treatment for her. If your cat has this same problem I recommend you to take your kitty to the Vet and discard asthma or any other condition before treating your cat naturally.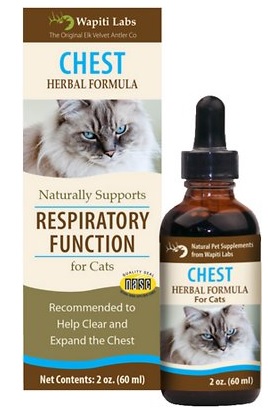 That's it. My cat had a mild respiratory inflammation that we could control with this natural supplement. I found it on Chewy which was great because we needed it fast and they delivered it in no time. Get the Wapiti Labs Chest Herbal formula on Chewy here.