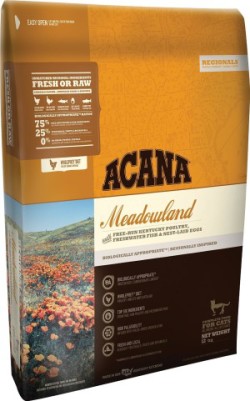 Update: This formula has been discontinued. You can check the new 2020 formulas on Chewy here or visit my full review of the new Acana Meadowlands formula.
ACANA Meadowland formula is part of the 2016 cat foods from Acana located in Kentucky, USA.
This new formula contains fewer carbs and it keeps the same percentage of meat protein and fat as the Grassland Wild Prairie formula. Meats and fish are collected daily by local people providing meats that are human grade.
Acana Meadowland does not add synthetic supplements in its formula because it contains all parts of the animal that actually provide vitamins and minerals to the cat's body.
Muscle meat contains protein, kidneys, liver, and tripe contain vitamins and minerals, bones and cartilage provide calcium and phosphorus. Only Choline, zinc, and copper are added to this formula.
FEATURES
Formula Rich in meat (75%)
High fresh meat inclusions (½). Half of the meat ingredients are fresh, daily delivered.
A variety of whole meats, poultry, eggs, and fish, all in richly nourishing WholePrey™ ratios of meat, organs, and cartilage to provide what cats get on a natural diet.
A good percentage of meat protein (35%).
Limited carbohydrates (25%), reducing the risk of your cat developing obesity and diabetes.
INGREDIENTS
Deboned chicken, deboned turkey, chicken giblets (liver, heart, kidney), chicken meal, catfish meal, turkey giblets (liver, heart, kidney), whole green peas, red lentils, pinto beans, pollock meal, chicken fat, chickpeas, green lentils, whole yellow peas, catfish, whole eggs, rainbow trout, herring oil, chicken liver, sun-cured alfalfa, natural chicken flavor, chicken cartilage, turkey cartilage, dried kelp, whole pumpkin, whole butternut squash, kale, spinach, mustard greens, collard greens, turnip greens, carrots, apples, pears, freeze-dried chicken liver, freeze-dried turkey liver, pumpkin seeds, sunflower seeds, choline chloride, zinc proteinate, copper proteinate, mixed tocopherols (preservative), chicory root, turmeric, sarsaparilla root, althea root, rosehips, juniper berries, dried lactobacillus acidophilus fermentation product, dried bifidobacterium animalis fermentation product, dried lactobacillus casei fermentation product.
Ony added supplements: Choline, Zinc, Copper. Only preservative: Vitamin E (mixed tocopherols).
GUARANTEED ANALYSIS
Crude protein (min.) 35% – Crude fat (min.) 20% – Moisture (max.) 10% – Crude fiber (max.) 4% – Calcium (min.)1.0 % – Phosphorus (min.) 0.8% – Magnesium 0.1%. – Taurine (min) 0.1% – Omega-6 (min.) 3.5% – LA (min.) 2.4% – AA (min.) 0.1% – Omega 3 (min.) 0.7% – EPA (min.) 0.1% – DHA (min.) 0.15%
ACANA WILD PRAIRIE VS ACANA MEADOWLAND
The 2016 Acana Meadowland Kentucky formula in comparison with the 2015 Acana Wild Prairie Canadian formula has the following differences:
Meadowland formula increased the crude fiber from 3% to 4%
It reduced minimum Phosphorus from 1.3% to 0.8% (excellent to reduce the risk of cats developing urine crystals)
Increased the minimum Omega-6 from 2.3% to 3.5%
Reduced minimum Omega-3 from 2% to 0.7%
Reduced minimum DHA from 0.6% to 0.15%
Reduced minimum EPA from 0.8% to 0.1%
New formula doesn't list the maximum values on the Guaranteed Analysis, except moisture and crude fiber.
DAILY RATION & WATER CONSUMPTION
A lean overall size adult cat needs from ½ to 2/3 cup a day. It's essential to provide your cat a fresh source of water at all times while feeding your pet with any dry food. Also, adding to the cat's diet wet canned food.
ANALYSIS OF THE FIRST 5 INGREDIENTS OF ACANA MEADOWLAND FORMULA:
Deboned chicken: 3 stars. This meat is filled with water, deboned can lead to a misconception of a higher quality. It adds and percentage of weight to the formula before cooked so it provides less protein once cooked.
Deboned turkey: 3 stars. Contains water in the muscles, which increases weight before cooked, thus provides less protein nutrition.
Chicken giblets (liver, heart, kidney): 4 stars. This is a by-product that provides flavor and it's a source of protein. Liver, heart, and kidney even though they are by-products these organs provide vitamins and minerals to the cat's diet. As Acana uses fresh liver, heart, and kidney, I will increase the rating to (4 stars).
Chicken meal: 5 stars. This is a concentrated source of protein since the water weight was extracted after being cooked. Excellent source of protein for cats. Better to be on top of the list or in second position.
Catfish meal: 4 stars. Good source of protein. It provides healthy fatty acids but natural oils have been pressed and lost.
WHAT ARE THE PROS & CONS OF THE ACANA MEADOWLAND FORMULA?
The best of this cat food and the things that may discourage you from buying it. You can decide after checking the pros and cons of this formula:
PROS
The formula reduced most of synthetic supplements, containing only Choline, Zinc and Copper
Most of vitamins and minerals are provided in the meats
Reduced minimum Phosphorus, less risk of urine crystals formation
Good amount of proteins (35%)
Good amount of fats (20%)
Increased % of crude fiber which helps cats digestion
It keeps offering the 11 essential amino acids cats need to be healthy.
CONS
Chicken meal could be on the 1st or 2nd position of the list
Real percentage of internal organs is higher in the total formula
Reduced omega-3 and increased omega-6
The formula doesn't list the maximum levels in the Guaranteed Analysis, except moisture and crude fiber.
CONCLUSION
Acana is experiencing changes in its formulas, according to ingredients availability in the Kentucky location in the USA.
Acana Meadowland is in general a good formula with a reduced synthetic supplement which is a step in the right direction. It provides a good percentage of proteins although it uses a large percentage of internal organs in the total recipe, intending to better mimic the natural diet of cats.
Despite the use of by-products, these are not industrial waste but fresh internal organs from healthy free-range poultry. These meats are meant to replace synthetic supplements which is healthier for pets. As a side note, Acana Grassland Kentucky formula also replaced most of its main ingredients, being whole eggs the dominant ingredient on the formula.
Acana Meadowland is a good recipe that offers the 11 essential amino acids that cats need to be healthy. If the formula had listed "chicken meal" as the second ingredient, leaving "chicken giblets" on the 5th position would have been ideal.
IMPORTANT UPDATE
Acana and Orijen dog foods have been subject of a class lawsuit (CA, MN and FL) for containing heavy metals and BPA in dry dog foods produced in the Kentucky, USA facility. So far no cat food has been added to this lawsuit but since the amount of heavy metals in Acana Meadowland dry cat food formula is unknown, I would wait until full disclosure to recommend this dry food formula.