Before buying a Wi-Fi automatic feeder you must pay attention to important aspects that usually get overlooked. Don't rely only on the compatibility of your smartphone with the feeder's Operating System. You need to research further and in this article, I will provide you some interesting points that may help you to decide better. You must pay attention to the following points:
1. Can the feeder be managed through a wide variety of devices?
Most Wi-Fi automatic feeders are controlled through a Smartphone, but what if you need a unit that can be controlled from any device connected to the internet? If you want to be able to manage your automatic feeder from any device and not only from your Smartphone you need to search for a Wi-Fi feeder with this capacity.
When checking for a Wi-Fi feeder make sure to put yourself in any situation where you may need to access the feeder. You don't want to risk depending only on one type of device. Make sure to get a unit that can be controlled through a wide variety of devices and Operating Systems, such as Smartphone (iPhone and Android), iPod, Tablet, Laptop, Netbook or PC.
2. Connectivity vs Budget
If you want to control your smart feeder from any network or if you want to access the app only from WiFi networks.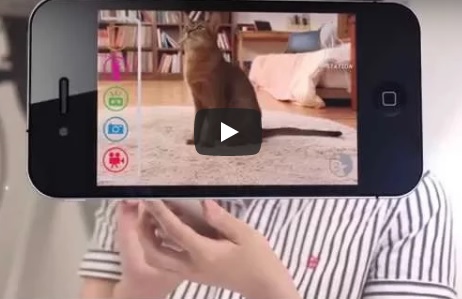 If you want to be able to manage the feeder from anywhere no matter where you are, using your provider's cellular network (3G, 4G connection) consider the bandwidth limit of your plan, especially if one of the things you want the most is watching live streaming of your cat. Also, consider that you won't be able to have good quality streaming videos if using your provider's cell network, especially if you are abroad.
On the other hand, if you are OK with the idea of looking for a Wi-Fi spot to connect with your feeder you won't have to worry too much about blowing up your budget. The amount of data you can download through a Wi-Fi network will depend on the plan associated with that particular modem or transmitter you are connected to, but these plans generally allow for much larger limits or not have any limits at all. Also, Wi-Fi connection is much faster and will provide you a much better user experience.
However, when using Wi-Fi networks consider private connections over public hotspots to avoid security issues. Remember that your data is not encrypted when using an open WiFi network.
3. How interactive is the feeder? 
Does the feeder feature a webcam or it's simply a remotely controlled feeder? Some devices don't offer the possibility of watching or talking to your cat through the App, they are basically designed for you to have access to your feeder remotely but no video/audio interaction between you and your cat.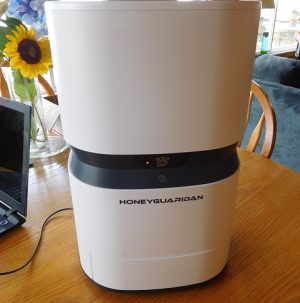 If you want more than just simply managing your cat's feeding schedule and are looking for a device that allows you to watch your cat and even better, your cat watch you, then you need to check feeders with a built-in webcam. If you are researching for a wi-fi feeder with a webcam, make sure to learn if the camera works unidirectional or bidirectional, video and audio.
– Unidirectional Video. Most Wi-Fi feeders feature unidirectional video, which means you can see your cat, but your cat can't see you because Wi-Fi feeders don't usually feature a built-in screen.
– Bidirectional Video. Currently, the only automatic feeder that features bidirectional video is the Knox Smart Wi-Fi Feeder. This smart feeder has a built-in LCD large screen for your cat to see you and also you can see your cat, at the same time. However, the audio is unidirectional so only your cat to hear you. There are some Wi-Fi treat dispensers that feature bidirectional webcams, but they are not really pet feeders and can't be used as such.
– Unidirectional Audio. Most Wi-Fi feeders are only unidirectional when it comes to audio, this means you can listen to your cat but you can't talk to it, or you can only talk to your pet but you won't hear a thing from your cat's video. So basically when turning on the live feed to watch your pet you need to decide if you want to hear your cat or if you want your kitty to hear you.
– Bidirectional Calls. Connecting with your cat bidirectionally means you can talk to your cat and your cat can talk to you as any regular video call. There is one particular feeder with built-in Skype webcam, the PetStation automatic feeder that allows you to have bidirectional calls with your cat.  Your cat can't see you since the feeder doesn't have a screen, but you can see your pet. The cool feature of the PetStation is that not only you can call your cat and establish a video call, your cat can also call you by simply sitting close to the microphone. You will receive a notification of an incoming call and once you accept it you will start watching your cute pet in front of the camera. That's so cool!
This is a great feature even better than a bidirectional video feeder that doesn't have network camera. Usually, when people tap the camera option to watch their cats, they see an empty room but no cat. This doesn't happen with this cool Wi-Fi feeder because if you receive an incoming call from your cat, it means your pet is right in front of the feeder.
PETSATION WITH BIDIRECTIONAL CALLS
4. Connection To The App And Feeder
Before choosing a Wi-Fi feeder, make sure to check if connecting to the App and feeder is complicated or an easy process. Sometimes it can be very tricky to get the connection Smartphone/Feeder/App done and this could make your user experience bad. Check reviews and read customer experiences before deciding. Also, make sure the App you will download is safe and protects your privacy.
5. How Many Feeders You Can Control With One Account
If you have more than one cat and want to add more pets to the same App account consider that not all Wi-Fi feeders allow you to do this. Some brands allow you to add one or more units to the same account; this way if you want to check on several pets you don't need to log into different accounts, which is more convenient and easy.
Consider all these important factors before making the buying decision. I hope this article helps to you get the most suitable Wi-Fi feeder for you and your cat.