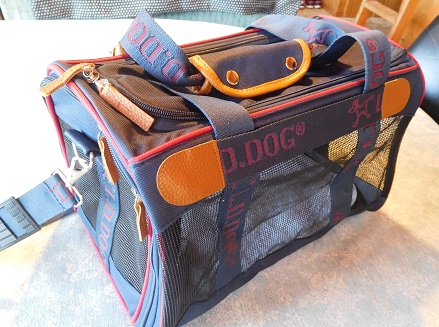 WOpet asked me to review their soft sided Pet Carrier and since I travel with my cat a lot I needed a more soft and convenient solution to carry my cat than the portable pet kennel, so here there is my review.
The WOpet Pet Carrier is an airline approved pet carrier bag that you can use to carry your pet wherever you want to go. It's almost like using your regular bag but with your pet inside.
WOpet pet carrier bag fits the size standards of most domestic airlines. The bag fits under the front seat so you can travel with your cat safely and comfortably.
The construction of this carrier bag is solid, you know when you see it that it won't break apart. The bag gives you full accessibility to your cat while traveling and its lightweight makes it easier for you to carry your pet.
FEATURES
WOpet Pet Carrier holds weight up to 16 lbs
The pet carrier bag is solid, made from high quality durable materials.

WOpet carrier handles with handles holder (click to enlarge)

With removable rigid floorboard and with a soft washable fleece pad to provide your pet a strong and soft floor, creating more space and stability.
Ideal when taking your pet to the Vet and for long trips as well.
The bag is easy to clean and folds flat for easy storage
Zippered on top and sides for easy access to your pet from any angle so you can give your pet the sense of security while traveling.
Black mesh screens on front and sides provide your pet ventilation and a "window" to see you while traveling.
The bag includes an adjustable shoulder strap to make it easier to carry your pet.
With spring wire frame the bag fits the airline's under seat dimensions.
WOpet Pet Carrier is approved for most domestic airlines.
Dimensions (LxWxH): 16" x 11" x 11"
Weight: 2.5 pounds
CONSTRUCTION AND MATERIALS
WOpet pet portable carrier bag is solidly made, with high quality materials to ensure a safe trip for your pet.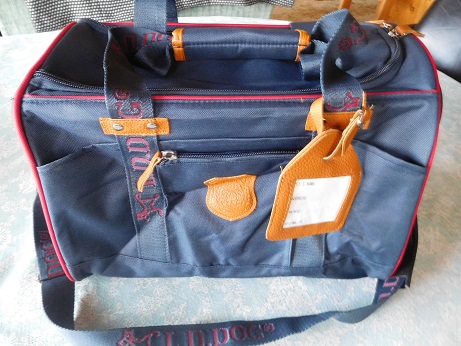 The Bag: It's made from durable cordura type nylon that is lightweight and strong. The bag is zippered on top along 3 sides and another zipper opens the bag on the front side offering your pet access on top and side.
The quality of the zippers are good. The zipper tabs are on the thin side, made from faux leather type material.
There is a pocket on one side that goes the full length, with the handles stitched in, creating 3 separate drop-in pockets, adding an extra zippered pocket to the middle larger pocket. So in total you have 4 pockets to store papers, leash, etc.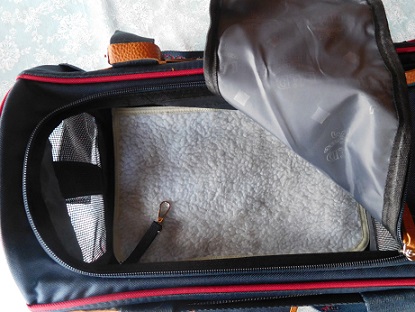 The bag comes with a tag that contains a sheet to write your pet's data and is attached to one of the handles by a pin buckle closure system.
The bag has a mesh black fabric that works as screen for your pet to have ventilation. This mesh it's on front and back sides and also on one of the large sides.
Inside the bag there is a little "seatbelt" which is a little strap with a ring to hook the pet's harness to prevent your pet from jumping out the bag. This little strap is stitched inside the bag so it's firm.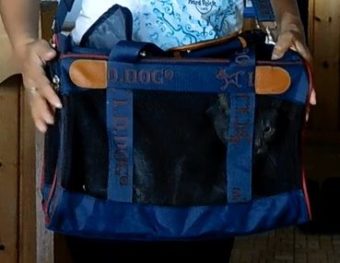 The hand straps are made from the same strong material than the shoulder strap. These hand straps go together by a holder that closes by 2 snaps.
The Floorboard and Fleece fabric: The floorboard is firm but not completely rigid, but firm enough to create a strong floor for your pet, so your furry friend won't get squished inside.
This floorboard gets attached to the bag with velcro. Also, on top of this floorboard their is a fleece fabric that gets attached to the floorboard by a velcro as well, creating a solid and soft floor for your pet.
Shoulder Strap: The strap is adjustable and optional. It goes attached to the bag by hooks to the rings on each side of the bag. The strap is really solid and strong.
VIDEO OF WOPET SOFT SIDED PET CARRIER- UNPACKING AND REVIEW 
PROS
Nice looking pet carrier bag
Airline approved
The bag is very well made
Lightweight but solid
Wireframe provides the carrier pet bag a solid structure that fits with most domestic airlines under front seat dimensions.
Two zippered accesses for the pet to enter the bag, the top and front side
The top zipper allows you to grab your pet easier than using a kennel carrier.
More body contact with your pet than using a kennel carrier.
With floorboard and fleece fabric to give the pet more space, stability and softness
With "seat belt" little strap to stop your pet from jumping out the bag or to attach to your carry-on luggage when traveling at the airport.
With mesh on 3 of 4 sides of the bag provide ventilation and acts as a window for your pet to see you and feel more secure.
Hand straps come with a strap holder for maximum comfort when carrying the bag
Optional adjustable removable shoulder strap
With 3 drop-in pockets and one zippered pocket on one side to store anything you need.
It comes with ID tag for you and your pet.
The bag is foldable for easy storage
Reasonable price
CONS
This carrier bag holds up to 16 lbs but I don't see a cat over 10 lbs having much room inside this bag.
The fleece fabric doesn't give the pet too much cushioning (you can add extra cushioning)
CONCLUSION
WOpet Soft Sided Pet Carrier is very well made with strong materials to ensure your pet will be safely traveling with you.
This unit offers a good value for money and it comes with nice additions such as "seat belt", shoulder straps and floorboard with its cushion.
If you need to travel with your cat and want to have an easy access to your pet to comfort it during a trip this carrier bag is the solution for you.
Also, this soft sided carrier allows you to have your hands free if you use the shoulder straps which you will likely appreciate if you need to carry more stuff during a trip.
Consider the dimensions of this unit to make sure your cat will have enough room inside.
I like how I feel with my cat inside the WOpet Pet Portable carrier and I highly recommend it.