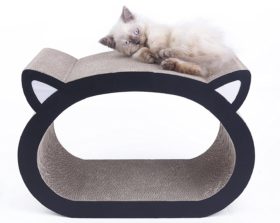 MushroomCat Scratcher Lounge with a cute design and sturdy construction provides your cat a surface to scratch, relax and play, all in one piece.
Made from sturdy cardboard this unit will keep your cat's claws away from furniture, curtains, and couch so your pet can grind its claws without damaging your surfaces.
Cats need to scratch as a natural way to remove the dead outer layer of their claws, when stretching after waking up or resting and for marking purposes. If the cat doesn't have a special surface for this, it will scratch on any surface that can provide a soft texture.
FEATURES
Sturdy construction, made with high standard of quality
It provides your cat an area where to scratch, rest, sleep, hide and play
Cute cat face design for a unique style
Can be used for one or two cats
Ecologically friendly, made from 100% recyclable materials.
Made from very sturdy heavy duty corrugated cardboard.
Designed to withstand up to 50 Kg without collapsing
With organic catnip included
Dimension: 18.9" Wide x 12.9" High x 9" Deep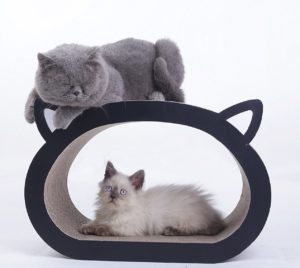 HOW IT WORKS
MushroomCat Scratcher simply works as a scratcher, lounge for your cat to rest inside or on top and also as a hiding place.
Two cats can enjoy this unit to play and have fun; one inside and the other on top of it, as well as using the MushrromCat as a tunnel to play.
Your cat can scratch inside or outside the unit, providing more options according to your cat's preference.
PROS
It's a scratcher, lounge, hiding place and a playing tunnel at the same time
Cute and decorative
It looks of good quality, well made
Made of recyclable materials
Most cats like it
Good way to provide a surface for your cat to claw on
The cat's claws don't get stuck on the cardboard
Suitable for 2 cats to play or sleep at the same time
CONS
The unit is not very stable, it flips over when the cat jumps on it or off it.
A small amount of cardboard will shed off the unit due to your cat scratching (though easy to clean, it doesn't go everywhere).
It gets damaged if in contact with water, no suitable for cats with frequent urine "accidents"
Dimensions of the scratcher are small
A little pricey
TIPS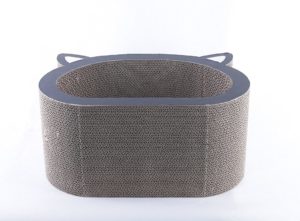 √ Put some catnip on the scratchboard on top or inside, this way your cat will feel attracted to it and will adopt the new scratcher faster. If your cat is older than a year and you have never given it catnip before try to avoid using it (some adult cats react urinating with catnip).
√ Cats usually scratch when waking up, so try to put the unit close to the cat bed.
CONCLUSION
MushrromCat Ultimate Scratcher Lounge bed is a good investment if you want a place for your cat to scratch, hide, rest, sleep and play all in one place. The unit is really cute, well made and it will keep your cat's claws away from your furnish.
Consider the dimensions of this unit before buying because it's not as large as it looks in the pictures, it's actually on the small side.
BOTTOM LINE
The MushroomCat scratcher lounge is a good buy if you have one or two kittens and want to provide it a place to scratch, play, hide and sleep, all in one.
If you buy this unit for your adult cat you might feel a little disappointed due to its small size, although there are several customers showing their happy adult cats using it although they don't fit inside entirely.
All in all, if you want a large and stable surface for your adult cat, research another unit.