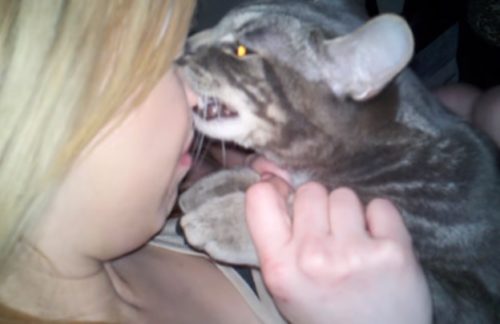 I usually kiss my cat good morning by putting my face in front of her for her to sniff me. That's our morning "kiss". We have always done it and it's our cute interaction that both of us love. However, a few days ago I did the same thing, but this time my cat sniffed me, licked my face, and bit me hard right after. She wasn't in attack mode or aggressive, but the opposite, she was loving me and super cute. So what happened? This was so disturbing to me that I started investigating why cats bite their owner's face. I discovered four main reasons and I also found out the particular reason why my cat bit my face that day. You won't even believe it.
Over Petting/Overstimulation
Your cat likes your love and petting but there is a very fine line between "oh yes I love it" and "that's it, that's too much". As soon as your cat had enough of your love suddenly it feels overwhelming and that's why it will bite you due to overstimulation. If you are petting your cat and you have your face too close to your cat's head, most likely it will bite your face.
According to San Francisco SPCA, a way to avoid overstimulating your feline is keeping the petting sessions short, focus the petting on the areas the cats like the most which is their head, chin, and see the signs when the cat is overstimulated.
There are ways to tell if your feline had enough of your petting, for example, watch your cat's tail if it starts moving from side to side or up and own. Another sign of intimidation or stress is the cat's ears flat. Giving you a stare with dilated pupils right before the attack is also common. If you learn these signs you may be able to prevent these attacks.
Your Cat Is Confused or Irritated By Certain Things
Cats can get irritated by listening to you talking on the phone or video streaming! According to a study performed by the University of Tokyo published by Springer, cats can clearly recognize the voice of their owners. The cat owner's voice is important in the cat's life as a way to communicate. If we consider the cat owner's voice as a stimulus for the kitty it could make sense a cat being irritated by listening to its owner's voice for a long time without directing any attention to the feline. Your cat gets stimulated but ignored at the same time, which your cat doesn't understand. If you are talking on the phone and your cat is close to your face you may get bitten due to this.
Same if you're videoconferencing with someone either on your phone or laptop. Your cat doesn't understand that you are talking to somebody else, not him. The chances of this behavior increase if you're doing this while lying down in bed, sitting on your couch, or any surface where your cat can jump and be next to your face. You are calling his attention and in a familiar territorial area which is the bed, couch or others.
The same could happen with a phone's ringtone that your cat doesn't like, the volume too loud, or that you talk too loud, etc. Also, if you use the phone speaker, either for talking to somebody or listening to music this could really bother your cat's ears. Don't do this if your cat is close to your face or head.
Territorial Play
This could happen if your cat is dominating and it's using games to mark its territory. In other words, you are like its sister or brother who your cat plays with to establish dominance by roughly playing and biting. Sometimes these games could be really fun and cute, but it could rapidly change due to the cat's nature. When this behavior happens usually your cat won't back off after biting you. He may stare at you with dilated pupils right before the attack. Make sure to stay away if this happens and never play with your cat again in the areas where your cat does this. It could be your bed, couch, cat tree, etc.
Biting your face could be also the result of your cat territorial mark over you, like biting your nose, for example. These bites are softer and not necessary while playing, it could be while cuddling with you.
Brain stimulation with fragrances
I discovered that this was the reason why my cat Sophie bit my face. It took me a while figuring this out. My cat has always reacted to any type of herbal fragrances similar to her reaction to catnip. She rubs her face on the fragrant object, and bite it. She has done this with mint tea bags, and other herbal smelling stuff.
After researching this fact, I discovered that cats actually are attracted to certain floral and herbal fragrances. It could be peppermint (keep an eye on your toothpaste if your cat is nearby), mint, basil, lavender, floral, fruits, and others.
What happened that morning is that I had used a natural organic herbal soap in the shower and I used it on my face (I don't usually use soap on my face). When I approached my cat that day she smelled my face, licked it, and bit it hard right after, just as she usually does with the herbal tea bags, with the difference that it was my face this time, right above my lip. This was an absolutely stunning discovery that I wanted to share with you.
If your cat bites your face in a situation when your feline is not playful or aggressive at all, but the opposite, loving and cute, this could be the reason. Do you use any type of fragrance on your face? Cream? Soap? Perfume?. Do you use facial cream before going to bed? This answer could lead you to the root of the problem.
What to do if your cat bites your face
Wash the wound thoroughly immediately after the bite with soap and water under pressure from a faucet for at least 5 minutes, don't scrub the bite area. Then softly rub the wound with a cotton pad using 75% or higher alcohol, and apply antibacterial cream (it's what I did). If the bite zone doesn't heal after a couple of days visit your doctor. Bites from kittens have more chances of being harmful due to the transmission of pathogens like cat scratch fever. If you have a kitten you may want to visit your doctor after being bitten by it, regardless.