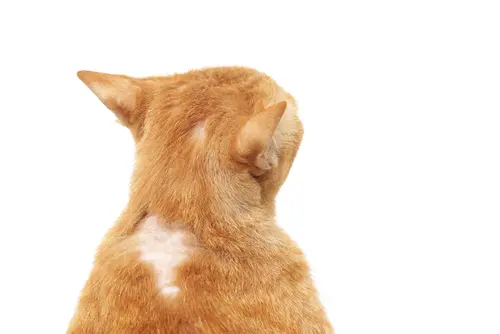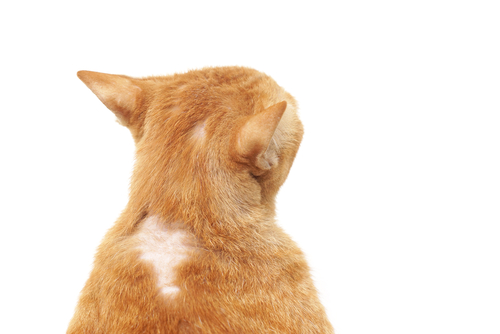 If your cat just got treatment and developed bald patches as a consequence, this post is for you. Or if you notice your cat's hair thinning, I might have the right solutions for you in this guide.
How to help your cat grow back hair faster?
Once you've identified the root cause (see the causes further below), address it to help your cat grow its hair back faster. The following are some effective ways to help your cat grow its hair back faster:
Treat the Fleas
Here's your guide to the seven best flea treatments in 2022. Note that some products cause a reverse reaction before healing your cat for good. Your cat may lose a bit more hair before it grows its hair back faster.
Groom Your Cat Regularly
Brushing your cat's hair daily helps increase hair growth. That's because it encourages the production of natural sebum from your cat's skin, which is essential for a healthy coat. It also removes dirt and prevents follicle blockage.
For short-haired cats, brushing 3-4 times a week is good enough. But long-haired cats require daily brushing. Along the same lines, I recommend showering your cat once every four to six weeks. Also, pay good attention to the grooming products you use. You need to get a brush that is suitable for your cat's hair type, some products may not suit your cat and irritate its delicate skin, causing further hair loss. For instance, never use a brush with sharp points or teeth.
Prevent Excessive Grooming
To avoid excessive grooming, ensure that your cat has games to play. If you're too busy to ensure that, arrange a companion for your cat so it can stay busy. You can also train your cat to quit excessive grooming or hair pulling by rewarding it with a treat when you stop your cat from doing it, and it listens to you.
Improve Nutrient Intake
Another good way to help your cat grow its hair faster is to make its diet coat-friendly. Increase the intake of DHA and EPA. Both these nutrients boost the cat's coat health and encourage the production of newer hair strands. There are Omega-3 chews or oils you can add to their food to improve their skin and coat. Additionally, you can switch to high-quality cat food to improve your cat's skin health. Just make sure your cat is not allergic to anything in its new diet. To do this you can consult dry cat food reviews to see what formula is ideal for your cat. The key is to increase the intake of complex carbohydrates and proteins.  Also, if you plan to change your cat's diet, ensure that you do it bit by bit. So, it can get accustomed to the new food. Any sudden changes may trigger stress in your cat and reverse the effects.
Visit the Vet
If your cat is behaving weirdly or showing unusual physical symptoms, take it to the vet. Explain each symptom in detail and follow your vet's instructions to address the issue.
What causes hair loss among cats?
In order to help your cat grow its hair faster, you need to first understand the cause behind the hair fall. The following are a few common causes of cat hair loss:
Underlying Medical Condition
If you've noticed the development of bald patches or thinning of hair out of the blue, you need to address the core reason for hair shedding first. For that, you need to take your cat to the Vet. Explain the sudden hair loss and/or development of bald patches. Similarly, if you've noticed any other odd behavioral patterns too, mention those as well. Usually, cats scratch themselves excessively or exhibit signs of irritation. You can also mention if you have changed your cat's food in the past month or weeks, which may have caused an allergy. Also, it's important to tell your Vet if your cat's behavior towards you or other pets in the house has changed. That's because cat hair loss issues are not always due to physical health problems. Sometimes it's a result of mental health issues.
Common physical issues that lead to cat hair loss:
Ringworms: Fungal infection caused by mold-like parasites that harbor on the outer layer of the skin.
Cushing's Diseases: Chronic excessive production of cortisol from the adrenal glands.
Mange: Skin problem produced by mites that burrow and bite on the cat's skin producing irritation and itching. This type of skin issue is very rare, but it could happen during an outbreak.
Bacterial Folliculitis: Infection of the cat's hair's follicles caused by bacteria.
Mental health issues that cause hair loss in cats:
Telogen Defluxion: Hair loss after a very stressful event.
Change of environment, sudden change in diet, or separation from the owner can also cause mental stress in your cat.
Fleas
If fleas are the reason for hair loss, you'll be able to notice some prominent symptoms. These include:
Sudden bites on the sides
Excessive licking and grooming
Noticeable hair loss behind the ears
Lethargy
Black specks on your cat's fur
Pale gums
Irritation and itching
All of these symptoms are visible well before your cat develops any bald patches. Its hair might start thinning too. But not too much to alarm you. If your cat has a light-colored coat, you might be able to see the fleas yourself. If your cat has dark-colored fur the best way to find out if your feline friend has fleas is by using a flea comb. Pass the flea comb on the back neck area and most likely you will see fleas If your cat is infested. Try to do this in the bathtub or outdoors.
You can also detect fleas in cats by noticing less hair on their face or emptiness on the back of the ears. But note that if there's a cat losing hair around its eyes only, it may not necessarily indicate flea infestation. It could be ringworms, a bad skin condition, or even facial alopecia. Hence, if you're unable to detect the presence of fleas in your cat or are counting on a symptom like loss of hair around the eyes, you should get your cat checked by a vet before treating it.
Excessive Grooming
When cats get bored, they find themselves an activity. Grooming themselves excessively may be one such activity. At times, it may extend to the point your cat pulls its hair out.
Final Thoughts
Your cat may take a few months before it regains its coat health. At best, you can speed up the process to a month but no less than that. Every natural and organic process takes time, so be patient and let nature do its work while you take the necessary measures. Good luck!