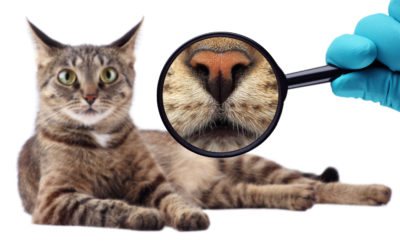 Do you ever look at your feline companions and wonder where all that furball of cuteness comes from? With about 45 to 73 recognized cat breeds in the world today, you easily start to get a little confused thinking about your cat's ancestral lineage and how every cat is both different and similar to one another. But what if there's a way to detect health risks, identify genetic defects, and even predict your cat's future simply by looking into her genetic makeup? Is that even possible? Other than doing basic things to keep your cat healthy you can use DNA science to go even further and maybe, prevent diseases in your cat.
A New Era For Pet Husbandry
Well, that all sounds like something pulled out of a sci-fi Hollywood movie, but DNA testing is a fast advancing technology that has revolutionized both human and animal medicine all over the world. Advances in science have made it possible to go beyond DNA testing for humans to that for our beloved cats and dogs. But unlike dogs which have a longer breeding history that gives them a noticeable distinct appearance according to their breed group, cats have a more muddled ancestry.
It's not surprising if you haven't heard of DNA tests for cats until now. This is because they are relatively new to the market. However, suppose you're looking to get one done for your cat. In that case, there are a few companies with excellent reviews that can provide the needed information about the genetic makeup and history of your feline friend. But how does DNA testing for cats work?
DNA Testing For Cats: How It Works
Most cat DNA testing companies offer at-home cat DNA tests to customers. This makes it easier and more convenient for you to have one done for your cat. First, order a test kit directly from the manufacturer's official website or an online retailer or affiliate website. Once you receive the cat's DNA test kit, use the swab provided in the kit to take your cat's DNA sample making sure to get around the mouth (both gums and teeth).
Talk about lab testing from the comfort of your home
Afterward, send the sample to the company's testing laboratory for state-of-the-art sequencing to decode all the hidden messages carried by the genes. Once these samples get to the lab, your cat's DNA sample will be extracted from the swab, then tested and sequenced to obtain the necessary information. With Basepaws, for example, you'll need to create a user account from the company's website. Afterward, you can order from the two genetics test packages or even the recently added Cat Dental Health Test. The result of the DNA sequencing test is sent to your inbox within four to six weeks of the sample arriving at the laboratory.
Benefits Of DNA Testing For Cats
Cat DNA testing and sequencing have made it possible to know your cat's similarities with other known cat breeds. This greatly helps you understand your cat better and provides you with actionable knowledge to share with their veterinarians. The primary benefits of conducting a DNA test for your cat include:
1. It is Enlightening and Insightful
Every cat DNA testing organization has a reference panel of different cat breeds with which the DNA sequence results of your cat are compared. This reference panel contains genome sequencing data from thousands of cats representing diverse breeds and geographical locations. The breed analysis report you'll receive will include a brief overview of each breed your cat shares genetic similarity, origin, genetic predisposition, personality, and health risks with. And for companies with increasing reference panels like Basepaws, you'll get regular updates on your cat's original breed analysis report at no cost to you.
2. Early Detection of Health Risks
Aside from identifying your cat's breed, the test result also contains a report of your cat's health markers associated with certain genetic disorders. This helps you better understand your cat's current state of health. It also provides a guide to effectively managing their long-term health and wellness.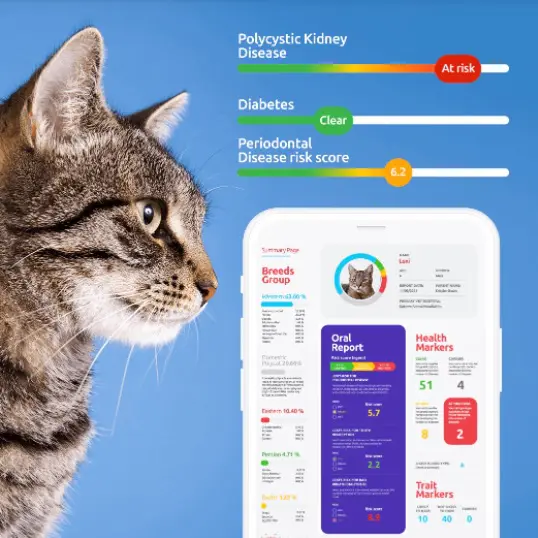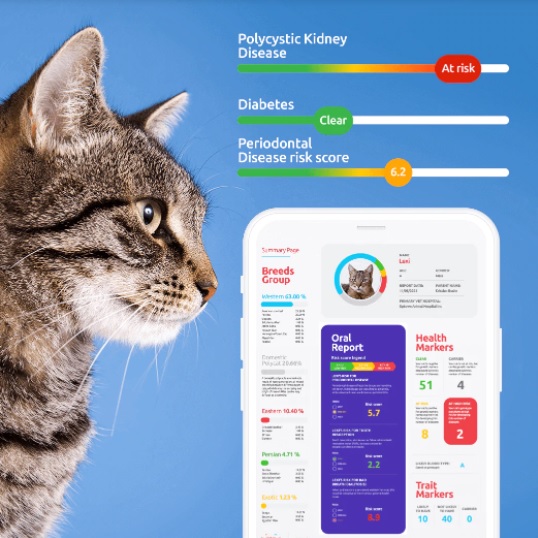 3. It is Cost-effective
Since taking a DNA test for your cat puts you in the know of its health risk factors, it will help you initiate preventive healthcare for your cat. In addition, early detection puts you in a better position to work together with your vet on an effective care plan that minimizes or avoids costly emergency vet visits.
Does Your Cat Really Need DNA Testing?
According to Tampa Bay Times, less than five percent of cats are purebred. This means more than ninety percent of cats have muddled ancestry. So if your feline companion is not from a breeder or you don't have a report that indicates it is purebred, then there is a big chance your cat is a mixed breed. This qualifies it for DNA testing.
A DNA test for your cat is recommended if you're unsure of its origins. This will help you take preventive measures on possible health risks and wild behavioral tendencies. Altogether, you'll enjoy a closer relationship with your cat now that you know them more and have actionable knowledge on better ways to care for them.
How Can You Get Started?
As stated earlier, DNA testing for cats is a relatively new concept, even more so than dog DNA testing. This is why only a few companies offer these services. This, however, is not to say the results aren't reliable. On the contrary, companies like Basepaws are renowned for providing at-home cat DNA test kits to customers. In addition, they offer different packages that provide detailed information on the genetic history of your cats.
"Who you gonna call?" Basepaws, of course.
They're the foremost in terms of popularity and service offerings. The organization offers two cat DNA testing options: the Breed + Health DNA test and the Whole Genome Sequencing test.
For the two options, the DNA test compares your cat's genome sequence to that of other cats in the Basepaws database and within the larger scientific community. The result provides information on your cat's breed group (Western, Eastern, Persian, Exotic, etc.), its health markers (i.e., its risk of developing certain diseases or genetic disorders), and its trait markers (this explains why your cat have certain physical traits such as coat color and pattern, coat texture, coat length, body morphology, etc.).
To obtain comprehensive information on your cat's genetics, it is recommended to go for the Whole Genome Sequencing test. It not only gives a thorough breakdown of your cat's traits, health, and DNA, but you also get regular updates, with every introduction of new breed groups, on the original report of your cat's DNA.
References
https://basepaws.com/blogs/news/why-should-i-dna-test-my-cat
https://www.litter-robot.com/blog/cat-dna-test/
https://www.tampabay.com/archive/2002/09/09/the-truth-about-rescuing-purebred-dogs-and-cats/
https://www.pumpkin.care/blog/cat-dna-test/
https://vgl.ucdavis.edu/test/cat-ancestry
https://basepaws.com/