We all agree that cleaning the cat litter box is not the most desirable thing to do as a cat owner. However, if we must do this task everyday, it's a great idea to cut down the scooping time in half, right? Choosing an excellent litter scoop could make a huge difference not only in the time we take to clean the box, but also in the physical effort we put into it.
What to pay attention to when buying a metal scoop
By considering the following factors when choosing the best metal scoop you get a long-lasting and efficient solution. A high-quality litter scoop is one of the best tips how to clean your cat litter box.
Type of metal. Not all metals are high quality. Low-quality thin metals could even chip if under lot of stress overtime.
Size of scoop. If you choose a scoop that is jumbo sized and you have a top-entry litter box it will be hard to maneuver. Choose the scoop according to the size of your cat litter box.
The handle. Not all metal scoops have handles fully made of metal, this is important because a fully metal made handle provides a much better chance of the rubber or foam not breaking after long time use.
Rust-resistant. Some metals are low quality and can rust, especially considering that cat urine is highly acidic.
No bending. The thicker the metal of the scoop, the less chances of bending when digging deep firmly into the cat litter.
Anti-stick. Some metals are coated with anti-stick material or are polished to get the anti-stick properties.
Handle providing good angle. The handle needs to be ergonomically designed to put the least amount of stress on your joints.
Size of slots. If you use a very fine sandy type litter you need to choose narrow slots, less than 4 mm. On the other hand if you use cat litter with large granules the slots need to be wider, over 4 mm.
Slots Layout. The best slots layout will depend on the type of cat litter you use. If you want the scoop to perform an easy slide while digging large granules cat litter (and almost no shaking when sifting) the slots layout needs to be simple, with vertical slots all the way with no fancy patterns on the scoop. For fine type cat litter the perfect layout allows and easy sliding and sift, without sacrificing the capacity of sifting small clumps. A combination of vertical slides with small ones accomplishes this.
Why do metal litter scoops perform better?
Metal scoops are stronger than plastic, they don't harbor bacteria and it's easier to keep them clean. As they are stronger, it's much easier to scoop and scrape the bottom of the litter box.
Are all metal scoops the same?
We can find several types of metal scoops, but some metals are anti-stick or anti-rust while others aren't. This list provides the best metal scoops in the market with high-grade stainless steel or aluminum.
Top 5 metal litter scoops of 2019
The following is a list of my top picks considering all the factors that make a good metal scoop. No metal scoop achieves all these factors in one and that's why I mention what I like of each to help you decide according to your needs.
TOP #1: DuraScoop Jumbo Cat Litter Scoop | Rating: 4.8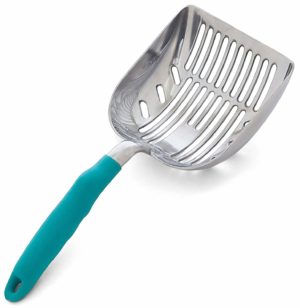 Material: ADC-12 Aluminum (Aluminum Die Casting 12-grade has high quality anodized surface and high corrosion resistance)
Scoop dimension: 12.7" W x 5.9" L x 2.6" H
Weight: 8.6 oz
Slot size: 3/16 inches approx.
Handle length: 8 inches approx.
Handle materials: Fully metal (a thick hollow metal tube) covered with molded phthalate-free rubber coating.
Litter type: Clumping clay litter, corn litter, and any cat litter that's fine enough to pass through the slots (walnut, wood, pine, etc.)
Pros
Made of sturdy rust-resistant metal
Multi-cat heavy duty, it keeps up with large loads of use.
Large sized scoop and design of slots make it easy to sift the clumps and saves on litter.
Good angle for best position when scooping the box.
Less effort to get all the clumps from walls and bottom, it makes the scooping a breeze.
Handle fully made of metal provides the firmness needed to scoop without any bending
Layout of slots is strategically designed, there are small corner slots that help to scoop smaller clumps
Large scoop allows to remove several litter clumps at once
Cons
The scoop could be too large for hooded boxes or smaller litter boxes.
It doesn't come with a holder
Wet clumps may stick to the scoop, but not too much
What I like about this scoop: It's ideal for multi-cat litter boxes, jumbo and large size litter boxes. For people who need good grip when scraping the walls or corners of the litter box this scoop is excellent. The angle of this scoop is really good to get a good position when cleaning the box at easy. The layout of the slots makes it one of the best sifting litter scoop.
TOP #2: iPrimio Sifter Deep Shovel | Rating: 4.8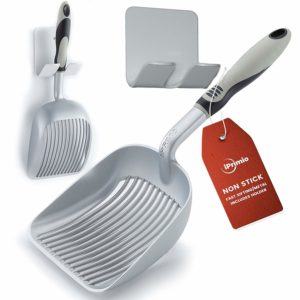 Material: Solid cast aluminum
Dimension: 5 W x 13.25 L x 1.75 H
Weight: 6 oz approx.
Slot size: 4 mm
Handle length: 7.5 inches approx.
Handle materials: Waterproof soft rubber. The handle is partially made of metal.
Litter type: It works with clay clumping, wood clumping, corn and any other fine type cat litter.
Pros
Anti-stick properties allow the scoop to stay clean
Patented slot design provides the easiest sifting when scooping
Deep shovel shaped scoop allows scooping easily in deep litter
Ergonomic handle designed to be easy on the wrist
Right size, not too big or too small
It scoops big or small clumps with no effort
It doesn't bend if pressure is applied
It comes with a 3M sticky holder
Cons
It doesn't work with some cat litters such as crystals or pellets
Handle is not fully made of metal
The sticky holder doesn't stick strongly to the surface
What I like about this scoop: The design of the slots is perfect to scoop fine cat litter, it sifts very easy with no need to shake. Additionally, the handle has a good grip that doesn't cause stress on your hand. The handle also has the right length, you don't need to reach over too much to scoop, but it's short enough to support a good posture to scoop efficiently. Highly recommended if you use over 2.5 inches deep of cat litter.
TOP #3: Iprimio Scoop Monster | Rating: 4.8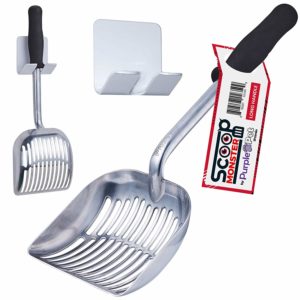 Material: Solid cast aluminum
Dimension: 5.6"W x 17"L x 1.75"H
Weight: 6 oz approx.
Slot size: 3.5 mm
Handle length: 11 inches approx.
Handle materials: Partially metal covered with soft foam
Litter type: Clumping clay, corn, wood, and any litter that is fine
Pros
Easy to use for people with arthritis
Long handle for extra leverage to reduce posture strain
Deep dig with deeper scoop, and easier to sift
It could be hard to maneuver with covered litter boxes with a weak grip
Comes with a sticky 3M scoop holder
Cons
Scoop holder may unstick if not put properly
What I like about this scoop: The length of the handle allows a very easy reach of the litter box, including covered litter boxes if you have a strong grip. This, plus the fact that the scoop is deep with an easy to sift slot pattern makes this a very good alternative for people that suffer body ache when reaching over to scoop the litter box.
TOP #4: Basic Form cat litter scoop | Rating: 4.7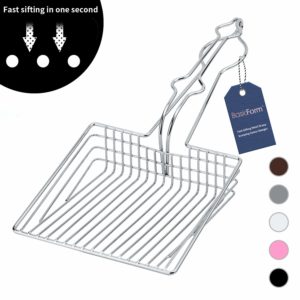 Material: 4mm stainless steel wire
Dimension: 6.2" W x 13.4" L x 2.6" H (scoop depth 1.75")
Weight: 9.6 Oz.
Slot size: 6mm
Handle length: 7.28 inches
Handle materials: 4mm stainless steel wire
Litter type: Clumping litter, crystals, grain wood, pine, grass seed litter, and any litter with larger particles that go through 6 mm. Sandy type litter or too fine clumping litter may not work as well.
Pros
Sturdy, made with thick stainless steel
It sifts in seconds with no effort
Slots allow you to sift larger granule-type cat litters
No need to shake the scoop
Large scoop removes lots of litter clumps in one scoop
It slides through litter easily
Doesn't bend when firmly scraping the surfaces
Good price
Cons
Doesn't work well for fine sand-type cat litter
Some dirty litter may fall through the slots
Slots are larger at the back corners
Handle may be a little harsh for people with arthritis
What I like about this scoop: It's ideal to scoop larger granule-type cat litters such as some clumping clay type, wood, crystals, seeds, etc. Also, it cuts the scooping and sifting time in half.
TOP #5: Brask Pet Cat Litter Scoop | Rating: 4.7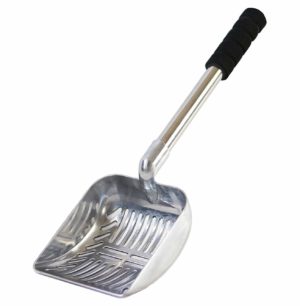 Material: Rust-free aluminum
Dimension: 5.25"W x 16"L x 2"H
Weight: 9 ounces
Slot size: 5mm
Handle length: 10 inches
Handle materials: Fully made of Aluminum covered by thermoplastic Elastomer (TPE)
Litter type: Clumping clay litter, corn litter
Pros
Rust-free aluminum
Deepest scoop in the market with 2" deep
Reaches long surfaces getting lots of waste at once
Long 10-inch handle allows you an easy position to clean the box
Soft TPE material on handle provides a soft feel on your hand
It doesn't bend when scraping
Cons
It doesn't come with a holder (neither a loop on the handle)
Square shaped scoop makes it a little harder to get the corners
Tricky to get corners if cleaning top-entry litter boxes
Long handle is not angled at the joint, creating stress when used firmly
Not good for people with weak grip or arthritis
What I like about this scoop: It works well for scooping a litter box with square shaped corners. Due to its large handle, this scoop is a good option if you want to get a good leverage without straining your body to reach the litter box.
Choosing the best metal litter scoop will cut in half the time you need to clean your cat litter box, keeping your cat litter box clean more often.