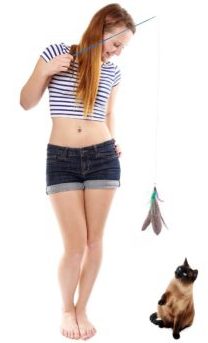 I was asked by OnePlus Manufacturer to make a review of the OnePlus Interactive Cat Toy Teaser Wand to help cat owners with more in-depth information about this fun toy.
OnePlus interactive cat catcher teaser wand allows you to play with your pet in several ways, your cat can chase, stalk or hunt this toy which is perfect to keep your feline friend active and happy.
This retractable toy is made from a non-toxic material which is very important when it comes to pet toys, especially since they may chew on it. Also, I could see the material of the wand being durable as well.
FEATURES
Interactive toy that entices your cat hunting instincts
It increases bond between you and your cat
Durable wand made of stainless steel
Retractable wand can be collapsed for easy storage
Wand is lightweight with foam on handle
It comes with: 4 feathers + 4 caterpillars, random colors
Dimensions: Length: 15" (collapsed); 40" (extended)
Weight: 2.1oz / 60 g
Materials: Wand handle made from natural wood and padded with hard foam; string made from nylon, hook and chain made from metal.
WHAT I GOT AND MY FIRST IMPRESSION

The bag comes with:
1 x Cat Wand
4 x Feathers
4 x Caterpillars
When I opened the bag I knew this toy was going to be a winner since my cat started to play with the string even before I put any toy on it. I will describe each item for you to have a better idea:
Wand: It's blue, made from stainless steel with a handle that is padded with a hard blue foam. The wand retracts in 3 parts, the first part is thicker than the second part and the last part is thinner than the second part. This gives the wand lots of flexibility when time to play. The end of the wand has a nylon string similar to a fishing line with a metal hook on the end of the string to put the toys.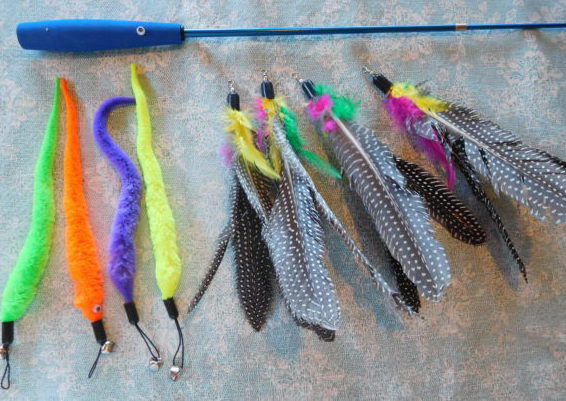 Feathers: they are beautiful real feathers.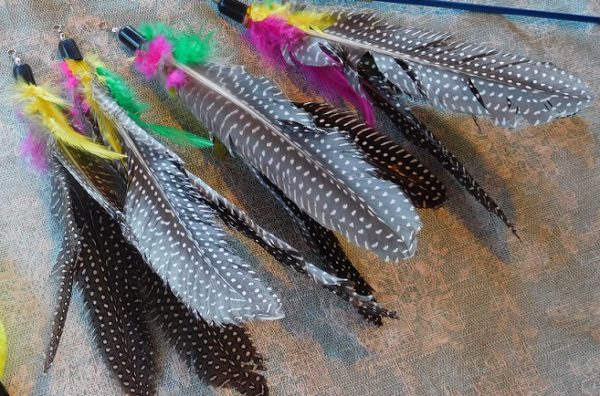 Caterpillars: They're really cute, they are made from very soft plush with 4 different vibrant colors. They also have tiny little eyes resembling a real caterpillar. Each caterpillar comes with a small metal bell.
HOW THE TOY WORKED FOR MY CAT
I love this toy because I used to have another wand with a mouse and the stick was kind of short which doesn't give you many options when it comes to dragging the mouse for a cat to play.
This wand is great because it reaches much further distance which gives you the opportunity to put the toy wherever you want to entice your cat to play. This is especially important if your cat is the type that loves to chase dragging things. My cat is this type and at the beginning, you will see her jumping to chase the toy but not too much activity here. BUT, when I started dragging the toy along the house she went nuts!
She started running so much that she could hardly breathe lol. And as the wand is long I didn't need to run to drag the toy, it was so much easier than the previous wands I have had.
I also like that when it's time to put the toy away you just retract it so it doesn't take too much room.
Here's A Video Of My Cat's Reaction With OnePlus Wand In The Beginning
And When I Started to Dragging The Toy
PROS AND CONS OF ONEPLUS TEASER WAND TOY
PROS
The wand is retractable so you can reach further to play with your cat.
Thick-to-thin shaped sectioned wand gives it a lot of flexibility to play
Stainless steel wand is durable
Wand handle foam padded
Retractable wand it's easy to store
Caterpillars have beautiful colors and real feathers that really entice your cat to play
CONS
A little hard to open the hook to put the feather or caterpillar on
Sometimes the thinner part of the wand doesn't retract that easy
TIPS FOR BETTER USE OF THIS TOY
Make sure to put away this toy when you're done playing with your cat.
Don't let your cat chew the string when playing.
If you see that your cat doesn't play too much with the toy in the air, drag the toy on the floor to see its reaction.
The combination my cat liked the best was one caterpillar with one feather. This allows more movement since it's less heavy.
CONCLUSION
I highly recommend OnePlus interactive cat teaser retractable wand. It's given my cat so much exercise that she can hardly breathe sometimes from running so much.
If you have an indoor cat that needs to exercise and want to increase the bond between you and your cat you MUST buy this toy, it's a winner.