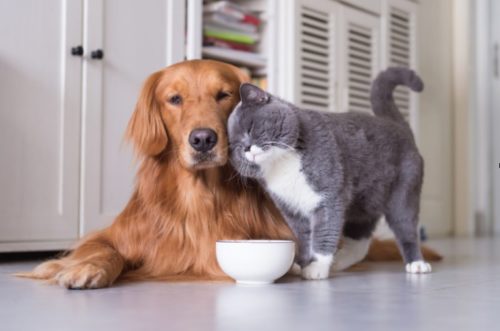 It's common knowledge that cats and dogs have a reputation for being mortal enemies that can't bear to stand each other – but is that the truth? Well, due to cats and dogs being the exact opposite in nature, it's not easy for them to immediately befriend each other. But it's also not impossible. There are many cats and pups that grow up to be BFFs!
So, if you're someone who classifies themselves as a dog and a cat person and want to welcome a kitty or pup into your home, we've got your back!
Although there's nothing black or white about dog breeds and most predictions are based on generalization, doing some research can help as many believe certain personality traits possessed by certain breeds can help dogs be more welcoming towards new pets in the house.
For example, dogs included in the Terrier Group were historically bred to hunt, and the Hound Group includes dogs bred to chase prey which is why the aggressive and territorial nature of these dogs can make them difficult to coexist with cats.
However, dogs included in Toy or Sporting groups tend to be more playful and affectionate and, therefore, mesh easily with cats. Therefore, we've combined a list of 10 Dog Breeds That Get Along Well with Cats to get you started!
1. Golden Retrievers
It's no secret that Golden Retrievers are one of the most popular dog breeds in the world. And rightfully so. These gorgeous dogs are kind, friendly, and gentle. Along with being a human's best friend, they also tend to get along with other pets in the house, such as cats. However, to ensure your four-legged doesn't get too excited or jumpy around a cat resulting in the cat feeling uneasy, you'll need to train your dog to prevent any unwanted behavior it may express around the cat. But worry not as these kind-natured and affectionate dogs are easily trainable and adaptive.
2. Bernedoodle
Bernedoodles are a handsome dog breed that is equally affectionate, easy-going, and approachable. They're up for fun, anywhere and anytime, which is why they'll also make ideal companions for a cat. They also learn to adjust quickly to new environments and are easy to train. So even if your Bernedoodle dog gets aggressive around your kitty, you can eventually train it to prevent such behavior.
3. Maltese
Maltese is an adorable Toy dog breed that grows to less than 7 pounds as an adult. The small size of these gentle dogs is a bonus as cats tend to feel more comfortable around small-sized dogs rather than big ones. Moreover, Maltese are easy-going and loving, so they're less likely to stir trouble when sharing space with other pets. However, it's not a given that the cat will behave the same way. Maltese usually mind their own business and chill on the couch. But certain cats can be naughty and mess around. Therefore, keep a close eye on both your pets when they're around one another, and you'll be good to go!
4. Basset Hound
Even though this handsome dog was originally bred for hunting purposes, it's way more likely to hunt for your attention rather than a dog. Basset Hounds are sweet-tempered and friendly dogs that can get along well with cats. However, having hunting instincts, after all, can be difficult to train. So, you should be ready to put in some work if bringing a hound home or bringing home a cat with one already present. Remember, a proper introduction goes a long way, along with some training to restrict the dog from chasing or harassing the cat!
5. Cavalier King Charles Spaniel
Cavs, being one of the most popular breeds from the Toy Dog Breed that carry hearts filled with care and affection. Their loving and kind nature also makes them ideal emotional support dogs. So, why wouldn't a breed that is there for humans in their difficult of need do the same for their feline friends? Cavs are obedient dogs that know their limits which is why they're less likely to go around chasing or annoying your cat.
6. Beagle
We all know Snoopy barely put up with Woodstock but worry not, real Beagles are social beings that love interacting with other people and animals alike. Moreover, beagles were originally bred to hunt in packs, so they're familiar with the idea of sharing their space with other beings. This also makes them an ideal breed to own, along with a cat.
7. Newfoundland
You must be wondering if this is a good idea considering the size difference between a Newfoundland and a cat. Well, they may be somewhat different in size, but Newfoundlands are truly one of the gentlest dog breeds. They are not only affectionate towards human beings of all ages but also love other animals and pets. Moreover, Newfoundlands usually have an average energy level and are also peace-loving dogs. So, they're likely to mind their businesses and not bother the cat.
8. Pomeranian
Being the smallest member of the Spitz family of dogs, these tiny beings are loyal and intelligent in nature. Weighing three to seven pounds on average, they're smaller in size than most dogs. So, your cat definitely won't get skittish around these adorable creatures. Pomeranians also tend to have an affectionate personality which is why they'll love sharing their space with another friend. However, since they can be feisty at times, you might want to keep a close look when it is around the cat initially.
9. Pugs
Pugs are alluring and easy-going dogs that get along with almost everybody. Moreover, since pugs are social and affectionate, they won't chase after your cat and purposely annoy it. In fact, their friendly and social nature enables them to live peacefully with felines and appreciate their company,
10. Papillion
These happy-go-lucky dogs will match the size of your cat, so it's less likely your feisty four-legged friend is going to feel intimidated. Moreover, they're affectionate and friendly in nature, so they can easily adjust to having another pet present in the house. Moreover, these cuddle dogs would love a nap time with you and their kitty friend. What more could you ask for?
In conclusion, dogs and cats aren't both to despise each other, and through training techniques in a loving and affectionate home, they can easily learn to coexist. We hope you the best of luck in bringing a new pet home!
Author Bio:
Arslan Hassan is an electrical engineer with a passion for writing, designing, and anything tech-related. His educational background in the technical field has given him the edge to write on many topics. He occasionally writes blog articles for Dynamologic Solutions.