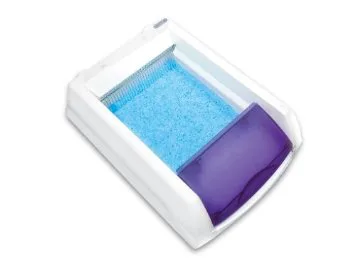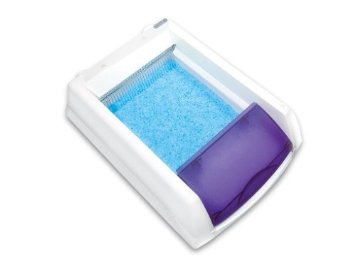 ScoopFree Original Auto Litter Box Review
Stars rating: 3.8 | ScoopFree self-cleaning litter box automatically cleans the waste so you can forget about this task for days. With its unique system of disposable litter trays helps you to control odor.
With Scoopfree you don't have to have contact with the waste. All you have to do is simply load the ScoopFree with the litter tray that comes pre-filled with Premium Blue Crystals. When your cat uses this little box, the blue crystals litter absorbs moisture and smell and starts to dehydrate solids.
The Scoopfree has a cat sensor that starts blinking after the cat leaves and twenty minutes later, the mechanism of the machine sweeps the waste into a covered receptacle, leaving the blue crystals with a clean and fresh smell. You only have to replace the disposable tray every few weeks, and this unit  is ready to go, just like new.
FEATURES 
It cleans your litter box automatically and puts waste out of your view.
Disposable trays prefilled with Premium Blue Crystals absorb odor and moisture.
You don't need to touch, clean, empty or fill litter box for several days or weeks.
Designed by MIT-educated people.
Box dimensions are 27.5 x 19 x 7 inches.
Litter area dimension 14 x 14 inches.
Disposable litter trays are plastic sealed to protect against leakage.
The unit includes a disposable tray pre-filled with Premium Blue Crystals.
The Scoopfree rake automatically cleans the litter box, 20 minutes after your cat uses it.
It works with AC adapter
90-day money-back guarantee
HOW TO SETUP SCOOPFREE LITTER BOX
The Scoopfree mainly consist in three parts: the litter box frame, the litter tray that is a box itself and which its lid is used as the cover that goes underneath the tray.
The first thing you have to do is to place the tray's lid under the litter tray as protection. Then, lift the litter box and slide the litter tray underneath, you should hear a "click" that means the sensor on the waste trap are connected to the ones on the litter tray.
HOW IT WORKS
The Scoopfree works with disposable trays that are filled with blue crystal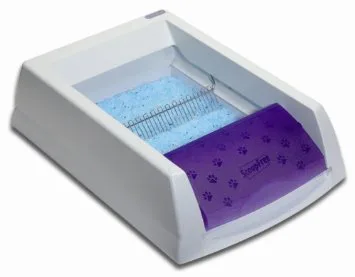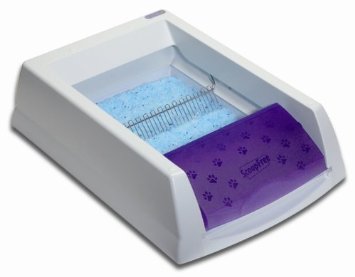 litter.
Your cat will use this unit normally as any other cat box and automatically optical sensors will detect that your cat is inside the litter box. After your cat has used the box and leaves it, automatically sensors detect your cat's movement and then, 20 minutes later, the Scoopfree rake starts sweeping the waste into a covered compartment.
If for any reason your cat gets back to the litter box before the 20 minutes, the sensors automatically stop the cleaning cycle, resenting the timer and starting over again once your cat leaves the litter box. After a few weeks, just replace the disposable tray and throw away the used one.
Watch a video on how the Scoopfree Original works
SCOOPFREE ORIGINAL VS SCOOPFREE ULTRA
ScoopFree Ultra has the following 3 features that ScoopFree Original does not have:
1. Privacy Hood. Ultra version comes with the Privacy Hood which is a removable piece that gives your cat more privacy and it also helps to control odor.  Even though the Original version does not come with the Hood, this accessory can be purchased separately and fits perfectly to the original version.
2. Adjustable Rake Delay. Ultra version features the adjustable Rake delay which allows you to adjust the time that the unit will wait until it starts cleaning once your cat has used it. The default time is 20 minutes, but with this feature you can adjust the time to 5-10 or 20 minute delay. ScoopFree Original has a default time of 20-minute delay and cannot be adjustable.
3. Health Counter. The Ultra version comes with a Health Counter. This acts as an odometer and allows you to keep track of how much your cat uses the litter box. This feature helps you to know when to change the tray and also provides important information regarding how often your cat is doing its business which you could use as relevant information to take to your Vet. The Original version does not feature this.
You can check in-depth review of the ScoopFree Ultra here.
USEFUL TIPS & TRICKS
To save money in the long run, instead of using disposable cardboard trays, you can buy the plastic litter tray, Forever Tray and blue crystals that come in packs of 8.8 lb. (3.6 kg.). You will start saving money from about 6 months on. You can find blue crystals in grocery stores at very reasonable prices as well.
Another good choice is getting the Litter-Bagger Solution for Scoopfree. This way, instead of accumulating the waste on the tray compartment, it falls through a hole and into a bag. This system comes with its own permanent tray so when it's time to change the litter, you just have to scoop the waste through the hole into the bag and fill the tray back with crystal litter. This system works with various types of cat litter.
The Scoopfree litter box is big so make sure to have enough room where to put it.
If your cat likes privacy or if it's a big-time litter kicker, get the Ultra version that includes the hood. However, if your cat is very large, the hood might not work for it. Besides, get the high slides to prevent pieces of crystal from falling on the floor.
Get a cat mat to prevent litter tracking and to protect your cat paws from stepping on the pieces of crystal.
If your cat is picky when it comes to make changes, save your old litter box until you are very sure your pet will approve the Scoopfree.
It is a good idea to rake or stir the litter every couple of days, especially if your pet urinates in the same spot every time.
Make sure not to use the disposable trays longer than the recommended, otherwise, you risk to have leaking trays.
For maximum odor control you can place baking soda on the waste compartment and get an air filter, such as the Febreze Hamilton Air Filter and place the ScoopFree right next to it.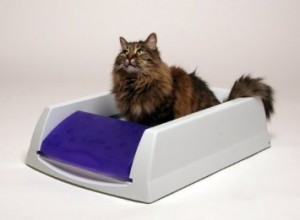 What Are The Pros And Cons Of The ScoopFree Automatic Litter Box?
The following advantages and disadvantages of the ScoopFree Original litter box will help you to decide with better information if this automatic unit will work for your feline friend:
PROS
Very easy to assemble and setup.
Convenient disposable system.
Very reliable system if using correctly.
Much quieter in comparison to other similar brands.
With the 20 minutes delay cleaning the waste can dry out before the Scoopfree's rake starts cleaning the litter box.
With a disposable system, very reduced smell.
High sides protect your cat from "hanging-out-tail" accidents.
Crystals allow the waste to dry out and reduce the smell.
The long cord allows you to reach more places where to set the litter box.
Crystals do not stick to the cat's paws like ordinary litter.
It has automatic reset-cleaning-cycle if your cat gets back to the litter box before 20 minutes or if another cat goes to the Scoopfree.
Timer allows you to adjust the time when the cleaning cycle starts, to see how many times your cat uses the box and to set it off at night (in "Ultra" version).
CONS
It is expensive to maintain the system (pre-filled trays are pricey).
Some feces can get caught on the rake.
Clean litter tends to get collected in waste compartment
Sealed tray compartment that stores the waste is not airtight.
Trays are heavy when ready to dispose
The system does not seem to last as long as advertised.
BEFORE CONCLUSION:
The Fresh Step Crystals litter has certain capacity to absorb urine. It will absorb liquid as a sponge, but when it reaches its limit it fails suddenly and dramatically. As the trays are made with solid cardboard, this is not the set-and-forget-it-for-a-month system that it's stated. You can leave the box without changing the litter every 2 to 3 weeks for one cat and about 1 to 2 weeks for 2 cats, approximately. How long the trays last will depend on how many cats use it and how much food and water your cat consumes by day.
The blue crystals are made from silica and they need good air circulation to eliminate odors because they work with evaporation. In order to make the crystals work efficiently you need to place the ScoopFree close to a window or door or fan.
CONCLUSION
The Scoopfree it is a well designed system that will help you to forget about scooping your cat litter box daily. However, as any other automatic scooping system, this needs some maintenance from you, not as often as other systems though.
This automatic litter box will work excellent for you and will keep your house odor-free if you are willing to spend the money that costs to buy the pre-filled trays to maintain the system clean and fresh. Even though the initial investment is not as expensive as other automatic litter boxes, it does cost some money to buy the supplies monthly. A good news is that you can buy the Forever Tray and purchase crystals in bags from the grocery store at very reasonable prices.  If you go this way you will enjoy the benefit of this good system and save money.
BOTTOM LINE
This unit is not suitable for cats that eat by-products because they create a lot of soft waste that the rake won't handle properly. For these reasons:
√ I recommend this automatic cat litter box:
If you want to use it for one cat.
If you are willing to spend the money in refilling the litter box as much as it takes to keep it clean and fresh.
If your cat is used to adapt new systems to its routine.
If you cannot afford the disposable pre-filled trays but you are willing to replace the filling system with its alternatives described above on the "useful tips".
X I don't recommend the Scoopfree system:
If your budget is very tight (to use pre-prefilled trays)
If your cat does not take new things easily
For more than one cat (if your budget is tight to refill often)
If your cat eats by-products creating abundant soft feces.