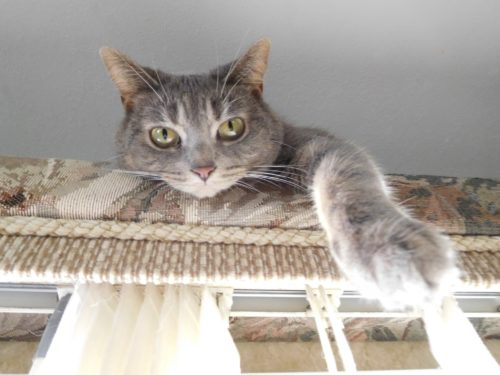 Cats make fantastic pets. They're fluffy, cute, and purr like engines whenever you touch them. What's not to like? So it's no wonder that over 42.7 million US households own at least one cat. And it's no wonder you've decided (or are deciding) to get one feline – or two – for yourself. But, choosing to get a cat is one thing, and shelling out money for your kitty's comfort is another.
Owning a cat is no easy feat. You're going to invest a fair amount of time and money. So, if you're wondering how much a cat would set you back annually, I've got you covered on the budget end.
Cats usually live up to 12-18 years, and depending on the breed, age, diet, and all, your expenses may vary. However, you'd most likely spend money on these items on your fur-baby journey.
1. Getting A Cat
This is the first step, and it may even cost you nothing. You could find the cutest kitten on the streets or be given one by a shelter/family. However, if you're not getting a free cat, owning one may cost you around $100-$200, and this might not cover neutering costs and vaccines. Of course, cats from breeders will go for higher, about $700-$1,000 or more.
2. Vaccinations and Neutering
If your cat's first-year vaccinations aren't included in the buying price, then you'd have to do that yourself. And let's not forget booster vaccinations after their first year. All in all, you should set aside $100-$200 annually.
As for neutering, it all depends on the sex. But, if your cat hasn't been fixed, you'll have to shell out around $100-$150 for surgery.
3. Vet Visits
Now, these are the recurring expenses. Your feline majesty would need regular check-ups when they're young and in their senior years. You can go for annual visits in the first few years, but they get regular as they age. A vet visit will cost between $40-$60 per visit, and if you go twice a year, that's $80-$120 annually. You may be tempted to skip your kitty's check-up, but don't! It might save you money in the short term, but if you leave any illness undetected, it'll cost you more in treatments and surgeries later.
4. Dental
Yes, your cat needs its teeth cleaned too. You're advised to get your pet a toothbrush and toothpaste once they start living with you. However, if there's build-up on your cat's teeth, you'd need to get those cleaned. And one dental visit costs $100-$500. This expense is avoidable if you clean your cat's teeth regularly, so I won't include it in the final yearly expense.
5. De-Worming, Flea, And Mites Treatment
You can't escape these in the first years, especially if your cat was rescued or regularly goes outdoors (my rescued cat had ear mites, watery eyes, and a respiratory infection when I got her!). A treatment will take an average of $100 and lasts for six months.
6. Pet Insurance
Cat insurance is not compulsory, but it helps ease the strain on your pocket whenever something crops up health-wise. Your premium would depend on your cat's age, breed, and even where you live. But, on average, you'd pay $10-$20 per month, $120-$240 yearly.
7. Food
There are different kinds of cat food. We've got dry, wet, freeze-dried, premium bougie stuff, you name it! If you go for the expensive high-quality food, it'd obviously cost you more. But, don't sacrifice quality because of the cost. Low-grade cat food can ultimately cause health problems, which will mean more visits to the vet, and more money spent. You may spend an annual average of $1,000 or more on cat food. Be sure to read the nutrition labels on the food you buy!
8. Litter
A cat gotta go when a cat gotta go. And you, my dear, are footing the bill for your pet's bathroom. Just like cat food, there is also a variety of litter you can get for your kitty. High-quality clumping litter would set you back several bucks, but on the other hand, it makes it so much easier to clean the litter box and it contains odors better. Generally, a bag of cat litter would cost about $30-$50 and may last for a month. Let's keep that at a nice $400 a year. Remember, the litter has to go into a litter box. Luckily, litter boxes are relatively cheap, and you could get a good one for $10 or more.
9. Emergency Funds
In every cat owner's pet-caring journey, there'll always be that big spend on a health emergency. It's basically inevitable. So, it would help if you prepared for this. Set aside around $2,000 for your kitty emergencies.
10. Extras
These are mostly small one-time expenses that won't cost much, like nail clippers and a brush ($20) or a cat tree (Around $75). Asides from the basics, you can get kitty toys and treats for your cat. These are optional, though. But, if you're going for it, it'll cost you around $150 a year.
You should also know that rescued cats will incur more expenses than a non-rescued cat. They would require more trips to the vets and more shots too. They may also be infected with diseases from their previous feral lifestyle and would have more health emergencies. Personally, my cat Sophie needed several trips to the Vet to get better, but she was totally worth it! She is our companion and has given us so much love that we will never be able to pay her that back!
Final Thoughts
In total, getting a cat will cost you around $2,280-2,570 the first year and about 1,930-2,070 the following years. If you are on a budget you can spend even less, about 1,000-1,200 yearly, but my estimation considers high-quality cat food (dry & wet) and good cat litter. This will help you save money in the long run if you feed your cat healthy food and use a good quality clumping cat litter.
Optional expenses per year are dental cleaning (100 to 500) and pet insurance premiums (120 to 240). This adds from 220 to 740 to the yearly budget. Finally, if you want to have emergency funds for your kitty you need to set aside about 2,000 or more if possible.
Always remember that your cat's companionship is priceless, and the comfort they bring you is worth every penny. I hope I've helped you start your feline adventure. Start budgeting now before your darling kitty arrives!