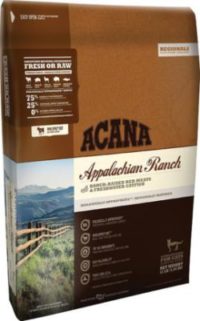 Update: The Appalachian formulas have been discontinued by Acana. Currently, only the variety of Grassland, Meowland, and Wild Atlantic, are available in the new 2020 grain-free formulas. Check them out on Chewy here.
Acana Appalachian Ranch is a formula that provides 75% of fresh and raw meats. With Angus beef, Yorkshire pork, grass-fed lamb, American bison, and Blue catfish your cat will enjoy a meal that provides the nutrients and minerals your pet needs for a balanced natural diet.
Acana Appalachian doesn't contain a bunch of synthetic supplements or additives keeping the diet of your feline friend as natural as possible.
This recipe contains a limited amount of carbs, using only low-glycemic carbs, such as peas or lentils and they are locally grown.
This grain-free formula doesn't contain substitutes of proteins, such as peas protein concentrate which are commonly used to replace meat proteins to lower the cost. Meats are the natural source of proteins for cats ensuring lean muscle mass and avoiding obesity, a common problem of indoor cats.
FEATURES
Grain-free dry food
Free of potato or tapioca, avoiding unhealthy carbs for your cat
Contains biologically appropriate ratios of meats
75% of ingredients are meats, fresh from local farms
Angus beef: meat, liver, tripe, kidney, and cartilage (Appalachian ranches)
Yorkshire pork: meat, liver, tripe, kidney, and cartilage (Kentucky farms)
Suffolk lamb: meat, liver, tripe (Kentucky farms)
American bison: meat (Appalachian ranches)
Blue catfish: whole and fresh from Kentucky lakes
Rich protein content supports lean muscle and a healthy cat's weight
Contains vegetables, fruits, and botanicals
Only 3 supplements: Choline, Zinc, and Copper
Only 1 preservative: Vitamin E (mixed tocopherols)
Suitable for all life stages and breeds
It comes in bags of 4 lbs and 12 lbs.
INGREDIENTS
Deboned beef, deboned pork, deboned lamb, beef meal, lamb meal, pork meal, whole green peas, red lentils, pinto beans, beef liver, beef fat, catfish meal, chickpeas, green lentils, whole yellow peas, deboned bison, whole catfish, herring oil, natural pork flavor, lentil fiber, beef tripe, lamb tripe, lamb liver, pork liver, beef kidney, pork kidney, pork cartilage, dried kelp, whole pumpkin, whole butternut squash, kale, spinach, mustard greens, collard greens, turnip greens, carrots, apples, pears, freeze-dried beef liver, freeze-dried lamb liver, freeze-dried pork liver, pumpkin seeds, sunflower seeds, choline chloride, zinc proteinate, copper proteinate, mixed tocopherols (preservative), chicory root, turmeric, sarsaparilla root, althea root, rosehips, juniper berries, dried lactobacillus acidophilus fermentation product, dried bifidobacterium animalis fermentation product, dried lactobacillus casei fermentation product.
GUARANTEED ANALYSIS
Crude protein: min 35% Crude fat: min 20% Crude fibre: max 4% moisture: max 10% calcium: min 1.8% phosphorus: min 1.3% Omega 6 fatty acids: min 1.8% Omega 3 fatty acids: min .6% DHA: min .1% EPA: min .1% calories: me 3980 kcal/kg, 454 kcal/8oz cup 34% from protein, 24% from fruits and vegetables, 42% from fat.
VITAMINS
Vitamin A:23 KIU/kg – Vitamin D3:2,510 IU/kg – Vitamin E:200 IU/kg – Vitamin B1 (Thiamine):31mg/kg – Vitamin B2 (Riboflavin):36mg/kg – Vitamin B3 (Niacin):210 mg/kg – Vitamin B5 (Pan. Acid):45mg/kg –
Vitamin B6 (Pyridoxine):24mg/kg – Vitamin B12:0.38mg/kg – Folic Acid:2.9mg/kg – Choline:2,700mg/kg
MINERALS
Sodium:0.35 % – Chloride:0.34 % – Potassium:0.70 % – Magnesium:0.10 % – Iron:260 mg/kg – Zinc:280 mg/kg – Copper:40 mg/kg – Manganese:16 mg/kg – Iodine:2.5 mg/kg – Selenium:0.6 mg/kg
Analysis of the First 5 Ingredients of Acana Appalachian Ranch:

Deboned beef: 3 stars. The beef meat contains water so it provides less percentage of protein
Deboned pork: 3 stars. The water contained in muscles adds weight to dry food. Best used in can food.
Deboned lamb: 3 stars. Lamb meat is filled with water, less protein, deboned misleads as to higher quality.
Beef meal: 5 stars. This is dehydrated muscle meat, it provides much more proteins.
Lamb meal: 5 stars. Excellent protein source, easy to digest, and less likely to cause allergies.
WHAT ARE THE PROS AND CONS OF ACANA APPALACHIAN RANCH?
PROS
Grain-free formula
Good amount of guaranteed meat proteins 35%
Good ratio of fats with 20%
No potatoes or tapioca
Low glycemic carbs such as peas and lentils
Limited amount of synthetic supplements
Only one preservative, vitamin E
Meats and vegetables from local farms
Contains biologically appropriate ratios of meats
It lists 15 amino acids in the formula
CONS
The minimum guaranteed Calcium is 1.8%, which is high (we don't know the maximum)
The minimum guaranteed Phosphorus is 1.3% which is high (we don't know the maximum)
Minimum guaranteed Omega-3 of 0.6% is low, it could be higher
The formula doesn't list maximum values, except Moisture and Crude Fiber.
CONCLUSION
The 75% of meats corresponds to the proportion of fresh and raw meats used in the formula, based on its total weight. As a big part of this weight is water contained in the meats, most of this weight lowers after the meats are cooked so the guaranteed meat protein in the total formula is 35%, which is a good amount of proteins for an adult cat.
Though the first 5 ingredients represent most of the cat food formula, I prefer to rank the first 3 ingredients to get the actual protein content because the following ingredients usually are not high-quality proteins. However,  in this case, I didn't do that because the 5 first ingredients are good quality proteins so I considered the 5 main ingredients for this rating, which gives this cat food a rating of 3.8 which is very good.
The formula not only lists the 11 essential amino acids but also provides another 5 in the recipe. The bad part of this formula is its high amount of Phosphorus and Calcium. It's well known the effects of this in the kidney and urinary tract in cats.
BOTTOM LINE
Personally, I don't recommend you to solely feed your cat this dry food. Due to its Phosphorus, Calcium, and Magnesium content, it must be complemented with wet food on a proportion of 30% dry food and 70% wet food, approximately. Also, provide a fresh source of water at all times to prevent dehydration and kidney problems.
My bottom line is that Acana Appalachian is suitable :
For healthy and active cats that eat mostly wet food and need dry food to complement their diet and keep their teeth healthy. For this purpose this dry food is very good, it's a high-in-protein formula with meats that won't most likely cause allergies.
x Acana Appalachian is not suitable:
As the only source of food for cats
For felines with a sensitive urinary tract system or kidney issues
Cats with a thyroid condition
For kittens or elderly cats
IMPORTANT UPDATE:
Acana and Orijen dog foods have been subject of a class lawsuit (CA, MN and FL) for containing heavy metals and BPA in dry dog foods produced in the Kentucky, USA facility. So far no cat food has been added to this lawsuit but since the amount of heavy metals in Acana Appalachian Ranch cat formula is unknown, I would wait until full disclosure to recommend this dry food formula.