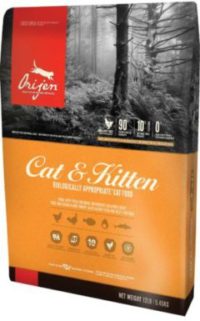 2016 Orijen Cat & Kitten new formula from the facility located in Kentucky contains new ingredients that reduce and increase percentages to the nutritional formula in comparison to the first Orijen Cat & Kitten original recipe.
FEATURES
Grain-free
40% protein
19% low-glycemic carbohydrates, free of grains, potatoes or tapioca
1/3 of meats are from dehydrated chicken and turkey ( meats are air-dried at low temperature)
2/3 of meats are fresh and refrigerated or raw flash-frozen, without preservatives.
Liver provides good taste for picky eaters.
DHA and EPA naturally from fresh fish
It provides a natural source of Glucosamine and Chondroitin
INGREDIENTS
Deboned chicken, deboned turkey, Yellowtail Flounder, whole eggs, whole Atlantic mackerel, chicken liver, turkey liver, whole Atlantic herring, chicken heart, turkey heart, dehydrated chicken, dehydrated turkey, dehydrated mackerel, dehydrated chicken liver, dehydrated turkey liver, whole green peas, whole navy beans, red lentils, chicken necks, chicken kidney, chicken fat, pinto beans, chickpeas, green lentils, alfalfa, natural chicken flavor, alfalfa, herring oil, ground chicken bone, chicken cartilage, turkey cartilage, dried kelp, freeze-dried chicken liver, freeze-dried turkey liver, whole pumpkin, whole butternut squash, kale, spinach, mustard greens, collard greens, turnip greens, whole carrots, apples, pears, pumpkin seeds, sunflower seeds, choline chloride, zinc proteinate, copper proteinate, mixed tocopherols (preservative), chicory root, turmeric, sarsaparilla root, althea root, rosehips, juniper berries, dried lactobacillus acidophilus fermentation product, dried bifidobacterium animalis fermentation product, dried lactobacillus casei fermentation product.
GUARANTEED ANALYSIS
Crude protein (min.) 40 % – Crude fat (min.) 20 % – Crude fibers (max.) 3% – Moisture (max.) 10 % – Calcium (min.) 1.2 % – Phosphorus (min.) 1% – Magnesium (min.) 0.1% – Taurine (min.) 0.2% – Omega-6 fatty acids (min.) 3.5 % – Omega-3 fatty acids (min.) 0.8% – DHA (min.) 0.2 % – EPA (min.) 0.2 %
ANALYSIS OF FIRST 5 INGREDIENTS OF ORIJEN CAT & KITTEN NEW FORMULA:
Deboned chicken: This meat contains water in muscles, adding less proteins in total formula. The concept of "deboned" can mislead to thinking of high in proteins. Best when used in canned food. 3 stars
Deboned turkey: Same as chicken, the concept "deboned" mislead to higher in protein, but it really adds water weight to the % in the total formula. This ingredient is best if used in canned wet food. 3 stars
Yellowtail Flounder: It provides a good source of fatty acids but it could be further down the list. 3 stars
Whole eggs: whole eggs(3 stars) Eggs are a good source of protein, but whole eggs might include some small pieces of shell. Eggs add calcium and ash. 3 stars
Whole Atlantic mackerel: Good source of cold-water fish, high in fatty acids but whole fish may contain all parts of fish, including gills and fins. 3 stars
What are the Pros and Cons of Orijen Cat and Kitten Formula?
The following is one of the most important parts of this review. Here's a list of the good and the bad for this dry cat food:
PROS
Contains natural fresh local ingredients
The formula contains the 11 essential amino acids
Not too much chicken and turkey liver
Low-glycemic formula, free of grains, potatoes, and tapioca
No by-products
Gluten-free
40% of proteins
No preservatives in meats
Healthy fatty acids, Omega 3 and 6.
Natural source of vitamins and minerals, reducing synthetic supplements
CONS
2/3 of formula adds water-weight (water from fresh meats or organs or ice from frozen meats)
Minimum amount of Phosphorus in the formula isn't less than 1% (if lower than 1% avoids chances of cats developing urine crystals)
The maximum levels are not stated in the Guaranteed Analysis
Whole fish means it could include gills, scales, fins, and internal organs.
Magnesium has been increased (min)
Proteins have been reduced (min)
Omega-3 has been reduced (min)
 CONCLUSION
The new formula of Orijen Cat & Kitten made several changes:
It eliminated chicken meal as the second ingredient and included deboned turkey instead. Deboned meats, in general, are weighed before cooked which includes water in muscles or ice weight if frozen. This makes this proportion to increase because of the water or ice weight, reducing the actual protein of these meats proportionally in the total formula.
Most of the proteins of this formula come from fish and whole eggs if we consider the 5 first ingredients of the total formula. This includes all parts of the fish and some pieces of eggs shells.
They don't mention the maximum levels on the Guaranteed Analysis which means we don't know the maximum level of Phosphorus, Calcium, Ash, etc.
They increased the Magnesium from 0.09% to 0.1%
They reduced proteins from 42% to 40% (min)
They reduced Omega-3 from 1.2% to 0.8% (min)
The 5 first ingredients represent the largest percentages of the cat food formula, but for purposes of rating the actual quantity of protein, I decided to rate the cat food using the first 3 ingredients for a more accurate rate. The average rating based on the first 3 ingredients is 3.0 Stars which is a good and average rate for dry cat food, but not as good as the original formula.
Very Important: As Orijen cat formula is high in protein, it's very important to feed your cat wet canned food and provide a fresh source of water available at all times when feeding your pet this cat food.
BOTTOM LINE
Orijen's new formula adds more fish and eggs than chicken and turkey to the formula because it eliminated "chicken meal" from the formula. Chicken and turkey meal will always be better for cats than fish, whole eggs, and whole fish. Though this cat food has a lower quality than the first original formula, the new Orijen Kentucky it's a good protein-based formula and informing all the essential amino-acids cats need.
It's important to mention that Origen Cat & Kitten Canadian formula has kept most of the good nutritional values of the original recipe.
You can find this formula and others in Chewy where you can save 30% on your first Autoship. Check it out here.
UPDATE AND IMPORTANT DISCLOSURE:
Acana and Orijen dog foods have been subject of a class lawsuit (CA, MN and FL) for containing heavy metals and BPA in dry dog foods produced in the Kentucky, USA facility. So far no cat food has been added to this lawsuit but since the amount of heavy metals in Orijen cat formula is unknown, I would wait until full disclosure to recommend this dry food formula.