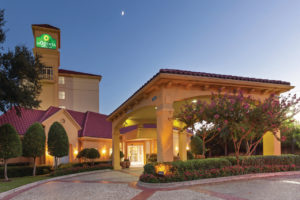 Looking for a nice, reasonable priced pet hotel to stay with your cat? I found one! (I must say it wasn't easy). It's La Quinta Pet Friendly Hotel. I had to travel to another city and stay there for 4 nights and couldn't leave my cat Sophie alone without anybody checking on her (we always have a friend coming over but this time we didn't have anybody) so we decided to travel with our cat.
The first question though is, where can I find a hotel that accepts cats? Well, we were lucky to find the Hotel La Quinta where they not only accept cats but they have all sort of amenities to make your stay a nice experience.
THE HOTEL
The building is big, surrounded by lushly landscaped courtyards with gazebos and benches. You can access your room from the lobby or from the parking lot. The parking lot is big enough to accommodate approximately 50 cars. There is a main door on the side of the building, in the parking area, with a key security system that connects to the hall where you can go to your room.
The hotel's lobby is light-filled and spacious which I really appreciate.
SERVICE
The check-in and check-out were fast (the check-in time is 3 pm and check-out time, 12 pm) and the service, in general, was good. We had a problem with a TV and called to the receptionist and immediately somebody came to program the TV.
The didn't have any problem with the bill, they actually gave us one night for free as complimentary because they were doing some work on the swimming pool, but it was not really a problem for us.
ROOM
The room was really spacious and clean, I inspected every corner and I didn't find anything dirty. Everything in this room looked like brand new. The décor was simple but nice, with nice paintings on the walls. The beds were really comfortable, with 2 types of pillows, high and more flat.
Check here some pictures of the room: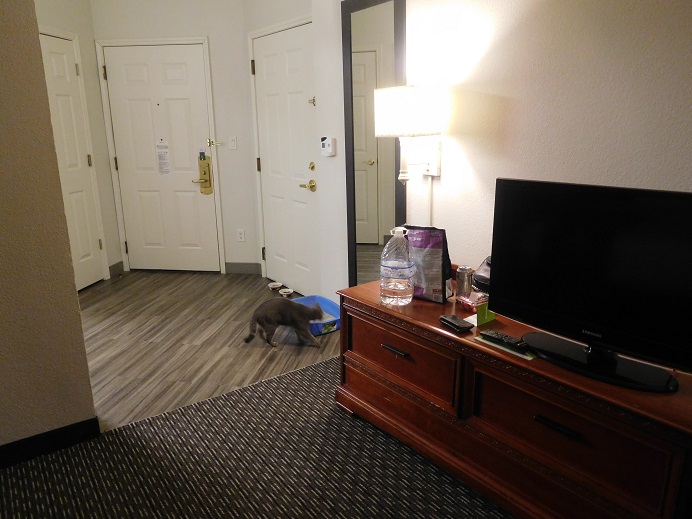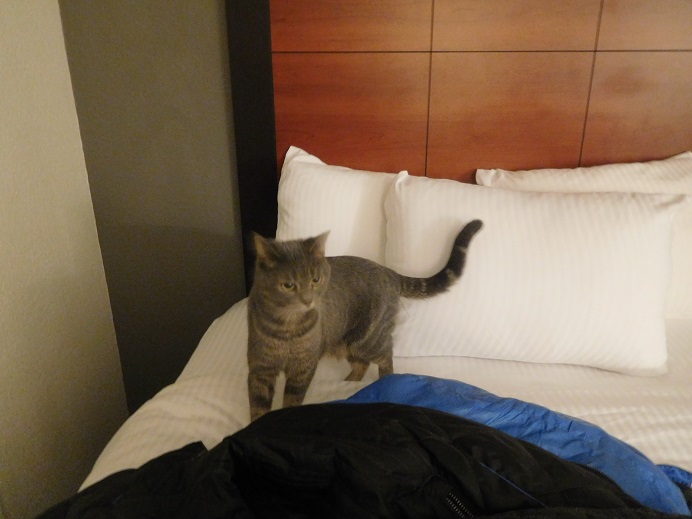 The room had flat screen TV with 30 channels and movies on demand. Also, there is a nice large desk with an ergonomic chair that you can use for working or using your computer.
Another thing I liked a lot of the room was the fact that you could find plugs in very convenient locations, right on the desk, on the night table, etc.
There is a coffee maker so you can make your own coffee in the room.
The room has a big closet with hangers for your clothing. Inside you will find an iron and ironing board in case your clothes get wrinkly.
In general, the room is spacious with large hard floor areas where you can place the litter box and the food and water bowl separated enough and without risk of walking over them in the middle of the night if you need to go to the bathroom.
The bathroom was big, it had a shower, tub, and a large sink. included shampoo and conditioner. Of course, they restocked shampoo, soap, and towels every day. There is a hair dryer you can use as well.
OTHER AMENITIES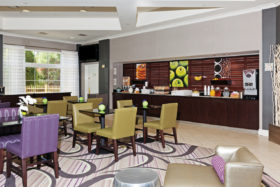 La Quinta Hotel offers free bright side breakfast that is served from 7 am to 9 am every day. The breakfast is simple but enough. You can get scrambled eggs, waffles, yogurt, oatmeal, fruits, fruit juice (not natural), coffee, milk, bread, muffins, etc.
The room has free internet and the speed is pretty decent. You also have access to free voice mail and free local calls from the hotel.
And one of my favorite amenities is the swimming pool, hot tub, and fitness center. The swimming pool was spacious and clean. The swimming pool is not heated, only the hot tub. The fitness center was kind of small but it didn't matter because it had elliptical and treadmill and it's all I care about personally.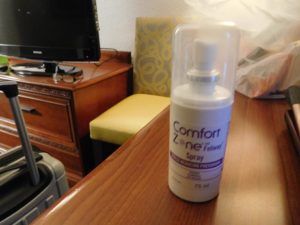 TIP
Before traveling with your cat, make sure to get the Comfort Zone Feliway Spray and before your cat gets in the room spray around the room, on the corners, on the furniture, etc. This will relax your cat so it will feel like at home. It's important to be prepared and to know how to relax with your cat when traveling so you can have a good experience.
CONCLUSION
Hotel La Quinta is not a luxury hotel but it offers the best value for money. The rate is really reasonable and they will welcome your cat with no problem and they don't ask deposit. Update: Unfortunately, La Quinta Hotel was bought by Marriot and now they charge a pet fee of $20 per night, with a maximum cost per stay of $40.
For a decent rate, you have access to various amenities and you can enjoy your time with your cat. People are nice, helpful and friendly. I need to mention that this hotel is 100% non-smoking.
I decided to make a review of this Hotel because I needed to share my experience with other cat owners that need to travel, stay on a budget and don't know what hotel to choose. You won't go wrong with this one. At least my experience was really good and my cat Sophie loved it, she adapted to the room greatly!