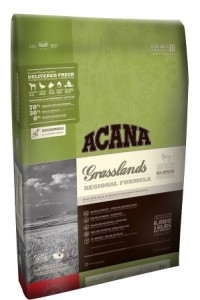 Acana Grasslands Grain-Free Formula Review
Update: This is the original Canadian formula that is not available. Check my review of the Acana Grassland formula made in Kentucky.
Acana Grassland Formula contains lamb as the primary ingredient, which is an excellent source of proteins, easy to digest by cats, and less likely to cause allergies. Lambs are locally ranch-raised in Alberta, Canada. Other proteins in the formula are range-free duck, nest-laid eggs from local farms, and fresh delivered wild-caught fish, all ingredients from Canada.
Acana Grasslands Regional formula contains 70% of animal proteins & fats; lamb, duck, fish, and eggs, and 30% fruits and vegetables, with low carbohydrates in the recipe and grain-free, which decreases fat storage in cats. The recipe adds organic sea vegetables and botanicals to improve metabolism and support the cat's digestive system.
It's very important to mention that Acana Grassland Regional contains 100% amino-acids cats need. Cats don't produce certain amino-acids and they need to get them from food, otherwise, some of their biological functions don't work properly. These amino-acids are 11 and Acana Grassland Regional has all of them.
Note: If you want to check another option of cat food, there is a new Orijen formula made in Kentucky that you may want to check.
FEATURES
Grain-free
Low in carbohydrates
70% premium meat, poultry, and fats
Good quality meat proteins, such as lamb, easy to digest by cats.
30% fresh fruits and vegetables to support the cat's immune system and digestive functions.
With all essential amino acids, cats need for their biological functions.
Omega-3 and Omega-6 to support immunity and improve skin and fur.
INGREDIENTS
Boneless lamb (15%), lamb meal (13%), boneless duck (8%), pollock meal (7%), duck fat (5%), green lentils, boneless perch (5%), herring meal (5%), red lentils, salmon meal (4%), chickpeas, green peas, herring oil (3%), whole eggs (3%), lamb fat (2%), sun-cured alfalfa, dried kelp, pumpkin, butternut squash, spinach greens, carrots, apples, pears, cranberries, mixed tocopherols (preservative), chicory root, dandelion root, chamomile, peppermint leaf, ginger root, caraway seeds, turmeric, rose hips, freeze-dried lamb liver, freeze-dried duck liver, freeze-dried lamb, Enterococcus faecium fermentation product, plus premium vitamins and minerals.
GUARANTEED ANALYSIS
Crude protein (min.) 35%, Crude fat (min.) 20%, Crude fiber (max.) 3%, Moisture (max.) 10%, Ash (max.) 8%, Calcium / Phosphorus (min.) 1.8% / 1.5%, Omega-6 / Omega-3 (min.) 2.5% / 1.0%, DHA / EPA (min.) 0.3% / 0.25%, Taurine (min.) 0.2%, Magnesium (max.) 0.1%.
ANALYSIS OF FIRST 5 INGREDIENTS OF ACANA GRASSLAND REGIONAL
Boneless lamb: boneless meat is mostly muscles that add water to weight, lowering the proteins. Though, lamb is an excellent source of proteins, easy to be digested by cats. 3 stars
Lamb meal: Excellent concentrated source of proteins. Lamb is easy to digest by cats and less likely to cause allergies. 5 stars
Boneless duck: Duck is a very good alternative protein. Boneless meat adds water weight, but duck meat adds less water in weight than chicken. 4 stars
Pollock meal: Pollock is a good source of proteins but adds few fatty acids because they have been extracted when dehydrated. Fish can add mercury to the diet (though, pollock has a low level of mercury ). 2 stars
Duck fat: heavy for cats with a sensitive stomach and it could cause overweight to indoor cats. 1 star
What are the Pros and Cons of Acana Grassland Regional Grain-Free?
Learn the good things and bad things about this dry cat food formula so you can make your decision with more complete information:
PROS
Grain-free
Lamb is a very good protein for cats, easy to digest.
Low carbohydrates
Good level of magnesium (0.1%) which prevents urinary tract disease
Contains all the amino acids cats need which they must get from food. Essential amino acids prevent future diseases in cats.
A good percentage of animal ingredients 70%
A healthy amount of liver in the recipe
The percentage of meat proteins and fats is similar to a wild cat's prey.
CONS
Duck fat could cause overweight in indoor cats
Fish adds mercury to the diet (the lowest percentage in pollock)
CONCLUSION
Acana Grassland Regional Grain-Free Formula has a good balance in meat, poultry, fish, and fats, with a total of 70% in the formula. The average rate considering the 3 first ingredients ratings is 4 stars, which is very good.
A very important element is that Acana Grassland contains 100% of all the essential amino acids cats need and which they can't produce themselves, they must get them from food. These amino acids support several biological functions and if lacking one of these 11 amino acids, they start developing diseases.
Magnesium is low which prevents urinary tract disease.
Dry cat foods are not sufficient for a healthy cat diet and they must be mixed with canned wet food and giving your cat plenty of water at all times.
Due to the above conclusion and considering the Pros and Cons of this recipe,
√ I recommend Acana Grassland Regional Grain-Free for indoor/outdoor cats or very active indoor cats.
x I don't recommend it:
To cats with a sensitive digestive system or cats that already have urinary tract infections.